Republican Leader Kevin McCarthy Doesn't Know Whether Joe Biden Will Become President in January
Republican House Minority Leader Kevin McCarthy on Thursday stood firm in rejecting President-elect Joe Biden's victory over President Donald Trump.
Most television networks and media outlets called the race for Biden on Saturday. The Democrat has secured at least 290 Electoral College votes, surpassing the 270 required to win the presidential election, but Trump still hasn't conceded. Instead, the president, accusing Democrats of stealing the election, has filed a series of lawsuits in several battleground states.
At a press conference, the Californian congressman cast doubt on the election outcome and said Biden shouldn't receive classified intelligence until at least next year.
"He's not president right now," McCarthy said. "Don't know if he'll be president January 20, but whoever is will get the information."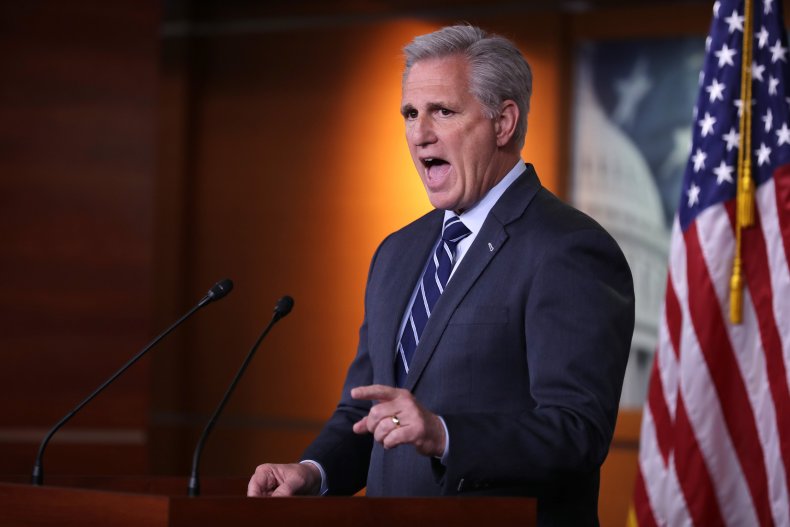 McCarthy's remarks come one week after he echoed Trump's claim that he won the election.
"President Trump won this election, so everyone who's listening, do not be quiet," McCarthy said last Thursday on Fox News. "We cannot allow this to happen before our very eyes."
At the time, hundreds of thousands of ballots were still being counted, the media had not declared a winner and Trump was trailing behind Biden in Electoral College votes. "Republicans will not back down. We will not wait for four years from now to change this," McCarthy added. "We're going to fight this now."
Top Republicans in Congress have still not publicly acknowledged Biden's win and only a handful of Senate Republicans—including Mitt Romney of Utah, Susan Collins of Maine, Lisa Murkowski of Alaska and Ben Sasse of Nebraska—have congratulated the Democrat.
Biden's deputy campaign manager Kate Bedingfield on Thursday expressed her belief that more members of the Republican Party will come forward soon to acknowledge Biden's victory as begin constituents placing pressure on them to do so.
"I think that he's going to feel the pressure from his constituents, just as others all across this country are going to feel," Bedingfield said on CNN. "I mean, people overwhelmingly voted for the Biden-Harris ticket, but don't forget, they also overwhelmingly voted for unity. They overwhelmingly voted for a leader who can find consensus, who can make progress, who can actually move the ball forward."
GOP Congressman Tom Reed of New York this week called on members of his party to recognize that Biden will be the next president.
"Joe Biden has rightfully earned the title of being the projected president-elect and that should be recognized," he said on Tuesday.
Newsweek reached out to McCarthy's representatives for further comment.