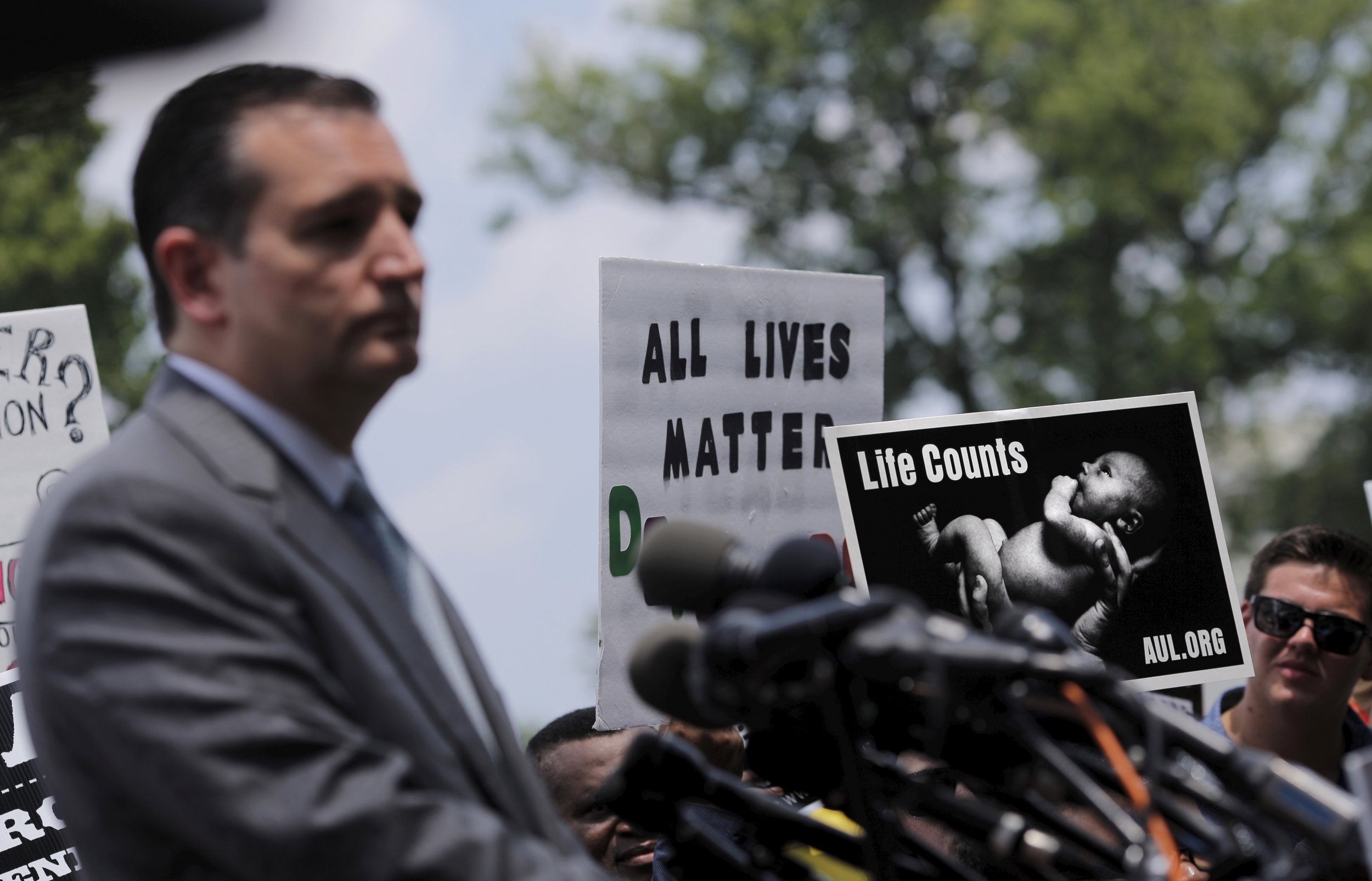 Updated | Congressional House Republicans on Friday passed a measure that would end government funding for Planned Parenthood for a year. The 241-187 vote was divided almost along party lines.
Since Democrats have the votes to block the measure in the Senate, and President Barack Obama has threatened to veto any spending bill that doesn't fund Planned Parenthood, the proposal isn't likely to become law, although the stalemate could lead to a government shutdown which is what happened in 2013. If the law passes, the money would be redirected to other government-backed community health centers.
The House also approved a bill, 248-177, that would impose criminal penalties—a maximum of five years in prison and fines—on doctors who don't attempt to save babies born alive during abortions. The measure faces a Senate defeat and presidential veto.
But how did some Republicans get to this point, and what do the recent votes mean for the country?
What Is Planned Parenthood?
Through a network of affiliated clinics, the nonprofit organization provides health care services to millions of women across the U.S., especially to young and low-income individuals. Each year, the organization receives hundreds of million of dollars in federal payments for health care services, such as mammograms, but not for abortions.
What Spurred the Vote?
Republicans didn't plan to tackle legislation on Planned Parenthood this summer, and instead had wanted to focus on their resistance to the Iran nuclear deal. But in July, the Center for Medical Progress, which calls itself "a group of citizen journalists dedicated to monitoring and reporting on medical ethics and advances," released secretly recorded videos that accused Planned Parenthood of illegally selling organs and tissue from aborted fetuses for medical research. Planned Parenthood has denied doing anything illegal and has said that the recordings have been distorted.
The footage prompted investigations by two House committees. Planned Parenthood has rejected the claims and videos, saying it donates the tissue for scientific research, which is legal. Fetal tissue donation has been used in scientific research since the 1930s, mainly to develop vaccines and gain understanding of human and cell biology.
Government officials in at least five states—Alabama, Arkansas, Louisiana, New Hampshire and Utah—have moved to defund the organization. The White House stepped in, warning state officials that defunding could violate federal law.
How Could Votes Cause a Shutdown?
The fight over Planned Parenthood funding could cause a government shutdown by September 30, the end of the fiscal year and the drop-dead date for Congress to authorize funding to keep the government running. The most recent shutdown lasted for 16 days in early October 2013, as a result of Congress failing to agree on a budget after GOP legislators began pushing to defund Obamacare. The shutdown cost the country $24 billion, and had a damaging effect on the public's view of both political parties, Obama and Congress, although Republicans know that historically they've been blamed more for shutdowns, beginning with the budget stalemates of the 1990s.
The measure to cut off Planned Parenthood's funds easily passed the House, where Republicans have their largest majority since 1928. The Senate is trickier. In a procedural vote last month to defund Planned Parenthood, Senate Republicans received 53 votes. That's a majority, but it's seven short of the 60 needed to overcome a filibuster from the Democratic minority.
Even if Senate Republicans could pass a bill ending Planned Parenthood funding, Obama has vowed to veto any such measure. Overriding him would require 67 votes, something Republican leaders simply don't have.
In a statement released Thursday by the White House, Obama said threats by some Republicans to shut down the government is "a game of chicken with our economy that we cannot accept."
What Does It Mean for the U.S.?
Planned Parenthood has become a hot-button issue on the 2016 presidential campaign trail, and a major part of the Republican agenda. At the GOP debate on Wednesday night, former Hewlett-Packard Chief Executive Officer Carly Fiorina tried to link the issue to the Iran nuclear deal as a "defense of our character." U.S. Senator Ted Cruz from Texas, who was widely blamed for the previous government shutdown, referenced the controversial videos, and New Jersey Governor Chris Christie spoke about his record previously vetoing Planned Parenthood funding eight times in his state.
This story has been updated to include the House votes.