Republican Legislation Sparks 'Big Brother' Overreach Concerns
With Republicans and Democrats at the state and federal level pushing bills designed to protect young people from accessing obscene or harmful content on the internet, Big Tech companies are facing a reckoning over child safety.
However, some are concerned the very same measures lawmakers are pushing to protect children could erode people's right to privacy and put those they seek to protect at even greater risk of cybercrimes.
Earlier this year, a new law in Louisiana went into effect requiring internet users in the state to provide government identification to prove they're at least 18 years or older before being able to access websites containing pornographic material. Meanwhile, a similar proposal filed by Arizona Republicans this week seeks to go even further, with language so broad critics claim it could ban minors from accessing streaming services like Hulu or Netflix, the Arizona Mirror reported Tuesday.
And as lawmakers pursue broader online safety legislation in Congress, figures like Senator Josh Hawley, a Missouri Republican, have introduced bills barring anyone under the age of 16 from signing up for social media accounts on Instagram or TikTok amid growing concern over social media's impacts on children's mental health.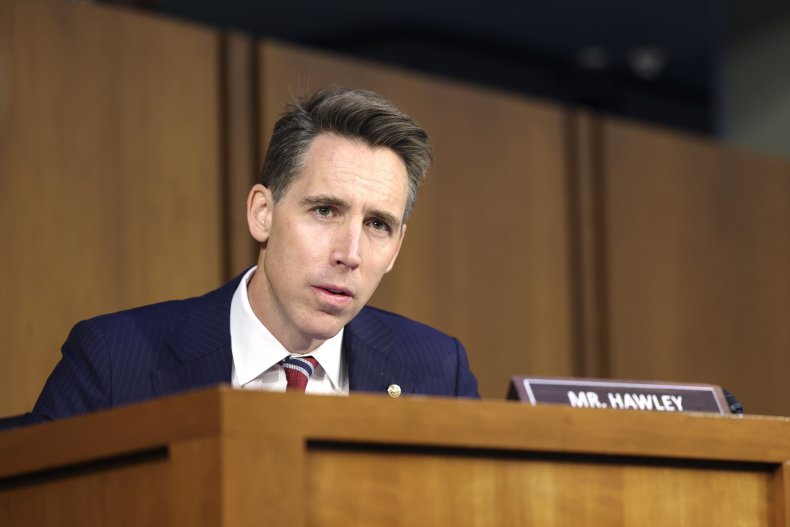 "These platforms have become dangerous to young people, pushing them toward nihilistic disengagement or despair," Hawley wrote in an opinion piece for The Washington Post promoting the bill. "Predators and traffickers, like vultures, hover just out of view. Congress could blunt these harms by simply passing a law that would keep kids off social media until they're at least 16 and better positioned to use the technologies safely."
Newsweek reached out to Hawley's office for comment.
Critics of the bills, meanwhile, claim that Hawley's legislation—just like bills passed in Louisiana and those pending in Arizona—could be the harbingers of an end to anonymity on the internet, ushering in a new era of online policing that poses a substantial threat to people's civil liberties.
An end to anonymous speech?
Throughout the history of the internet, the right to anonymous speech has been considered a protected right by some. While it has limits—hate speech or threats made online, for example, can present cause for investigation—with the U.S. Supreme Court itself having affirmed that citizens have the right to remain anonymous online to organize social movements, express political opinions, or other activities they could face professional or legal implications from engaging in.
Meanwhile, critics of legislation that would dismantle online anonymity say they have cause to believe those protections are under attack.
During a Senate Judiciary Committee hearing on online safety last week, John Pizzuro, a former New Jersey State Police officer, told lawmakers he believed there were too few tools at their disposal allowing investigators to counter or identify cyber criminals who might use anonymous applications to groom potential victims for sex crimes in the real world, arguing current laws in place have forced law enforcement agencies to become "reactive" rather than proactive in their efforts to track potential offenders.
"A proactive investigation," he said in testimony on the bill, "involves the use of intelligence to try to identify potential offenders."
Legislation like Hawley's does not implicitly require everyone to join an online registry of everyone's government ID. However, some believe that it could represent a starting point.
In addition to their platform's use by law enforcement to surveil protest movements, according to analyses by groups like the Brennan Center for Justice, companies like Meta—the parent company of Facebook—have faced significant public scrutiny for turning over people's private data to law enforcement. In one notable case last summer, Facebook reportedly turned over the private chats of a mother and her daughter to Nebraska police after the company was served with a warrant as part of an investigation into an illegal abortion.
Other states have sought to make similar measures compulsory. In Virginia, Republican Governor Glenn Youngkin helped defeat a bill earlier this month that would place menstrual data stored on period-tracking apps beyond the reach of law enforcement, leaving police with an additional tool to prosecute women who receive illegal abortions.
After a recent Supreme Court decision overturning federal protections for abortion, social media—and government registries of user information—could potentially be used to prosecute users for the crime of receiving an abortion, or some other crime, critics say. In England, a sweeping online security proposal has raised concerns that end-to-end encrypted messaging apps like Signal or WhatsApp could be rendered illegal under the bill, prompting threats of a standoff from both companies who claim they will refuse to comply with such a law if enacted in its present form.
"That's concerning, especially now when you have things like the Dobbs decision (overturning federal abortion protections)," India McKinney, director of federal affairs at the Electronic Frontier Foundation, told Newsweek. "That's a great example of what happens when something that used to be legal is no longer legal. And where you are in the country determines whether or not your speech is seen as legal or not. And law enforcement has demonstrated multiple times that they are willing to ask tech companies for information about what people said on social media, and prosecute people for that information."
Security concerns
Hawley's legislation has already been turned into a campaign issue in Missouri by his Democratic opponent, Lucas Kunce, who described his legislation as a "Big Brother" effort to surveil everyday Americans.
But as services like Twitter and Facebook have sought to make basic security features, like two-factor authentication, be paid services, Kunce says legislation like Hawley's could potentially pose an even greater risk to members of the public by putting more online data in the reach of hackers, who have accessed user data on numerous platforms.
In 2019, a Vice investigation found employees across several departments inside social media giant Snap abused their access to internal tools to spy on Snapchat users, raising significant concerns about social media companies' ability to police themselves.
"This one is dangerous," Kunce told Newsweek. "The biggest flaws with this approach is that it's targeting users, not the companies. In fact, if you really take a step back and look at this bill, it's a massive windfall for big tech. You're giving literally every big tech company in the entire world our sensitive data."
In addition to proposed Internal Revenue Service (IRS) regulations subjecting transactions of $600 or more on apps like Venmo to federal scrutiny, companies today—including Ticketmaster—are still able to voluntarily request information like people's Social Security numbers, while members of Congress have sought to head-off efforts to create a "national identification" system amid the revival of talks by the Biden administration to require registration cards for undocumented migrants entering the country.
Such a proposal has garnered the opposition of everyone from the American Enterprise Institute to the American Civil Liberties Union (ACLU), the latter who called the effort a "superficial 'quick fix' that poses serious threats to our civil liberties and civil rights" in a recent policy brief.
Possible solutions
Recently proposed reforms to online immunity protections for internet publishers under Section 230, McKinney noted, were praised by companies like Facebook largely due to its ability to tailor regulations to its benefit. Meanwhile, precedent-setting cases in the Supreme Court are being decided by judges who, in their own words, are not well-versed on the topic.
"These are not, like, the nine greatest experts on the internet," Justice Elena Kagan mused ahead of a hearing earlier this week on a case that could decide whether social media companies are liable for libelous content published on their platforms.
Industry figures say the best route to pursue might be something currently in-place in Germany called "co-regulation," in which the industry develops its own regulations that are, then, approved and policed by a government agency that keeps them accountable.
A similar model was created in Australia, which became the first country to create such a commission with the office of eSafety Commissioner that operates under the country's equivalent of the United States' Federal Communications Commission (FCC).
Earlier this week, Reuters reported that the office sent legal letters to Twitter and Google requiring the companies to hand over information about their efforts to stop online child abuse amid a larger crackdown, signaling a more aggressive posture toward big tech firms some American lawmakers have been reluctant to pursue.
"It's not perfect, but then I haven't seen anything that's perfect," Stephen Balkam, founder and CEO of the Family Online Safety Institute—an industry supported consortium of companies like Google and TikTok—told Newsweek. "Particularly in the internet space."
The industry could deploy a number of tools to enforce those protections, Balkam added. However, those could have their own pitfalls.
Ideally, such a mechanism would deploy tools like age estimation software, which uses a computer's onboard camera to estimate a user's age, or even an identity profile assigned at one's birth, Balkam said. However, politicians' mistrust of social media companies, as well as users' own reluctance to store their information online, could present obstacles.
"I don't really think we live in that world, and I don't think we necessarily want to live in that world," Balkam said. "So there's that issue between effectiveness versus invasiveness."