Republican Lindsey Graham Says Joe Biden Has 'Good Chance of Winning the White House'
South Carolina Republican Senator Lindsey Graham revealed during Thursday's Senate confirmation hearings for Judge Amy Coney Barrett that Democratic presidential candidate Joe Biden may be able to win the 2020 presidential election.
Graham's remarks came after comments by Minnesota Democratic Senator Amy Klobuchar, who criticized the GOP's decision to nominate Barrett to the U.S. Supreme Court during an election year. Many Democrats have expressed concerns that Barrett's conservative views would unfairly influence her judicial decisions, particularly on health care issues. Klobuchar said that Barrett's nomination was entwined with the election and could be a determining factor in how voters cast their ballots.
"Y'all have a good chance of winning the White House," Graham told Klobuchar. "I don't know where the polls are gonna be."
"Thank you for acknowledging that," Klobuchar said.
"I think it's true," Graham said. "I think the public will go into the voting booth and they'll say 'okay, I've seen the kinds of judges Democrats will nominate, I've seen the kinds of judges Republicans will nominate.' That will be important to people."
Newsweek reached out to Klobuchar's office for comment.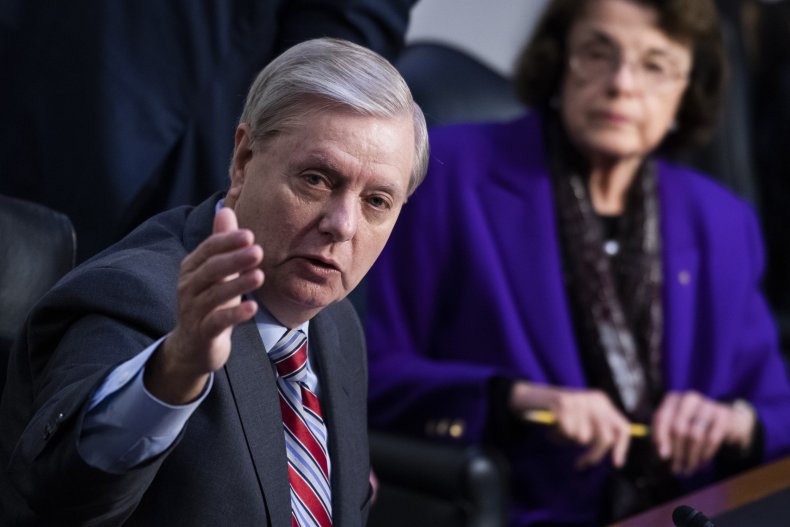 Graham said Thursday that Barrett is "exactly the kind of person that you would expect any Republican president to consider" for appointment to the Supreme Court.
If appointed, Barrett would fill the seat left open on the U.S. Supreme Court by the September death of liberal Justice Ruth Bader Ginsburg. Barrett would join Justices Brett Kavanaugh and Neil Gorsuch as Trump appointees to the bench, giving conservative justices a 6-3 majority in the Supreme Court.
Trump has been vocal about his desire to overturn the Affordable Care Act (ACA), also known as Obamacare, which allows millions of Americans to purchase health insurance. Patients with pre-existing conditions are also covered by the ACA. During a September town hall meeting, Trump called the ACA a "disaster."
"Obamacare was too expensive, the premiums are too high," Trump said. "It's a total disaster. You're going to have new healthcare and the pre-existing aspect of it will always be in my plan."
The Supreme Court is expected to hear arguments on a lawsuit filed by Republicans to overturn the ACA in November. Barrett could potentially by a judge in that case if her nomination is approved before election day.
On Tuesday, Barrett said she was aware that Trump wanted to abolish the ACA but has not discussed the upcoming Supreme Court case with anyone in the White House.
"To the extent that there's a suggestion that I have an agenda, that I want to strike down people's protections for pre-existing conditions, that's just not true," Barrett said. "I've never taken that position and as I've said repeatedly, any policy preferences I have don't matter anyway. They are irrelevant."