Republican Lisa Murkowski Says She Is 'Struggling' With Whether She Can Vote for Donald Trump Because of His Protest Response
Senator Lisa Murkowski, a Republican from Alaska, offered stinging criticism of President Donald Trump's brazen response to the racial justice protests taking the country by storm.
The commander-in-chief's decision to use military forces to corral protests—some violent—on the streets of the nation's capital and the threat to deploy armed troops on U.S. soil across the nation has left her privately tussling over whether she can continue supporting, and ultimately vote for, the president. That internal deliberation spilled into the open on Thursday in the immediate wake of a former top Trump official accusing the president of pitting Americans against one another.
"I am struggling with it. I have struggled with it for a long time," Murkowski said, according to a Capitol Hill pool report. "I think you know that I didn't support the president in the initial election, and I work hard to try and make sure that I'm able to represent my state well, that I'm able to work with any administration and with any president."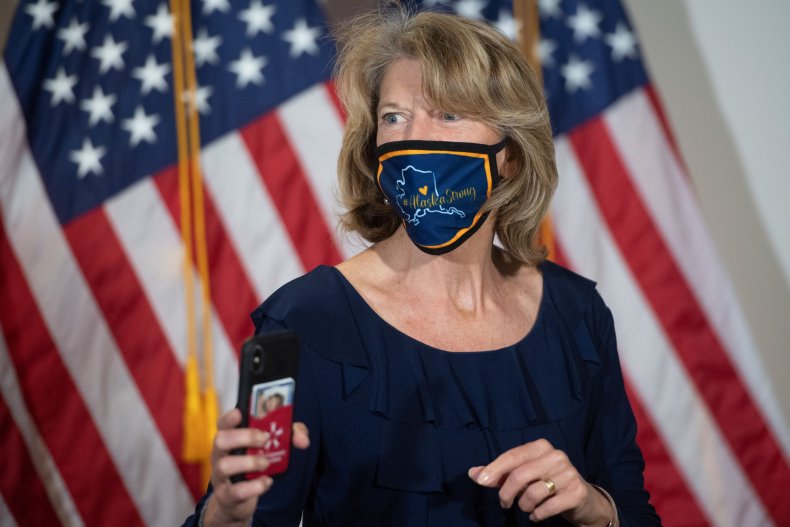 Murkowski, whose moderate political stances have led her to occasionally be a toss-up vote among her GOP colleagues, said she was "thankful" for the searing rebuke that Trump's former Secretary of Defense, James "Mad Dog" Mattis, offered Wednesday. The respected Marine general, who left the Trump administration in 2018 over his opposition to the president's stance on Syria, described his former boss as a threat to the Constitution and a country's leader who was attempting to pit its own citizens against one another amid the dire need for a unifier rather than a divider.
"I thought General Mattis' words were true and honest and necessary and overdue, and I have been struggling for the right words," Murkowski said.
The condemnation from Mattis and Murkowski add to the growing list of politicos and military figures who have denounced Trump's handling of the civil unrest that has been unleashed in cities from coast to coast over the May 25 killing of George Floyd, a black man, by a white Minneapolis officer, who has since been charged with second-degree murder. Trump has painted protesters with a broad brush, labeling them "thugs" and "lowlifes."
And the censure from Murkowski represented a departure from many of her fellow Republicans, most of whom declined to criticize Trump but said they respect Mattis.
"When I saw General Mattis' comments yesterday, I felt like perhaps we're getting to the point where we can be more honest with the concerns that we might hold internally, and have the courage of our own convictions to speak up," Murkowski continued. "I think right now, as we are struggling to find ways to express the words that need to be expressed appropriately, questions about who I'm going to vote for, who I'm not going to vote for, I think, are distracting to the moment."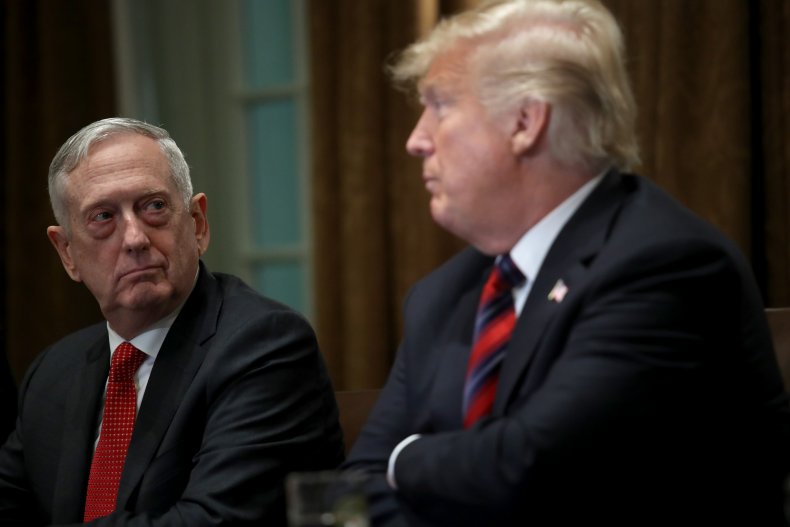 Not even Senator Mitt Romney (R-Utah)—the lone Republican to vote for Trump's impeachment—went as far in his response as Murkowski. He called Mattis' word "stunning and powerful" from a "man of extraordinary sacrifice."
"He's an American patriot. He's an individual whose judgment I respect, and I think the world of him," Romney said. "If I ever had to choose somebody to be in a foxhole with, it would be with a General Mattis. What a wonderful, wonderful man."
Mattis' remarks joined the likes of former Commander of American forces in Afghanistan General John Allen and former Chairman of the Joint Chiefs of Staff Mike Mullen, who have admonished Trump for his brash handling of racial protests demanding police reform. Trump's current Defense Secretary, Mark Esper, even broke from the president to say he does "not supporting invoking" the 1807 Insurrection Act to deploy troops to quell tense and sometime violent demonstrations, saying it should be left to the National Guard. Some Republicans have taken a similar stance, warning the little-used measure could escalate tensions.
Former President George W. Bush, a Republican, has also spoken out to "end systemic racism" and called for unity, though he steered clear of addressing Trump directly.
Many GOP senators chalked up the criticism from Mattis as the simple illustration of two people who are no longer fond of one another, adding that the former Trump administration officials have every right to express their own opinions.
"I think it's kind of obvious for some time that he and the president are at different wavelengths, and that happens when you're facing a challenge like we face today and different points of view," said Senator Pat Roberts (R-Kansas).
Senator Rob Portman (R-Ohio) said Mattis was a "decorated war hero" with an "amazing reputation and career, so I want to take what he says seriously." He added that "some of the tones" and "words" from Trump should be "focused more on healing and less on dividing."
But, Portman added: "I happen to think that the president has said the right things with regard to what happened in Minneapolis."
Democrats, meanwhile, have accused Trump of using his top military officials as "tools" for his Monday evening photo-op in front of an historic Washington church that was vandalized the previous night, a short trip made possible thanks to federal law enforcement officials firing pepper balls and smoke canisters into hundreds of peaceful protesters outside the White House as they violently pushed the crowd back with riot shields and horses.
Esper and Chairman of the Joint Chiefs of Staff Mark Milley accompanied Trump on his stroll from the White House, through Lafayette Square and to the St. John's Episcopal Church, where the president posed for photographs while brandishing a Bible.