Republican Matt Gaetz Blames GOP Georgia Governor for Trump's Election Loss
Florida Congressman Matt Gaetz placed the blame for President Donald Trump's projected loss in the state of Georgia at the feet of Georgia Republican Governor Brian Kemp during a Tuesday appearance on Fox News.
Georgia Senator Kelly Loeffler defeated Republican Doug Collins in November in a special election to decide who would serve the remaining three years of Senator Johnny Isakson's term. Isakson retired in 2019 due to health concerns, prompting Kemp to appoint Loeffler to Isakson's position. Since no primary election was held for the seat, the special election was held the same night as the presidential election.
Speaking with Sean Hannity on Fox News, Gaetz said that Kemp was more interested in the Senate race than the presidential election. "I think that for Brian Kemp," Gaetz said, "it was more important that Kelly Loeffler beat Doug Collins than that Donald Trump beat Joe Biden. He could've set that Collins-Loeffler primary earlier. We would've had a more united Republican party if that were the case, but in a close election that stuff really matters. And [Kemp] did not put us in the best position to win."
Newsweek reached out to Governor Kemp's office for comment.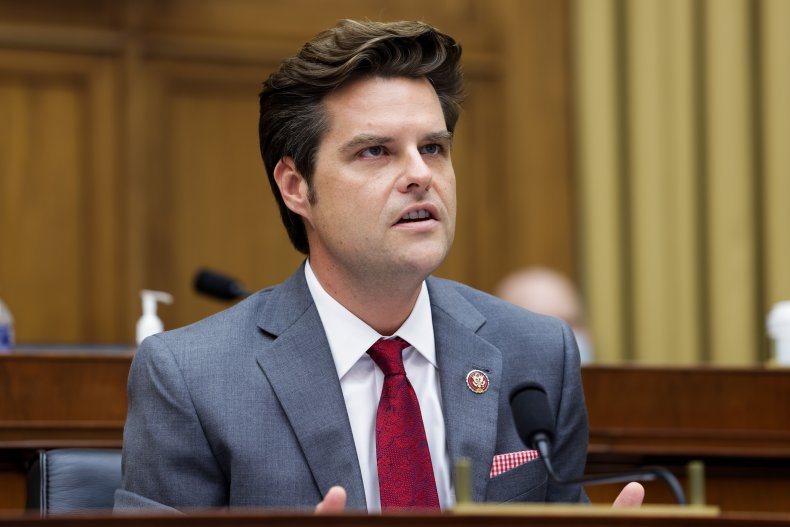 Gaetz alleged that as a chief elections officer in Georgia, Kemp should have acted earlier to preserve election integrity. In Florida, mail-in ballots are able to be tabulated as early as September. Gaetz said that Florida's policies ensure that there isn't an "unknown universe of ballots" which would allow a Democratic candidate to "catch up with some 4:00 a.m. dump of ballots into the back of the room in the middle of the night."
One week after election day, mail-in ballots are still being tabulated in Georgia. Information from the Associated Press indicates a close race between Trump and President-elect Joe Biden. The close margin between Biden and Trump—49.5 percent to 49.3 percent respectively—has led many observers to believe a recount is inevitable. No projected winner has been called for Georgia by the Associated Press.
Loeffler and fellow GOP Senator David Perdue have publicly called for the resignation of Georgia Republican Secretary of State Brad Raffensperger. In a joint statement issued Monday, Loeffler and Perdue alleged that Raffensperger had "failed to deliver honest and transparent elections."
Raffensperger responded with a statement on Monday, in which he said his resignation was "not going to happen."
"The voters of Georgia hired me," Raffensperger added, "and the voters will be the one to fire me."
Trump's recount team, under the direction of Doug Collins, has asked for the ballots cast in the state to be recounted by hand before the state releases certified tabulation results. In a Tuesday letter to Raffensperger, Collins said that the hand recount would serve to "restore the transparency that did not exist previously" in the ballot counting process.
In response to the Trump campaign's request, Raffensperger told WXIA on Tuesday that the manual recounting of the approximately 5 million ballots cast could take upwards of two weeks.