Republican Matt Gaetz Embraces Trending Hashtag That Labels Him a 'Tool'
GOP Representative Matt Gaetz is fully embracing online critics who've dubbed him a "tool" over a selfie he snapped with President Donald Trump and first lady Melania over the weekend at Game 5 of the World Series in Washington, D.C.
"I kinda like it," the outspoken Florida lawmaker wrote on Twitter in response to the trending hashtag "MattGaetzIsATool." He included a GIF of a shirtless man swinging a sledgehammer with the caption "I came in like a wrecking ball," a nod to the Miley Cyrus song.
Gaetz, a Trump ally who is in his second term representing a conservative district in the Sunshine State's Panhandle, was labeled a "f---ing tool" for his Sunday picture with Trump and Melania at Nationals Park by Andy Lassner, executive producer of The Ellen DeGeneres Show. Lassner then successfully launched a Twitter campaign to get the "MattGaetzIsATool" hashtag to trend, with 100,000 people tweeting about it as of Tuesday afternoon.
The image Lassner criticized featured Gaetz and the Trumps in their upper-level box seating. Trump was joined by several top congressional Republicans.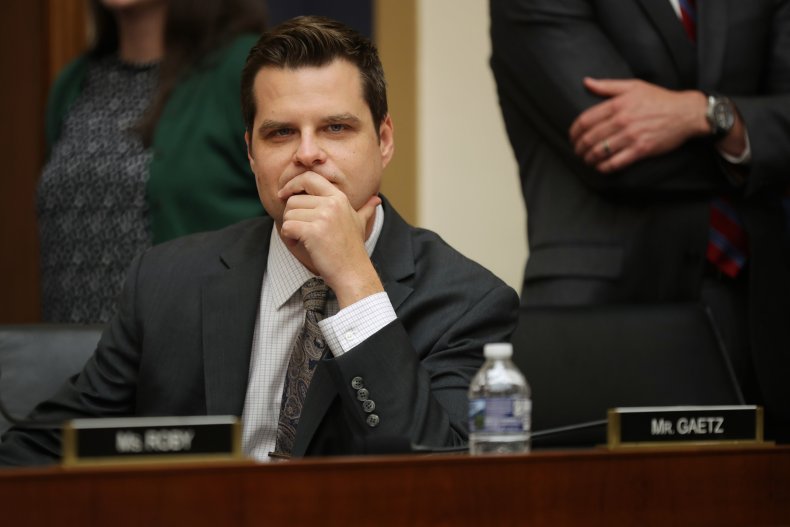 But the game between the Houston Astros and Washington Nationals quickly became political as Trump was officially introduced at the end of the third inning. Boos erupted once he and his GOP colleagues were shown on the stadium's large screen, followed by chants of "Lock him up!"
During the House's impeachment investigations, Gaetz has maintained his reputation as a staunch Trump supporter who doesn't shy away from controversy. He helped lead last week's effort by several dozen House Republicans to storm a secure area of the Capitol to gain access to closed-door witness depositions, shutting down the interview for much of the day. The move was characterized by Democrats as political grandstanding.
Gaetz is not a member of the three committees leading the impeachment inquiry—Intelligence, Oversight and Foreign Affairs—thus lacking access to the private testimonies.
In recent days, Lassner and Gaetz have sparred in Twitter exchanges about Lassner calling the lawmaker a "tool." Lassner also ridiculed Gaetz for leading his Republican colleagues in their effort to crash the witness testimonies being led by impeachment investigators.