Republican Matt Gaetz Suggests Making Operation Warp Speed Officials Count Georgia Ballots
Rep. Matt Gaetz (R-Fla.) suggested allowing health officials involved in Operation Warp Speed count presidential election ballots as President-elect Joe Biden's victory continues to be disputed by President Donald Trump and his allies.
Gaetz made the remarks during a Wednesday evening appearance with Rep. Jim Jordan (R-Ohio) on the Fox News opinion show Hannity. Jordan demanded that Democrats investigate alleged "irregularities" in Georgia's hand recount, which GOP election officials in the state dispute exist. Host Sean Hannity then asked Gaetz to weigh in on the issue.
"In Georgia, these mistakes aren't in the tens or hundreds of votes, they're in the thousands of votes," Gaetz said. "Maybe we ought to put the people who ran Operation Warp Speed in charge of counting the ballots in Georgia, and they'd be able to get us a result by now."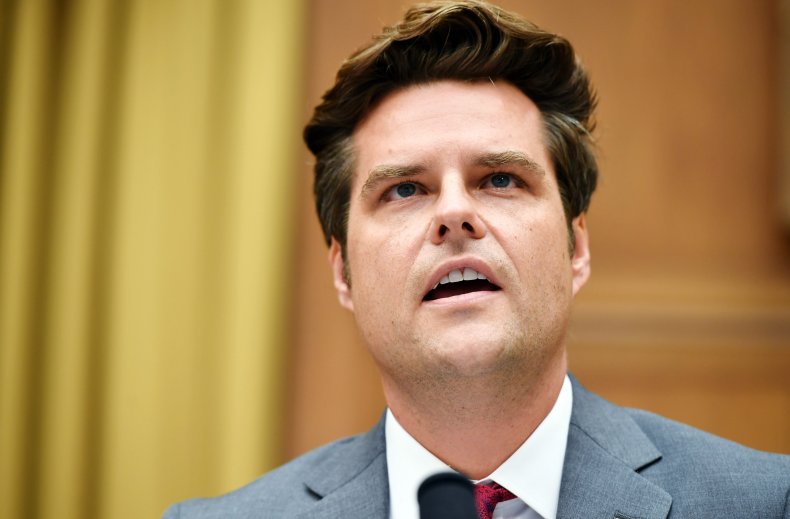 Officials working with the Trump administration's Operation Warp Speed initiative, focused on aiding and accelerating the pace of COVID-19 vaccine and treatment development by offering financial assistance for research and easing regulations, would make unlikely election workers.
Before Gaetz connected the initiative to the election, Hannity had lauded it due to promising news about the potential efficacy of two COVID-19 vaccines that quickly advanced in clinical trials, one from Moderna, which directly received research funding from the initiative, and the other from Pfizer in partnership with BioNTech, which did not.
Most media outlets and experts have called Georgia for Biden, citing a vote differential that is larger than any margin overcome in past U.S. recounts. The recount has uncovered uncounted votes in the low thousands for both candidates, but Biden's advantage has only narrowed slightly and he is expected to remain well ahead when final results are announced on Thursday.
Regardless, Gaetz remained convinced Biden's win in Georgia would eventually be invalidated. He insisted that the unlikely feat would lead to other states being flipped based on unspecified "real data," while claiming without evidence that "ballot laundering" had occurred in Pennsylvania.
"Once Georgia flips, we've got a lot of questions about Pennsylvania," said Gaetz. "I think that when we really dig into the circumstantial data and into the real data, we'll find out that there was ballot laundering going on here."
At least three states would need to be flipped for Trump to remain in office, since Biden has a 306 vote to 232 vote advantage in the Electoral College, where 270 votes are needed to win. The Trump campaign, hoping for an unprecedented reversal using recounts, has launched dozens of lawsuits in an attempt to overturn Biden's victory. Most have quickly ended without success.
The conservative trio agreed that elections officials in states that Trump won "did great," although their reasoning was not clear. Hannity praised the speed of the count in Florida, which allowed absentee ballots to be counted before Election Day unlike many states Biden won, while also praising the count in Ohio, which took considerably longer.
Newsweek reached out to the office of Gaetz for comment.