Republican Mayor In South Dakota Questions Trump Order Opening Meat Plants: 'We Need to Make Sure It Can Open Safely'
Mayor Paul TenHaken of Sioux Falls, South Dakota, raised concerns about President Donald Trump's use of the Defense Production Act (DPA) on Tuesday to order food processing plants to remain open amid the coronavirus pandemic.
Sioux Falls is home to a large Smithfield Foods pork processing plant, which is one of the city's largest employers. More than 800 workers at the facility have tested positive for the coronavirus, making it one of the nation's largest hotbeds of infections and leading to its indefinite closure. But with Trump's use of the DPA, TenHaken, a Republican, is concerned how the plant will be able to safely reopen and comply.
"The safety of the employees continues to be the top priority," TenHaken said in a Wednesday morning interview with CNN. "You know, right now we haven't seen a report from Smithfield or any confirmation from Smithfield that they are ready to reopen. My hope is that they are taking the measures to reopen shortly."
The mayor cautioned, "While I want them open more than anyone, we need to make sure it can open safely for those employees that need to go back there."
TenHaken pointed out that the Smithfield plant is more than 100 years old, suggesting that it is more difficult to bring it into compliance with guidelines about social distancing and hygiene laid out by the U.S. Centers for Disease Control and Prevention (CDC).
"Some of these recommendations from the CDC, quite honestly, simply aren't possible," he warned.
For its part, Smithfield released on Wednesday a statement backing the president's decision to use the DPA for food producers.
In a statement, the company said: "The executive order, together with the guidance issued by the Centers for Disease Control and Prevention (CDC) of the Department of Health and Human Services and the Occupational Safety and Health Administration (OSHA) of the Department of Labor, provides a much-needed framework that prioritizes employee health and well-being, while also stabilizing the country's food supply and preventing the collapse of the agricultural economy."
The statement went on, "The company appreciates the Administration's partnership, along with various other local, state and federal healthcare authorities and public officials and its union representatives during these unprecedented and enormously challenging times."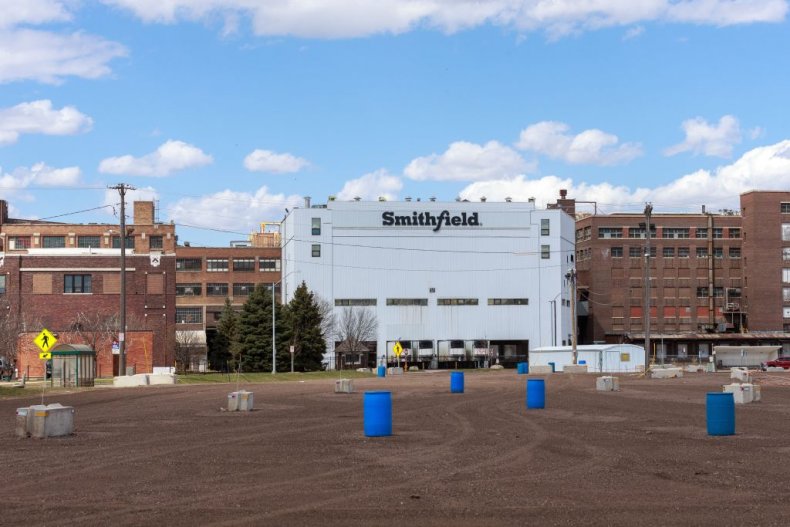 While others have also raised concerns about the health and safety risks of opening the plant, South Dakota's governor has been pushing for the facility to reopen.
"This is a critical infrastructure business. I've always talked about our food supply as a national security issue because it's important we feed ourselves in this country, and make that a priority, so I'm hopeful we can get it open as soon as possible," Governor Kristi Noem said in a Tuesday interview with Fox News.
"My hope is days," the Republican governor said.
As of Wednesday, 2,245 people were confirmed to have been infected with the coronavirus in South Dakota. Of those, 1,316 have recovered and 11 have died.