Republican Mia Love Loses Utah Race by Fewer Than 700 Votes After Trump Mocked Her for Shunning Him
Incumbent Republican Rep. Mia Love has lost her Utah seat by a margin of fewer than 700 votes.
The Associated Press has now called the race for the state's 4th Congressional District Tuesday for Salt Lake County Mayor Ben McAdams.
Officials will certify the hotly contested Midterm results Monday. A larger margin, AP reported, may have required a recount.
Love made history in 2014 when she became the first black Republican woman elected to Congress, after serving as mayor of Saratoga Springs from 2010. Democrat Jim Matheson was the first person to represent Utah's 4th district, which was created after the 2010 Census.
Matheson did not stand for reelection in 2014, and Love won the seat.
U.S. President Donald Trump personally blasted the congresswoman earlier this month after results initially pointed to her defeat.
A staunch critic of the president, Love released a statement on social media back in 2016 in which she explained her refusal to endorse Trump ahead of the presidential election. She wrote: "His behavior and bravado have reached a new low. I cannot vote for him. For the good of the part, and the country, he should step aside."
Love has since criticized the president for certain trade tariffs, and condemned the "horrible" policy of splitting up immigrant families at the U.S. border. "You can see these children, these innocent children, being ripped from their families. It's absolutely terrible," she said in May, according to Deseret News Utah.
"Mia Love gave me no love. And she lost. Too bad. Sorry about that, Mia," Trump said to reporters at the White House Wednesday, November 7.
Speaking more generally about losing Republicans that hadn't shown support for his administration, Trump said: "You had some that decided to say 'let's stay away'… They did very poorly. I'm not sure if I should be happy or sad, but I feel just fine about it."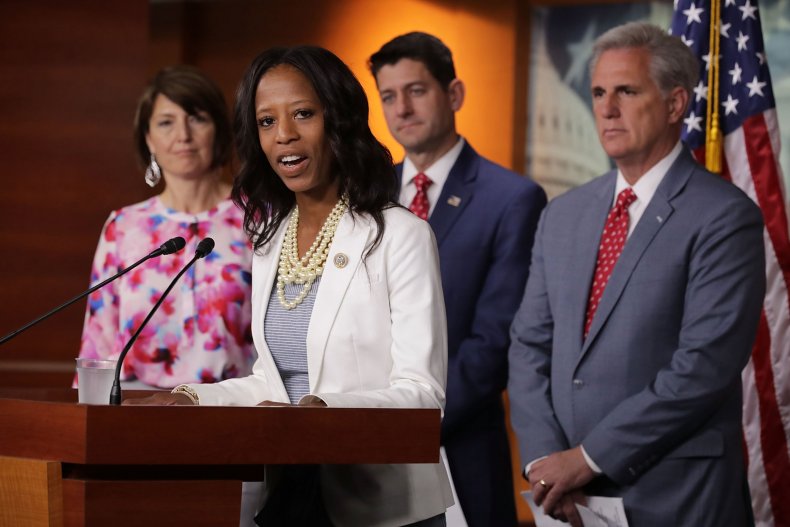 Love, a member of the Church of Latter-Day Saints, opposes abortion and same-sex marriage. She has previously endorsed slashing billions in federal funding by repealing the Affordable Healthcare Act and limiting Medicaid growth, The Salt Lake Tribune reported in 2012.
The National Rifle Association endorsed Love back in 2016. She has since spoken out against bump stocks and in favor of additional background checks for those buying guns. "There's something wrong. We have to fix it," she said in the wake of the Parkland, Florida high school shooting, local outlet KSL previously reported. "So I'm open to listening to everything. I think we have to. And if we don't, we would be doing our children and our country a disservice."