GOP Congressman Mike Kelly Declares 'I'm White, I'm A Person of Color,' Defends Trump From Racism Accusations
Pennsylvania Republican congressman Mike Kelly vigorously defended President Donald Trump from accusations of racism, calling on Americans to have "thicker skin" and declaring himself "a person of color."
Kelly accused Trump's progressive "Squad" critics of being anti-Semitic and described how his ancestry as a white man of Irish and German ancestry makes himself a "person of color." VICE News reporters Daniel Newhauser and Cameron Joseph engaged in a mildly testy exchange with the GOP congressman Tuesday evening and asked him about the 240-187 passage of a House resolution which condemned Trump's remarks toward four congresswomen as racist. Kelly complained Trump is unfairly held to a "much higher standard" than a "regular citizen" and later issued a statement claiming the audio of his own words were "mischaracterized" by the reporter.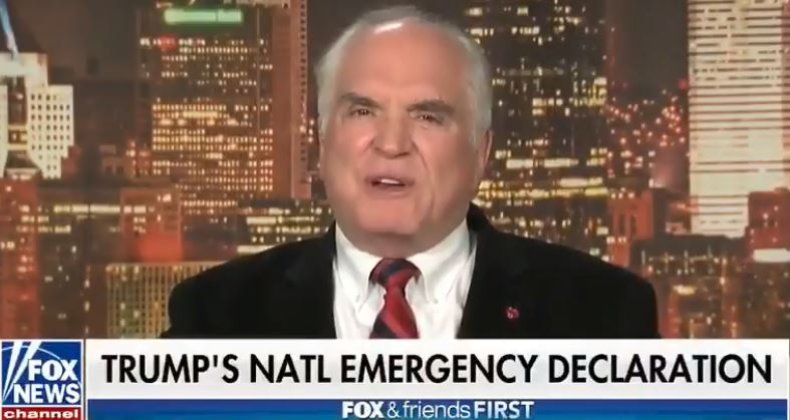 "You know, they talk about people of color. I'm a person of color. I'm white. I'm an Anglo Saxon," Kelly told VICE Tuesday. "People say things all the time. But I don't get offended. With a name like Mike Kelly you can't be from any place else but Ireland."
Kelly accused so-called "Squad" members including Minnesota congresswoman Ilhan Omar of benefiting from a "double standard" that allows them to get away with making "anti-Semitic statements."
He then offered a full-fledged defense of Trump's presidency, regardless of any racist statements he may tweet or say: "He's not a politician, he's not a politician. He's pretty much a guy who I grew up with who says what's on his mind at the time ... It does not offend me, it does not offend me -- are some people offended? I'm sure. But those people are offended no matter what he says. I don't concentrate on it."
Kelly's office later issued a statement to the Pittsburgh Tribune-Review after the VICE reporter previewed the discussion between the two on social media Tuesday. He accused the reporter who audio recorded the entire interaction of "mischaracteriz[ing] our conversation and my broader point: We're all created equal. It's time to stop fixating on our differences and focus on what unites us."
Kelly said the First Amendment allows the president to say potentially racist things and he complained "this president is held to a much higher standard."
"Shouldn't the president be held to a higher standard?" the VICE reporter pressed him.
Kelly argued "Trump is just like any other regular citizen. Does he relinquish some of his rights?"
When asked if Kelly had ever been told to "go back to your country?" he said such an incident had previously occurred. "It didn't make me feel anything at all. I don't get offended by something, I have a thicker skin ... "why do we get wrapped around the 'oh you can't say that.' Why not? Why can't he say that?"
This isn't Kelly's first racially-based controversial comment. In May 2018, Kelly interrupted fellow member of Congress Maxine Waters during a committee meeting on discrimination and stated: "We're trying to make America great every day and every way and the best way to do that is to stop talking about discrimination and start talking about the nation," said Kelly. "We're coming together as a people in spite of what you say."
GOP Congressman Mike Kelly Declares 'I'm White, I'm A Person of Color,' Defends Trump From Racism Accusations | Politics