Will Republicans Ever Have Enough Votes for Obamacare Repeal?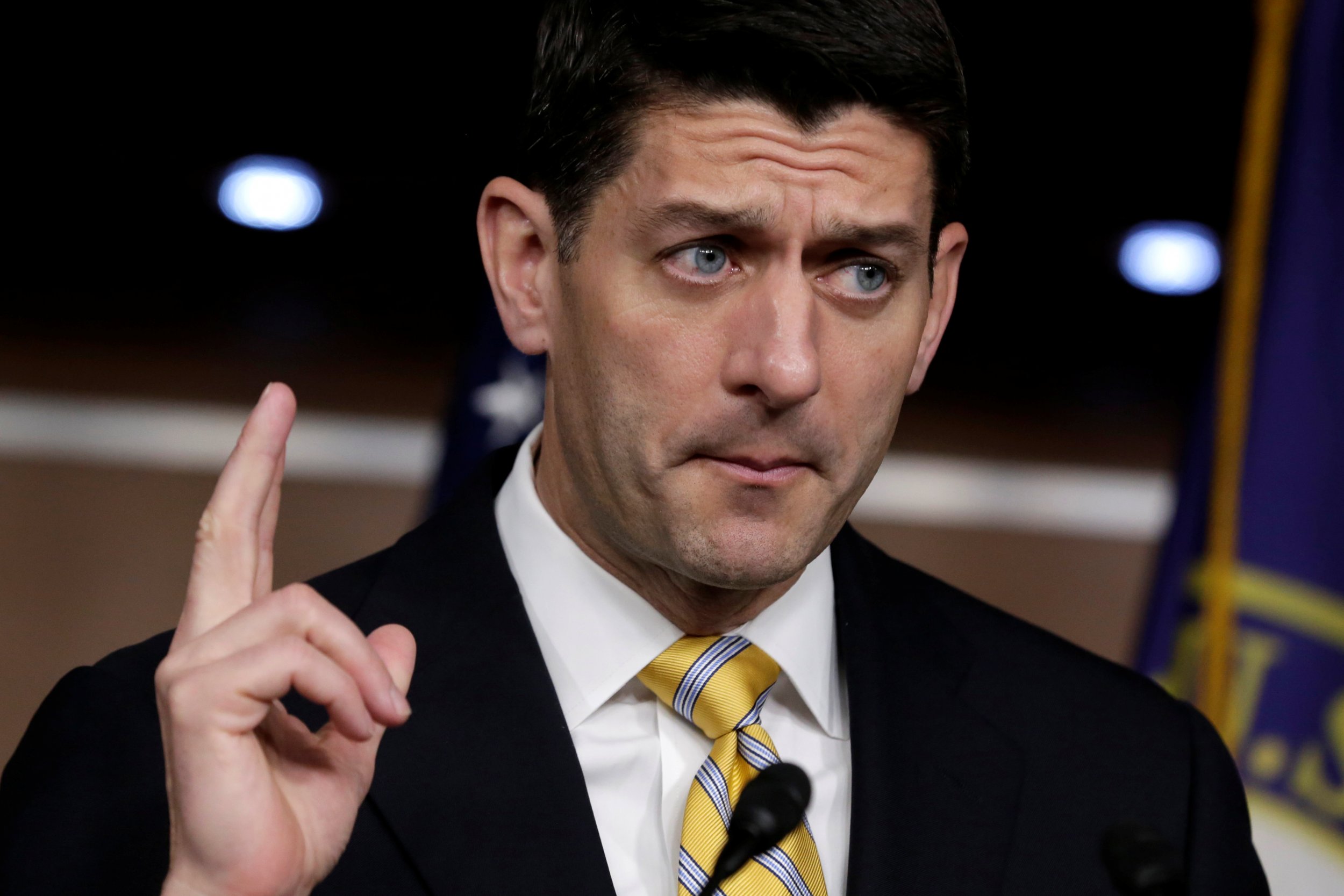 With House Republicans' latest tweaks to their plan to repeal and replace Obamacare having failed to win sufficient support from within their own party, President Donald Trump has been denied what would have been a key bullet point in the list of achievements during his first 100 days in office, a mark he hits Saturday. And despite party leaders' claim they're in no rush to overhaul the 2010 health care law, the clock is very much ticking.
Related: Revenge of the Republican moderates
The looming question: At what point do Republicans have to give up on their effort to repeal Obamacare on a party line vote and work with Democrats on a more modest fix to the health care system put in place by the last president?
That's still not an option, several Republicans insist. "There's no way any Democrat will ever vote for something that's called the repeal of Obamacare. Talk about wishful thinking," Representative Chris Collins of New York said Friday morning, hours after House leaders had announced they would not hold a vote on their health care proposal this week. Collins said the latest version of the repeal legislation is "absolutely not dead; they are very close." Vote counts kept by various media outlets peg the firm "no" votes at roughly 20, with many more undecided. Republicans can afford to lose only around 22 votes, depending upon the number of House vacancies that remain.
Newsweek subscription offers >
After suffering the embarrassment of canceling a planned vote on the GOP health care proposal in March, House Speaker Paul Ryan has made clear he will not hold another vote on the legislation until he's certain there are enough Republican votes to pass it. Democrats are united in their opposition to the package, which would unravel billions of dollars' worth of taxes the 2010 health care law levied; fundamentally restructure Medicaid; and eliminate Obamacare's so-called individual mandate requiring Americans to have health insurance coverage.
Republicans have struggled to muster a consensus within their own caucus, with the more moderate wing of the party concerned about the millions of people projected to lose coverage under the proposal, while the hard right insists it doesn't go far enough in undoing Obamacare.
The latest changes to the repeal proposal, laid out in an amendment made public on Wednesday, would keep the Obamacare provision requiring insurers to cover certain health benefits—like maternity coverage or hospitalization—but it would give states the ability to apply for a waiver to avoid those requirements, as well as another rule aimed at preventing insurers from charging sick people more for coverage. To receive the waiver, a state would have to meet several conditions, including creating a "high-risk pool" for those who face higher premiums because of their health problems.
That amendment, which was hashed out between Representative Tom MacArthur, a co-chairman of the Tuesday Group, and Representative Mark Meadows, the leader of the far-right House Freedom Caucus, was aimed at closing the gap between the two wings of House Republicans, whose opposition combined to sink the initial health care bill Republican leaders teed up last month. On Wednesday, the Freedom Caucus endorsed the proposal with the new amendment, but many members of the Tuesday Group and others in the pragmatist wing of the party remain opposed or on the fence.
Newsweek subscription offers >
"The hot potato has moved to those of us that are typically the ones that cast the tough votes all the time, whether it's debt ceiling or keeping the government open," observed Collins, a member of the Tuesday Group. He supports the latest measure and has been working to convince other wavering lawmakers who, he said, are worried about how altering the Obamacare benefits mandates would play in their moderate districts back home. "I've said to my New Yorkers, [Democrats are] going to attack you on something, so don't get caught up on this—this is the commercial they're going to run against you," Collins recounted. "No one in New York's going to be impacted," he added, pointing out that the Empire State has its own laws requiring benefits coverage and barring insurers from ratcheting up premiums on people with pre-existing conditions.
On the flip side, Democrats are warning Republicans in swing districts and states they will pay for their support of latest version of their Obamacare repeal plan in the 2018 election. Directing his remarks to "moderate Republicans," Senate Democratic leader Chuck Schumer noted Thursday, "Even if it passes the House, the chances for survival in the Senate are small. We don't even know if the new version would survive under the rules of reconciliation." If Republicans can't use what's known as "budget reconciliation," a parliamentary procedure that allows the Senate to pass budget-related legislation with a simple majority vote, Senate Democrats could block the bill's passage. So, Schumer posed a rhetorical question: "Why would you risk voting 'yes' to a bill that is devastating to your constituents and has no chance of becoming law?"
With public support for Obamacare on the rise, more moderate House Republicans are probably asking themselves some version of the same question. Even if they can use the reconciliation process in the Senate, the legislation is likely to face a much steeper climb there. The party can only lose three votes with its narrow Senate majority, and many swing state Republicans have already voiced concerns about the House proposal.
At the same time, there is real pressure, both from the Trump White House and GOP voters, for the Republican-controlled Congress to show some progress on an issue they've promised to address for nearly a decade. Texas Republican Joe Barton said Thursday he thinks that is what will ultimately win over enough Republicans to pass the bill in the House. "We campaigned for seven years or eight years on repealing Obamacare. We're really not going to repeal it but we are going to reform it. And this bill is a big step towards doing it," Barton said.
Collins suggested there are still small tweaks Republicans can make to the legislation to win over the handful of votes they would need to pass the bill in the House. And a leadership aide said there are things Health and Human Services Secretary Tom Price could do, in terms of implementing Obamacare, that could address some concerns. Veteran Texas Representative Michael Burgess expressed optimism Friday that the House would ultimately vote on the latest Obamacare repeal bill.
The reality of the legislative calendar is such that a vote would have to come in a matter of weeks. The House is in session the first week of May, but is on recess the week of May 8 and again the week of May 29. And because congressional Republicans are trying to use budget reconciliation rules to pass their health care bill, the longer they take, the longer it delays moving onto their next budget, for fiscal year 2018. At some point this summer, Republicans will need to move on to that 2018 budget, which is necessary to advance their plan to overhaul the tax code.
Some Republicans, however, are suggesting the party needs to scrap the partisan reconciliation approach on health care and try to reach a compromise with Democrats. New Jersey Representative Leonard Lance, a member of the Tuesday Group, tells Newsweek the best approach to overhauling Obamacare is to negotiate a bipartisan solution with Democrats, "because I don't think the exchanges are working at all." Asked if there is anything Republicans leaders could offer to get him to vote for the latest health care legislation, Lance replies, "I don't think so."
Will Republicans Ever Have Enough Votes for Obamacare Repeal? | U.S.