Photos: Donald Trump's Kids Save the RNC Amid Spasms of Misogyny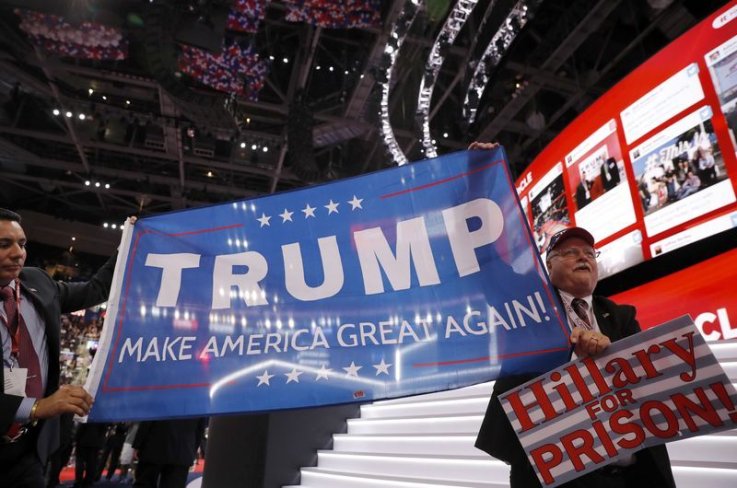 It's official: 13 months after launching his bid for the White House, Donald Trump was declared the 2016 Republican presidential nominee on Tuesday.
The second day of the Republican National Convention in Cleveland also featured speeches from several high-profile Republicans, after the nominating process began at 5:30 p.m. The theme of the day was "Make America Work Again," and those addressing the crowd included House Speaker Paul Ryan, Senate Majority Leader Mitch McConnell and New Jersey Governor Chris Christie, an ally of Trump who once was considered a possible vice presidential pick. Two of Trump's adult children, Donald Jr. and Tiffany, also addressed the crowd, effectively salvaging what could have been a disastrous night for the GOP by acting as character witnesses for their father.
Dr. Ben Carson, the onetime Trump rival who pulled ahead of the real estate mogul in several polls last fall, also spoke. His comments connecting Saul Alinsky, a community organizer who once praised Lucifer in a book, to Hillary Clinton have put him back in the spotlight for a moment.
Despite the open misogyny on display inside and outside the Quicken Loans Arena, day two was relatively calm compared to the tumultuous start to the convention—on Monday, anti-Trump delegates caused an uproar on the floor of the arena, demanding that the leadership allow a state-by-state roll call vote on the rules of the event. Later that night, Donald Trump's wife, Melania, took the stage—a rare campaign appearance for the possible first lady. Since the conclusion of her speech, she and her husband's campaign have endured mounting criticism over plagiarism—her address bore striking similarities to that given by first lady Michelle Obama at the Democratic National Convention in 2008.
Day three is already gearing up to be a wild one—there's been one flag-burning protest, and several others forcing cops in riot gear to make arrests and break up crowds. The rest of the night should be interesting, with three of Trump's former GOP presidential rivals slated to speak. Mike Pence, Trump's running mate, will end the night with his speech, immediately after former House Speaker Newt Gingrich, who also was among the top contenders to be Trump's running mate. Coverage begins at 7 p.m. Eastern time.
Newsweek will be watching the convention closely throughout the week—check back here for our continued coverage of the event.