Stimulus Checks Don't Help Economy and Could Actually Harm It, Says GOP Lawmaker Neal Dunn
Florida Republican Representative Neal Dunn said Wednesday that the $1,400 direct payments proposed in President Joe Biden's $1.9 billion stimulus plan may wind up harming the economy.
In a recent interview with WMBB, Dunn said that the checks would not help to stimulate the economy. "Any time the government is out spending money wildly," he explained, "they can actually debauch the currency itself. We're talking about, in this package, an amount of money that's equal to 15 percent of the entire GDP [Gross Domestic Product] of the country in one fell swoop."
Dunn also insisted that past direct payments did nothing to boost the economy. "I don't think they help, none of the others have," he said. "We've done this experiment twice now. It was done during the George Bush years and all we ended up with was people going out and buying TVs. It didn't stimulate the economy."
Biden's plan was designed to help Americans adversely affected by the COVID-19 pandemic, which closed down many businesses deemed non-essential.
Many Republicans criticized Biden's plan as being too expensive. Dunn, a member of the House Energy and Commerce Committee, also opposed increasing unemployment insurance benefits, alleging that it would make employees less eager to work.
"When I go around and talk to employers all over my district, they all say the same thing: 'I don't need any more free money, I need employees. Stop paying them to stay home,'" Dunn told the local outlet. "If you give people more unemployment insurance, well, they'll be grateful but they won't work, and you need people to work. That's what makes the economy go."
Although Biden said in February remarks that unemployment numbers would still be high when the benefits extension expires at the end of September, the president described his overall plan as "a real answer to the crisis we're in."
"It's better economics," Biden said. "It not only addresses the immediate crisis we're in, it's better for the long-term economic health of our nation and our competitiveness."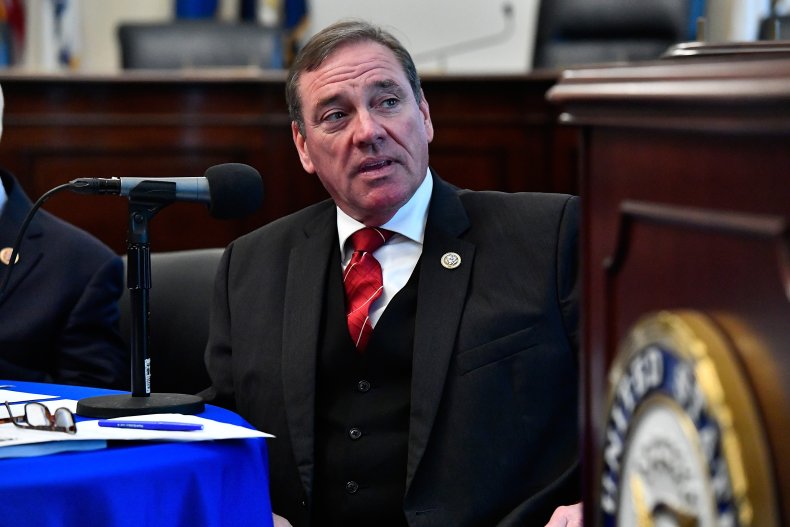 Support for Biden's stimulus package is high among Americans, according to a February poll by Quinnipiac University. That poll found that 68 percent of American adults were in favor of the proposal while 24 percent opposed it.
According to the U.S. Bureau of Labor Statistics in February, 6.3 percent of Americans were classified as unemployed. But on Wednesday, Federal Reserve Chair Jerome Powell said that number could be inaccurate, citing a misclassification of some unemployed Americans as being accidentally counted as employed.
"Correcting this misclassification and counting those who have left the labor force since last February as unemployed would boost the unemployment rate to close to 10 percent in January," Powell said in virtual comments to the Economic Club of New York.
Newsweek reached out to the Federal Reserve for comment.
Biden has an expressed a desire for bipartisan support of his stimulus package, but he encouraged Congress on Monday to move swiftly to pass his proposal. "We don't have a second to waste when it comes to delivering the American people the relief they desperately need," the president tweeted.