Watch: Republican Pushes Conspiracy Theory That Obama Allowed Russia to 'Kill Ukrainians' in Trump Impeachment Hearing
The first of President Donald Trump's public impeachment inquiry hearings took a strange turn on Wednesday when a Republican congressman pushed a conspiracy theory that former President Barack Obama denied aid to Ukraine, and in doing so, allowed Russia to "kill Ukrainians."
Representative Brad Wenstrup of Ohio made the claim while questioning top U.S. diplomat to Ukraine Bill Taylor during the House Intelligence Committee's hearing, which also featured testimony from Deputy Assistant Secretary of State George Kent.
"Maybe now we understand what President Obama meant when he told Russian President [Dmitry] Medvedev that he'd have more flexibility after his election," Wenstrup said, addressing Taylor. "Maybe that flexibility was to deny lethal aid to the Ukraine, allowing Russia to march right in and kill Ukrainians."
Wenstrup continued: "Again in your deposition, you urged the Obama administration officials to provide lethal defensive weapons to Ukraine in order to deter further Russian aggression and now they have that under this administration, don't they?"
Taylor replied, "Yes they do."
Vox journalist Aaron Rupar, who shared a video clip of Wenstrup, tweeted that the Republican representative's accusation about Obama "doesn't make much sense," especially "as opposed to Trump, who he absurdly portrays as Ukraine's staunch ally."
Obama in spring 2012 told Medvedev while they held nuclear weapons talks in Seoul that he needed more time to address some issues, "particularly with missile defense."
"This is my last election," Obama said according to a Reuters report from the time. "After my election I have more flexibility."
Russia invaded Ukraine two years after Obama's comment.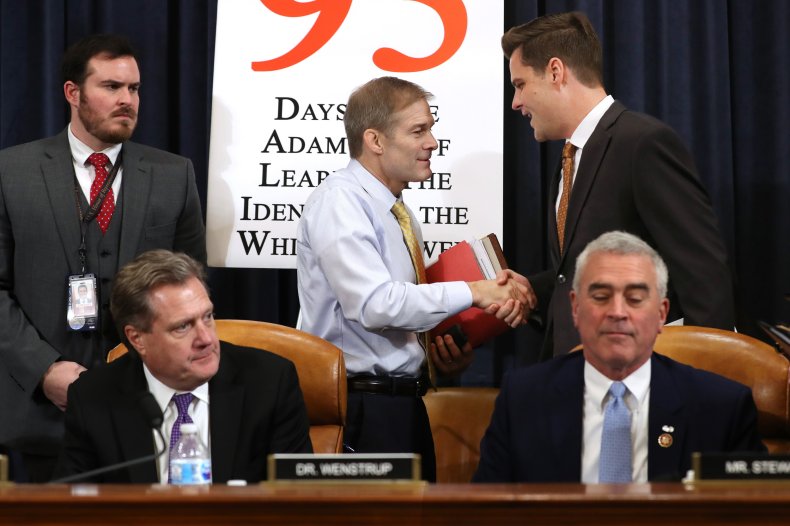 House Intelligence Committee Chairman Adam Schiff debunked Wenstrup's theory by putting the matter in context time-wise.
"My colleagues referenced the conversation, the hot mic conversation between President Obama and President Medvedev–that was in 2012," Schiff said. "There was a suggestion that [Obama] was saying he was going to go easy on Russia over the invasion of Ukraine, but that invasion took place two years after that conversation."
Schiff then asked Taylor: "You don't have any reason to believe that President Obama was referring to going easy on Russia for an invasion that hadn't happened yet, do you?"
Taylor, looking somewhat perplexed, began by saying, "Mr. Chairman, I have no knowledge of what was in..." before Schiff interjected.
"It was more or less a rhetorical question," Schiff said.
Taylor smiled and nodded.
As of Wednesday evening, Wenstrup had not commented further on Twitter about his Obama theory. That morning, he had tweeted: "Democrats' push to impeachment is a foregone conclusion in search of evidence; politically, they must impeach @realDonaldTrump so they are seeking a rationale to do so."