Republican Officials Already Mounting Opposition to Biden's New Vaccine Requirements
Republican officials across the country are already mounting opposition to the Biden administration's COVID-19 vaccine requirements.
The Occupational Safety and Health Administration (OSHA) rolled out new guidelines Thursday covering approximately 100 million workers.
"There should be no mandates. People have ample access to the vaccine," South Carolina Governor Henry McMaster told reporters hours after the OSHA guidelines were released. "People have reasons to take the vaccine and reasons not to. Federal mandates on such a thing have never been done in our history."
McMaster also announced plans to issue an executive order barring his Cabinet directors from enforcing any vaccine mandate. He will also require state agencies to report to him if the federal government asks about the vaccination status of employees.
Florida Governor Ron DeSantis, one of the most outspoken critics of coronavirus-related mandates, vowed to contest the OSHA requirements "immediately."
"They're abusing emergency power to be able to do what they would not be able to get through the Congress and do in a constitutional way," DeSantis said. "I think this rule is absolutely going down."
Indiana Governor Eric Holmes has directed his state's Department of Labor to work with Attorney General Todd Rokita on a lawsuit over the Biden administration's vaccine mandate for companies with at least 100 employees.
"This is an overreach of the government's role in serving and protecting Hoosiers," Holcomb said in a statement. "While I agree that the vaccine is the tool that will best protect against COVID-19, this federal government approach is unprecedented and will bring about harmful, unintended consequences in the supply chain and the workforce."
Missouri Attorney General Eric Schmitt also said his state will be exploring legal options to combat the mandate.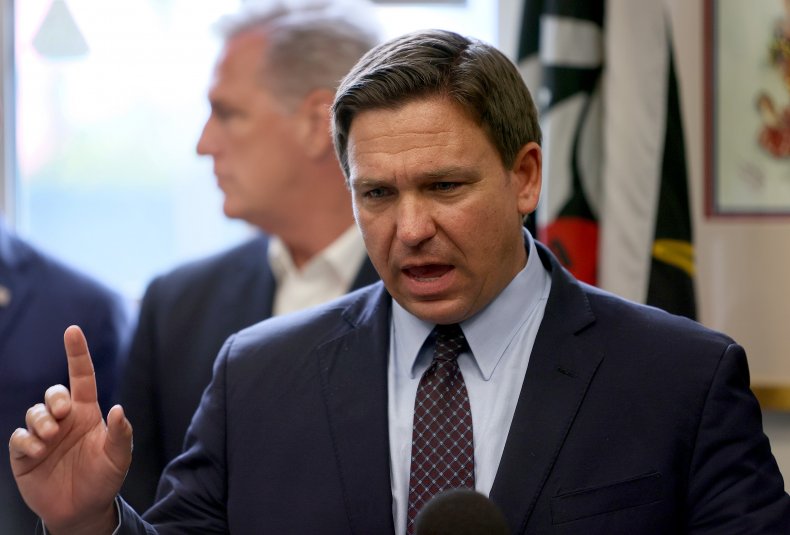 In September, President Joe Biden announced plans to mandate vaccines, and since then dozens of Republican attorneys general have warned they would go to court to fight the requirements.
Companies with a workforce of 100 or more people have until just January 4 to ensure their employees are fully inoculated against the coronavirus. Those who do not get a shot must undergo weekly testing and wear masks, but it will be up to the businesses to enforce the rule. The Department of Labor will be investigating to ensure compliance.
Failing to meet the requirements could cost businesses a fine of up to $136,000.
The administration has also mandated that millions of workers at health care facilities receiving Medicare or Medicaid funding must be vaccinated. There is no testing option for these employees.
"Vaccination is the single best pathway out of this pandemic," Biden said in a statement Thursday. "And while I would have much preferred that requirements not become necessary, too many people remain unvaccinated for us to get out of this pandemic for good."
Newsweek reached out to the White House for comment on Republicans' opposition to the OSHA rules but did not hear back before publication.