Republican Officials Demand to Know if Shooting of Black Trump Supporter Was Politically Motivated
Republican officials are demanding to know whether the fatal shooting of a Black Trump supporter in Milwaukee was politically motivated.
Bernell Trammell, who was often seen carrying large, handwritten signs in support of George Floyd, President Donald Trump and police reform, was fatally shot outside his business in broad daylight on July 23, according to neighbors.
The 60-year-old ran a small publication called "Expressions Journal."
The Republican Party of Wisconsin released a statement early this week about Trammell's death, saying a politically motivated shooting would endanger the upcoming election.
"It has now been four days since the death of Bernell Trammell and the public still does not have any details surrounding the circumstances of Mr. Trammell's death," said Republican Party of Wisconsin Chairman Andrew Hitt.
"With the general election 99 days away and a primary in two weeks, it is imperative that the community knows if Mr. Trammell's murder was politically motivated. Wisconsin voters, and especially campaign volunteers, deserve to know if they are safe while exercising their First Amendment rights," Hitt added.
Milwaukee police are asking for the public's assistance in identifying the man who shot Trammell. The suspect is described as a man in his 30's dressed in a baseball cap and a black and red long sleeve shirt.
There is no known motive for the shooting.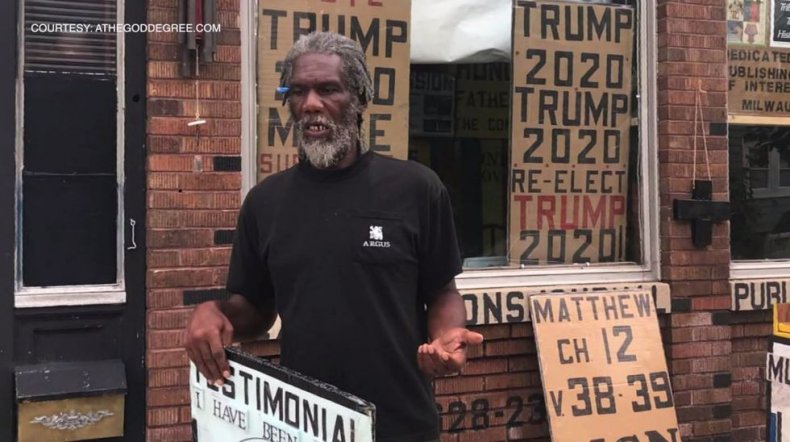 Republican Senator Ron Johnson also extended condolences to Trammell's friends and family, writing on Twitter that he hopes "they get answers and justice soon."
While the Republican Party of Wisconsin wants to see an investigation, they said public safety is their first concern.
"No matter if Trammell's senseless murder was politically motivated or not, officials in Milwaukee, Gov. Tony Evers, Attorney General Kaul and Mayor Tom Barrett need to do everything they can to ensure the personal safety of their citizens," Hitt said in the statement.
Newsweek reached out to the Republican Party of Wisconsin for comment but did not hear back by publication.
Pia Lombari, a friend of Trammell's for more than two decades, told WBAY-TV that Trammell's constitutional right to vote should not have threatened his life.
"He had a right to have his voice, and he was so strong to do it alone," Lombardi said. "I would hope that people think that this is a senseless murder and a good man died here for no reason. We lost a man who cared about people, even if they were different than him."
Democratic Senator Lena C. Taylor has also demanded justice for Trammell. At a vigil held on Sunday, Taylor said the Trump supporter also volunteered for her campaign for mayor. Taylor said that while the Riverwest community is known to be liberal, Trammell was a neighbor nonetheless.
Black Lives Matter supporters at the vigil, which was Facebook livestreamed, said it's important to find justice for all Black lives, even those that may support unpopular opinions.