GOP Officials Warn Biden of Lawsuit Over New Gender Policy for Schools
Nearly twenty Republican state attorneys general have signed onto a letter hinting at possible legal action against the Biden administration over proposed LGBTQ anti-discrimination policies they believe would directly challenge laws their states have passed banning transgender students from competing in women's sports or using women's changing and restroom facilities.
The 17-state coalition led by Montana Attorney General Austin Knudsen sent a letter to the Biden administration Monday formally objecting to changes to the nation's Title IX statutes proposed by the Department of Education earlier this year that, if adopted, would require publicly-funded schools to expand their nondiscrimination policies to incorporate students who do not identify as the gender their doctors assigned at birth. Those that don't could be subject to losing federal funding.
The proposed changes, the AGs said, would "weaken the protections women have received from Title IX for the last fifty years" and pose a direct challenge to legislation passed by numerous states seeking to prevent transgender or gender nonconforming athletes from participating in women's sports.
"The Biden administration is putting girls and women at risk and ignoring science while it attempts to undo any meaningful definition of biological sex," Knudsen said in a statement. "The ideologues at the helm are also cutting parents out of important decisions regarding their children's long-term health and well-being."
Other signees include Republican attorneys general in Alabama, Arkansas, Georgia, Indiana, Kansas, Kentucky, Louisiana, Mississippi, Nebraska, Oklahoma, South Carolina, South Dakota, Tennessee, Texas, Utah, and Virginia, which became a hotbed of activity against policies like non-gendered restrooms after the alleged sexual assault by a transgender student against two female students in Loudoun County.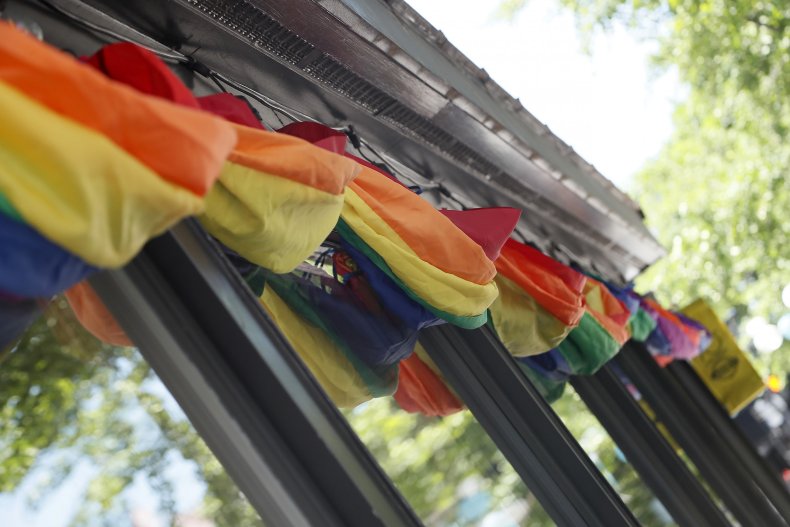 To date, conservative states have decried the changes as federal overreach, with some conservative groups like the Heritage Foundation stating they would force students, teachers and professors to "toe the line on a woke, sexual orthodoxy." Some praised the ruling, saying it provided protections for an adolescent group often at higher risk of mental illness or self-harm. By the time the public comment period closed on the proposed rule changes this week, nearly a quarter-million comments had been submitted to the Department of Education suggesting changes to the rule, praising it or criticizing it.
While not a formal legal action, the AGs' letter could indicate a future legal battle for the Biden administration as it seeks to defend the rule changes in court.
Numerous provisions of the rule, Knudsen spokesperson Emilee Cantrell told Newsweek, would likely prompt a legal challenge. In addition to concerns of federal "indoctrination" by introducing various nondiscrimination policies, Knudsen argued the proposals' definition of "sexual harassment" could conflict with Supreme Court precedent and have a "detrimental impact on free speech and the free exchange of ideas on campus."
Currently, sexual harassment violations under Title IX cover instances of harassment so "severe and pervasive" that they deny a student access to education.
In this case, the updated definitions propose expanding the criteria for harassment to include the ridicule or singling out of people based on sex stereotypes, sex characteristics, pregnancy or related conditions, sexual orientation, or their gender identity—a change some states believe could rob accused violators of their due process rights.
If changes are not made, Knudsen's office hinted there could potentially be legal action against the federal government to fight the rule.
"Defending the interests of the State of Montana against federal overreach is a regular part of the work of the Attorney General's Office and included in our budget appropriated by the legislature," Cantrell said.