Republican Ohio Governor DeWine Condemns GOP-Led House-Passed Bill to Limit State Health Director's Powers
Ohio lawmakers moved Wednesday to place limitations on any future orders issued by the director of Ohio's Department of Health, Dr. Amy Acton, by placing an amendment onto an Ohio Senate bill.
The proposed legislation comes after Acton and Ohio Governor Mike DeWine extended the state's stay-at-home orders on Friday until the end of May. While some restrictions were eased in the extension, closures still remain in effect for restaurants, bars, gyms and schools.
According to the amendment, all "orders issued by the Director of Health on or after April 29, 2020, cease to be effective 14 days after the bill takes effect" unless a committee approves the measures by a majority vote.
Acton would also be prohibited from "making emergency rules" and "rule amendments."
Republican House Speaker Larry Householder said Wednesday that the move was not personally motivated, but rather "about 14 days in an emergency and having some type of legislative oversight so everyone gets to participate and understand what's going on."
If the bill reaches Governor DeWine's desk, he has the option of vetoing it.
"My administration is focused on the important things we need to do to help businesses responsibly reopen while protecting Ohioans' health and safety," DeWine said in a Wednesday statement. "This week alone, this included increasing coronavirus testing and tracing, balancing Ohio's budget, and working on plans to move Ohio's economy forward. Ohioans need their legislators focused on these important issues."
"Creating more uncertainty regarding public health and employee safety is the last thing we need as we work to restore consumer confidence in Ohio's economy," DeWine added.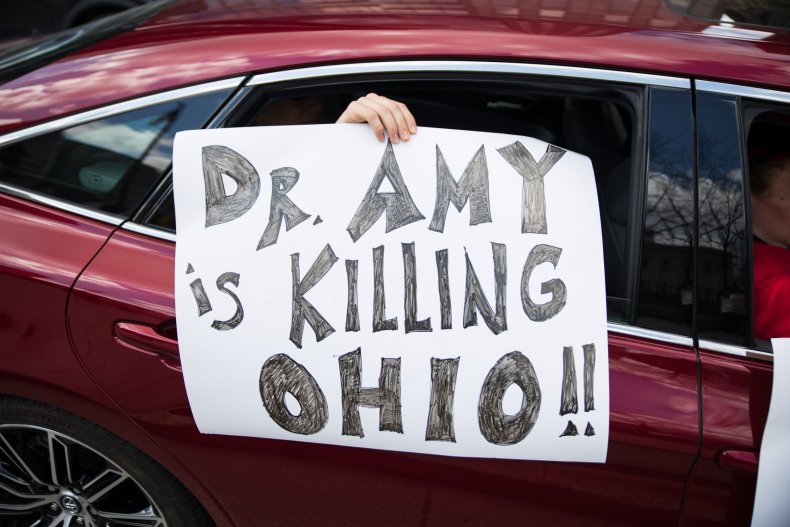 The Ohio Department of Health declined Newsweek's request for comment.
In a Wednesday statement, Democratic Ohio State Representative Thomas E. West called the proposed legislation "misguided" and "secretive."
"We could have used this time to tackle the litany of issues our state and its citizens continue to face in this crisis," West wrote. "Instead, the majority chose to use this time to pass misguided, secretive legislation that undercuts those who are best equipped to lead our state's response to the COVID-19 pandemic."
Ohio's stay-at-home orders have caused some residents to protest. On Friday, demonstrators attempted to open the windows of the Capitol building in an effort to interrupt Governor DeWine's news briefing. Protesters also showed up at Dr. Acton's home calling for the order to be rescinded so they could return to work.
DeWine defended Acton Monday, telling people to protest against him instead. "I'm the elected official who ran for office," DeWine said. "I'm the one who makes policy decisions. When you don't like the policy, again, you can demonstrate against me. That's fair game."
DeWine went on to say that bothering Dr. Acton's family in their home was not "fair game."
"It's not right," DeWine said. "It's not necessary. The buck stops here. I'm the responsible person."