Republican Ohio State Lawmaker Refuses to Wear Face Mask Because God Created Humans Without One
Republican Ohio State Representative Nino Vitale said on Facebook Monday that despite the risk of community spread coronavirus, he would not wear a face mask because covering the face would hide the image of God.
Vitale has opposed coronavirus guidelines issued by Ohio Governor Mike DeWine and the director of the Ohio Department of Health Dr. Amy Acton. On social media, Vitale has used the hashtag #MasksDoNotWork on some of his posts.
Acton said during an April news briefing that Ohians may be wearing face coverings for a year in order to help quell the spread of coronavirus. "Don your mask," Acton said. "Don your cape."
On his Facebook page, Vitale said he would defy the requests of his state's government's on religious ground.
"This is not the entire world," Vitale wrote. "This is the greatest nation on earth founded on Judeo-Christian Principles. One of those principles as that we are all created in the image and likeness of God. That image is seen the most by our face. I will not wear a mask."
"When we think about the image and likeness of God—we're created in the image and likeness of God—when we think of image, do we think of a chest or our legs or our arms? We think of a face," Vitale said in a video on his Facebook page. "That's the image of God right there, and I want to see it in my brothers and sisters."
Newsweek reached out to Dr. Acton for comment.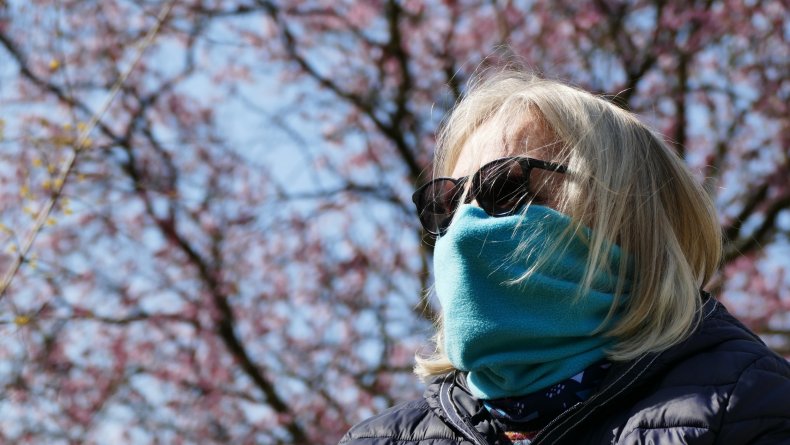 In a Monday interview with Newsweek, Vitale said he had received "far more positive responses than negative" to his refusal to wear a face mask.
"No one is stopping anybody from wearing a face mask," Vitale said. "But quite frankly everyone else's freedom ends at the tip of my nose. You're not going to tell me what to do and there's a lot of people that feel that way. I realize there's some basic things in life we put in place to have a society, a modern society, but we do have to be careful about how much encroachment we get on personal liberties and freedoms and that, to me, is the goal and the end duty of government is to protect personal liberty."
Vitale said that his research into face mask usage culminated in the consensus that wearing a face mask, particularly in hospital settings, does more harm than good.
"The one thing they did notice is the people who wore masks actually got sick more often," Vitale explained. "So by putting a mask on someone, we're actually putting them at a higher risk. One, because it makes it harder to breathe. If you have any type of lung and diaphragm restriction, you could actually be causing someone's death sooner."
"And the other thing is we're constantly touching all sorts of surfaces, then you touch your mask," Vitale said. "That's what these studies said. You're potentially damaging someone more. If we maintain the social distancing, viruses don't have legs. They can't jump. But we're still touching everything with our hands. And the gloves don't do any good because you touch things with your gloves."
"It's a matter of what's realistic," Vitale continued. "People want to wear masks, they can. But mandating it, that's a whole different story for me."
"If someone is that scared, that they do not want to go out into the public because 100 percent of the people are not wearing masks, then that person should stay home, not tell everyone else what they should be doing," Vitale added.
Customers in Ohio stores are not required to wear masks, but Lieutenant Governor Jon Husted said that face coverings should be worn because it shows "mutual respect for one another."
"This is a virus that you can carry and you don't know," Husted said Wednesday. "We want to protect employees. We want to protect customers. Everybody should do it but you're not required to do it."
Vitale has been a strong proponent of reopening Ohio's economy, decrying Acton and DeWine for extending Ohio's stay-at-home orders until nearly the end of May.
Governor DeWine said reopening Ohio too quickly would be "totally irresponsible."
"I have an obligation as the governor of this state to do two things right now at work every day," DeWine said during an April news conference, "get people back to work and keep them safe. That would not be consistent with keeping people safe."
Vitale disagreed with the decision to extend the stay-at-home orders.
"Your basic human rights of life, liberty and the pursuit of happiness do not come from an unelected Globalist Health Director, who signed the order in the dark of night," Vitale wrote on Facebook Friday.
Many consider the term "globalist" to be an anti-Semitic term. Dr. Acton is Jewish. Cleveland, Ohio's branch of advocacy group the Anti-Defamation League called on Vitale to apologize for his statement.
"Whether Rep. Vitale purposely invoked anti-Semitism or not," the group wrote on Friday, "we strongly urge him to remove that term from his vocabulary, and to issue an apology to Dr. Acton and the entire Jewish community."
Updated 8:31 p.m. 05/04/2020: This article has been updated to include an interview with Representative Vitale.