Republican Oregon Senate Nominee Throws Support Behind QAnon Conspiracy Theory: 'I Stand With Q'
A GOP Senate nominee in Oregon publicly threw her support behind the QAnon conspiracy theory in a video shared to social media on Tuesday.
Financial adviser Jo Rae Perkins, who defeated three other Republicans to win the Senate primary on Tuesday, will be up against Democratic Senator Jeff Merkley in November.
In a clip shared to Twitter, Perkins held up a sticker showing the abbreviated QAnon slogan "WWG1WGA," and said, "Where we go one we go all."
"I stand with President Trump, I stand with Q and the team," she said. "Thank you anons, thank you patriots, and together we can save our republic."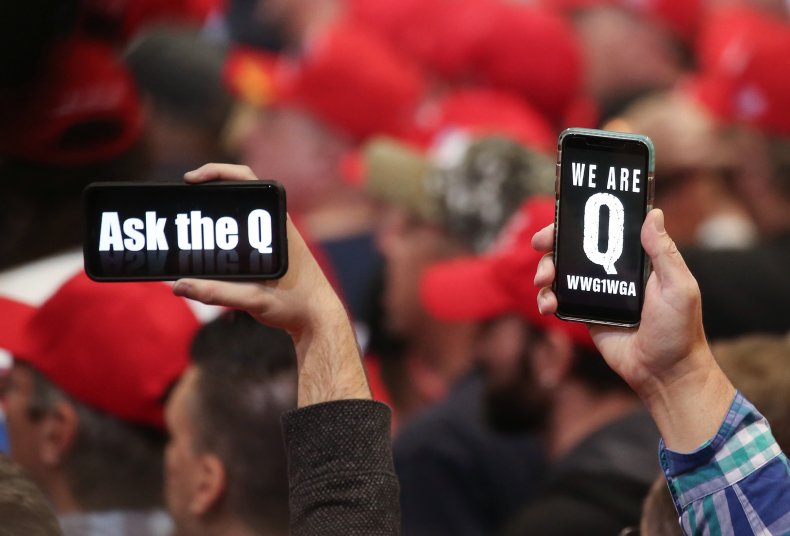 Merkley on Wednesday declined The Washington Post's request to weigh in, saying "I don't have any comment on it."
GOP Senator Todd Young, chairman of the National Republican Senatorial Committee, has indicated his support for Perkins because "the NRSC tends to support Republican candidates." When asked by the Post about the QAnon affiliation, Young asserted that he doesn't know "anything about that."
Newsweek reached out to the NRSC for further comment. This article will be updated with any response.
The QAnon conspiracy theory, which originated on the anonymous 4Chan imageboard website, grew in popularity among far right extremists in 2017. The movement centers on cryptic information posted online by a supposed anonymous informant known as "Q."
Without evidence, "Q" has claimed that President Donald Trump is battling a secret war against a coalition of Satanic "elites" who molest children, as well as control Hollywood and "deep state" politicians seeking to oust Trump. The conspiracy movement has retained a loyal group of online followers despite many of the predictions made by "Q" repeatedly turning out to be false.
Some believe the QAnon conspiracy theory either originated from or was inspired by the "Pizzagate" conspiracy theory, which involved similar elements, such as fake pedophilia allegations.
While the QAnon activity has mostly been online, the conspiracy movement has on occasion bled into the real world. In 2018, an armed man blocked a road at the Hoover Dam to demand the Office of the Inspector General release a supposed "secret" document that would expose the "deep state" government. The man was inspired by postings on QAnon message boards on 4chan and 8chan.
Trump has referenced QAnon on multiple occasions since his 2017 inauguration and has often amplified Twitter accounts that have promoted the conspiracy theory.
According to an March Pew Research Center poll, more than three quarters of Americans—76 percent—have never heard of the internet-based conspiracy group.