Republican Ad Asked Hindu-Americans If They'd Rather Worship an Elephant or Donkey, Party Apologizes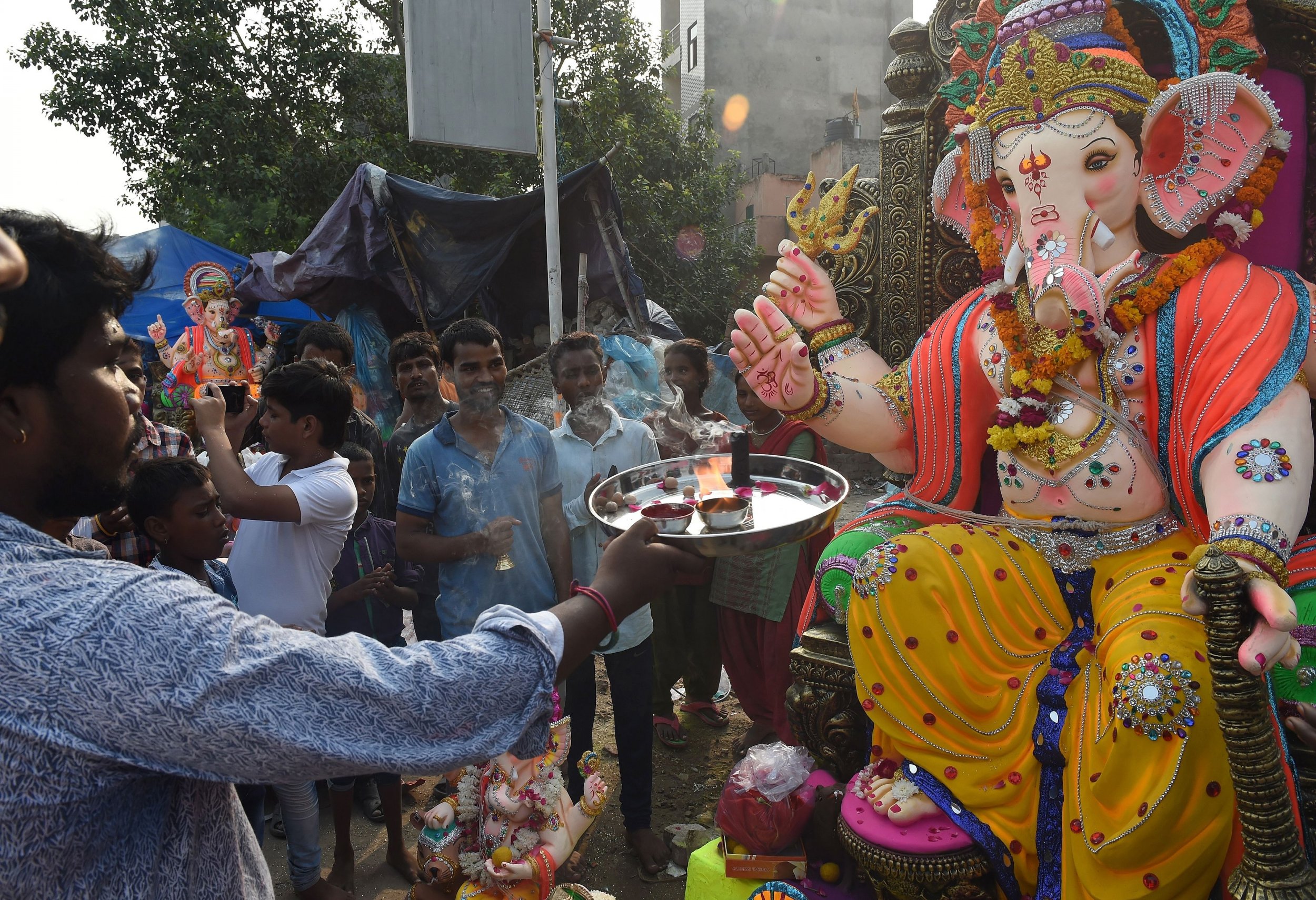 The Fort Bend County Republican party issued an apology after an ad featuring an illustration of the god Ganesha drew outrage from Hindu-Americans.
In connection with the Hindu festival Ganesh Chaturthi, which began on September 13, the political organization placed an ad in an Indian-American newspaper. The advertisement showed the image of the Hindu god Ganesha and included a description of the image.
At the bottom of the page was the Texas Fort Bend County Republican Party logo and the question, "Would you worship a donkey or an elephant? The choice is yours."
Hindu American Foundation board member Rishi Bhutada told KHOU that while the ad was done with good intentions, it was misguided and others expressed their disgust for it on Twitter.
"Asking Hindu-Americans if they would rather vote for a donkey or an elephant by comparing Ganesha, a religious figure, to a political party is highly inappropriate," Democratic candidate for the House of Representatives Sri Preston Kulkarni tweeted.
Several people agreed that it would have been better if the Fort Bend Republican Party just put a photo of Ganesha with a message celebrating the festival instead of trying to intertwine politics into it. In light of the ad, the Hindu American Foundation issued a statement asking for the political party to clarify its intentions.
Bhutada acknowledged that the advertisement was likely an effort to reach out to Hindu-Americans during the holiday and urge them to vote Republican. However, he added that equating the respect Hindus have for Lord Ganesha with choosing a political party based on their animal symbols was "problematic and offensive."
On Twitter, he explained that the ad implies Hindus worship animals as a god, which was a stereotype used to bully and taunt him during his childhood. Kids would ask if they were eating his god when they consumed beef and wonder if he prayed to the animals at the circus. He wasn't alone and explained that one in three Hindu students are bullied for that exact misconception.
"You'll see it in textbooks, teachers will say it in class because they don't know better, etc," he tweeted. "It's terrible, and to have one of the local units of a major political party reinforce that message is awful."
As a rule of thumb, Bhutada advised all political parties to steer clear of using religious imagery to gain support.
Following the backlash, the Fort Bend County Republican Party issued a statement that explained the advertisement was intended to celebrate the occasion, not to disparage Hindu customs or traditions.
"This ad was created with input from those of Hindu faith so that we could properly pay respect to the sacred festival," the statement said. "This highlights the difficulty in outreach that can be positive for one group but not for another in the same community."
To anyone offended by the advertisement, the Fort Bend County Republican Party offered its apologies and welcomed everyone to be part of a process of building understanding and relationships with all of Fort Bend County's communities.
Ganesha also spelled Ganesh, is an elephant-headed Hindu god of beginnings, according to Britannica. The god is traditionally worshiped before a major enterprise and is a remover of obstacles. Ganesh Chaturthi is a festival marking the birth of Ganesha and dates back four centuries.