The Lawrence County Republican Party in Alabama has apologized after it shared a logo that included Ku Klux Klan imagery.
Lawrence County Republican Party Chair Shanon Terry apologized this week after hooded figures resembling Klansmen appeared between the legs of a GOP elephant in an image shared on the organization's Facebook page.
In a Monday, August 15, Facebook post, Terry said: "I would like to offer a deep and sincere apology for a picture that temporarily appeared on this page last night.
"A Google search picture of a GOP elephant was used and later found to have hidden images that do not represent the views or beliefs of the Lawrence County Republican Party.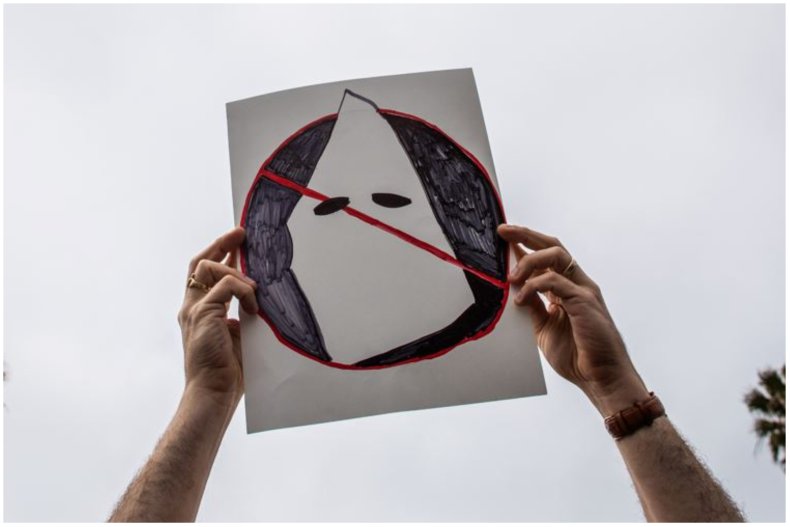 "The picture was then immediately replaced. As chairman, I take full responsibility for the error."
The Ku Klux Klan, known for its white hooded outfits, is one of the oldest white supremacist groups in the U.S. and throughout its history targeted Black Americans as well as Jewish people and immigrants.
According to the Southern Poverty Law Center, the number of Ku Klux Klan groups declined in 2021.
It added: "Similar to 2020, this decline can be attributed to both the COVID-19 pandemic, as well as continuous infighting that has long been a hallmark of the Klan."
Alabama Democratic State Representative Anthony Daniels slammed the use of the image on the group's Facebook page.
In a tweet shared late on Tuesday, August 16, Daniels said: "Shame on the Lawrence County Republican Party for this disgusting image."
His tweet included a screen grab of the Lawrence County Facebook post which praised outgoing chairman Daniel Stover.
It also highlights the three hooded Klansmen who could be found between the legs of the GOP elephant logo.
Newsweek has contacted Daniels and the Lawrence County Republican Party for comment.
There have been numerous incidents across the U.S. where Ku Klux Klan imagery or perceived imagery has caused outrage.
Last year, the police department in Waterloo, Iowa, faced a backlash after the City Council pushed for the removal of its emblem.
The emblem, a red-bodied, green-eyed griffin, which had been a part of the uniform since the 1960s, had been compared to a symbol used by Klansmen.
While the emblem was changed to a more neutral design last year, Newsweek has found instances where the griffin has appeared on stickers and clothing shared on the department's Facebook page. Newsweek asked the police department for comment.
Griffins have been used on clothing and other material used by Klansmen in the U.S.