New Mexico GOP Accuses Candidate of Lying About Opponent's Abortion Record, Demands Higher 'Standard of Truth'
The New Mexico Republican Party denounced a GOP congressional candidate for making "intentional misstatements of the facts" in advertisements targeting his primary opponent's stance on abortion.
The party issued an official statement Thursday calling for a higher "standard of truth" and accused 2nd Congressional District candidate Chris Mathys of lying about past abortion legislation filed by Republican primary opponent Yvette Herrell. Mathys, whose campaign has posted numerous anti-abortion videos about the need to "protect our unborn children," is being criticized over one particular ad which portrays Herrell as "pro-abortion."
Both candidates are competing to replace incumbent Democratic congresswoman Xochitl Torres Small, who narrowly defeated Herrell in 2018.
The GOP statement rebuked Mathys' claim that a 2015 late-term abortion bill introduced by Herrell allowed the procedure for "up to 5 months" into a pregnancy. The text of the bill laid out a ban on abortions after a woman's 20th week of pregnancy. A "Chris Mathys for Congress" Facebook post showed a picture of Herrell's face next to a crying infant.
"The Republican Party of New Mexico expects highly contested and energetic campaigns when Republicans run against Republicans in a primary. The party will not make comment about those campaigns as they are a part of the primary process. However, the party will hold to the standard of truth. When ads or mailers are untruthful, RPNM stands ready to speak out and condemn the ads and the actions by any candidate and their team," the GOP statement read.
Mathys did not immediately respond to voicemails left by Newsweek seeking his reaction to the party's call for him to retract his ads.
"Chris Mathys, a candidate for the 2nd Congressional district has made intentional misstatements of the facts and untrue accusations about many Republican legislators," the GOP statement continued.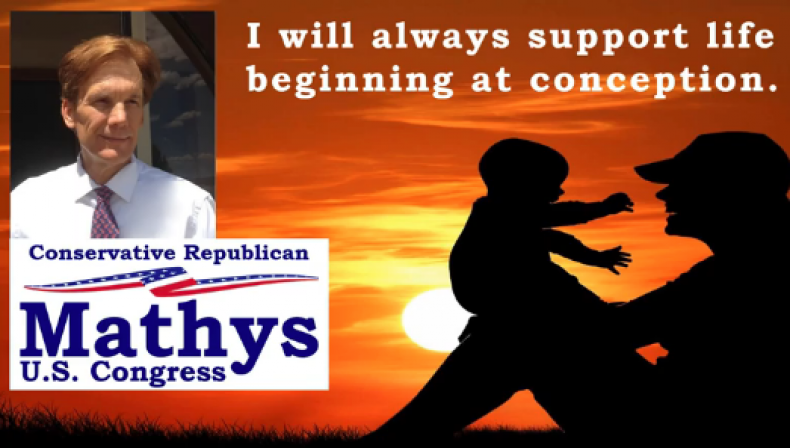 The GOP urged Mathys and any members of his campaign to retract the ads and statements about Herrell's abortion record or any other Republican lawmakers in New Mexico. The party also laid out the details of House Bill 390 and defended Herrell and other GOP lawmakers' role in supporting the "partial-birth abortion ban."
"Contrary to Mathys' claims, House Bill 390 was introduced in 2015 in [an] effort to protect the unborn. The bill made it illegal to perform dangerous late-term abortions in New Mexico ... Chairman Pearce contacted Mr. Mathys via phone and he declined to take action and ceased communication with RPNM. Yvette Herrell has not contacted RPNM nor asked the party to take action," the statement continued.
A female narrator in the Mathys for Congress campaign video can be heard saying, "Yvette Herrell your pro-abortion bill speaks louder than your words. In 2015 Yvette Herrell introduced HB 390 allowing abortion up to 5 months."
"I am conservative Republican Chris Mathys and I will always support life beginning at conception and I approve this message," Mathys can be heard interjecting.
The statement concluded: "The Republican Party of New Mexico is asking Chris Mathys to retract the intentionally false statements about Republican legislators who sponsored this bill in 2015. RPNM will not tolerate untruthful ads and holds Mr. Mathys and his campaign team accountable for attacking Republican lawmakers. Mr. Mathys has failed to provide staff or consultant information to RPNM."
Herrell narrowly lost by a few thousand votes to Small in the 2018 general election. New Mexico's 2nd Congressional District contains several so-called "pivot counties," where Donald Trump won in 2016 but Barack Obama won in 2012. A third Republican candidate, Claire Chase, is also campaigning in the primary to potentially replace the currently Democratic held seat.
According to Mathys' website, he described himself as a businessman and a member of New Mexico Right to Life, the National Rifle Association (NRA), and the Knights of Columbus. He has posted several videos endorsing President Donald Trump's 2020 re-election campaign and quotes U.S. Founding Fathers John Adams and John Hancock in one video: "As Americans, we recognize on [sic] sovereign but God and no king but Jesus."
Mathys, a former GOP city councilman in Fresno, California, is described on his website as "publicly advocat[ing] for protecting our unborn children, our 2nd Amendment rights and the need for strong border security."
The general election is set to occur on November 3, 2020.