Republicans Use Halloween to Cash In on Trump Impeachment Inquiry With 'Witch Hunt' Merchandise
Nevada Republicans are flogging "witch hunt" Halloween merchandise as the GOP continues its attempts to cash in on the impeachment inquiry.
The Nevada GOP yesterday urged Trump backers to donate $50 to the local party, telling them they would receive a "witch hunt" tote bag and T-shirt if they made the donation.
A donation page on the Republic fundraising platform WinRed promoting the merchandise depicting top Democrats told supporters to "Haunt Them" and called the ongoing impeachment inquiry "such a joke."
It also reveals that $47.50 of the suggested $50 donation goes to the Nevada state Republican Party while the remaining $2.50 goes to Donald Trump's re-election campaign.
The "witch hunt" t-shirts and tote both carry a cartoon image of House Speaker Nancy Pelosi, House Representative Ilhan Omar and House Intelligence Committee Chairman Adam Schiff riding broomsticks. Representative Alexandra Ocasio-Cortez of New York also appears to be depicted in the design.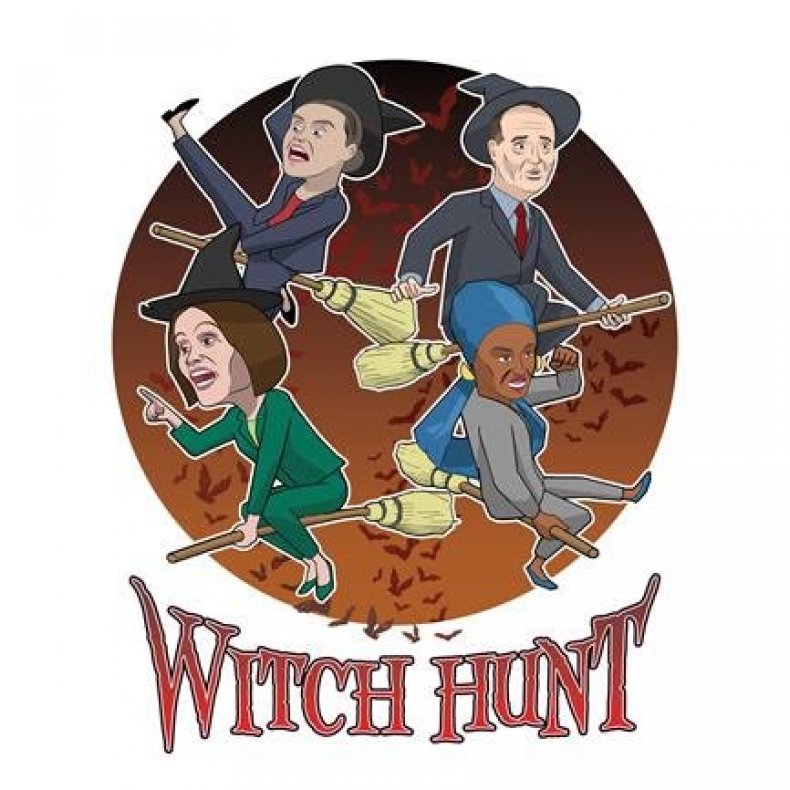 All four of the high-profile Democrats have pushed for Donald Trump's impeachment, with both Schiff and Pelosi playing key roles in the inquiry since it was launched by the House Speaker last month.
In an email to Trump supporters, the Make America Great Again Nevada campaign said: "The best part of a scary movie is just how predictable it is. Just like the Democrats... eerily predictable.
"That's why this Witch Hunt against President Trump is such a joke. So much so, that we made supporters like you the spookiest Halloween T-shirt and candy tote to celebrate this season of horrors."
"We're tired of the WITCH HUNTS against @realDonaldTrump. It's time to fight back," the Nevada GOP said in a tweet promoting the merchandise.
The state Republican Party has form when it comes to peddling impeachment-themed merchandise attempting to tap into GOP opposition to the inquiry, which was launched after a whistleblower revealed that President Trump tried to pressure Ukrainian President Volodymyr Zelensky into investigating Trump's political rival Joe Biden.
Shortly after Pelosi announced the impeachment inquiry on September 24, the Nevada GOP advertised "Impeach This" T-shirts to donors which loosely represented the 2016 election results by counties.
Speaking to Newsweek at the time, a Nevada Republican Party spokesperson said more than $22,000 worth of the T-shirt had been sold in 44 states and territories.
Republicans have not been alone in attempts to draw funding from impeachment clothing.
Rashida Tlaib, the freshman Detroit Democrat representative, started selling "Impeach the MF" T-shirts for $29 a piece last month.