Jenna Ellis Calls Republicans 'DNC-lite' After Quitting GOP
After quitting the Republican Party in protest, Jenna Ellis, the legal adviser to former President Donald Trump, has ramped up her criticism of the party, accusing it of being "DNC-lite."
Ellis, who worked on Trump's 2020 election campaign, left the GOP after an email revealed a Republican National Committee (RNC) lawyer had criticized her challenge of the results of the November ballot.
It followed a report by The Washington Post which said RNC chief counsel Justin Riemer had been trying to discourage the push to promote baseless claims the 2020 election had been stolen from the Republicans, as promoted by Trump and his supporters.
"What Rudy and Jenna are doing is a joke and they are getting laughed out of court," Riemer said in a November 28 email to former RNC official Liz Harrington, referring to Ellis and former New York mayor Rudy Giuliani.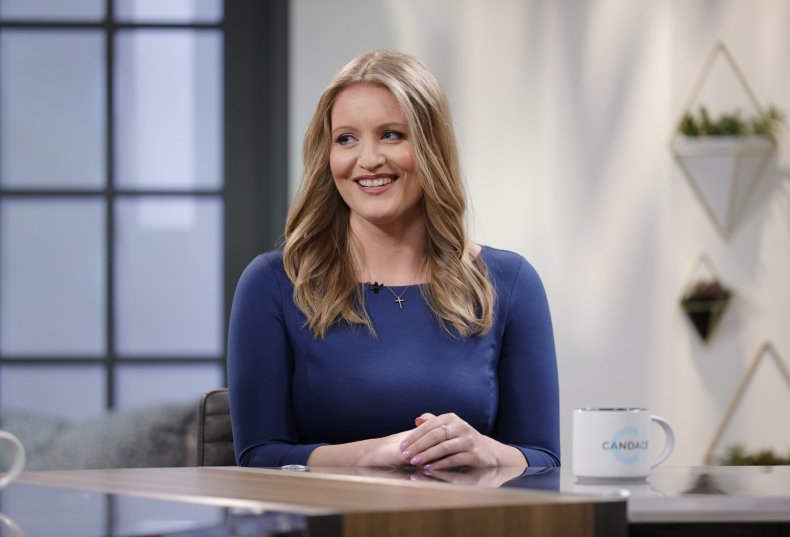 In light of the Post report, Ellis announced on Real America's Voice that she would quit the GOP and that she would not return unless RNC Chairwoman Ronna McDaniel and other members resigned.
She also questioned what happened to the "millions raised" by the RNC last year when the election challenges were playing out, saying that "the Trump team never saw a dime of that help."
"As of today, I am resigning from the Republican Party," Ellis said on Monday, adding that she had changed her party registration. "I am no longer a Republican until the party decides that it wants to be conservative again."
"I will stand for the truth," she added, "a compromised corrupted majority is not a majority worth being a part of." She also took to Twitter to reiterate her criticism of the RNC.
"Conservatives are loyal to our principles and our country. Not a party that lies and plays politics," Ellis tweeted on Monday night, "the RNC is learning that the hard way."
In a follow-up tweet that was widely shared, she appeared to lament the ideology of the GOP, tweeting, "the RNC is just DNC-lite," referring to the Democratic National Committee.
This message spurred a vigorous thread of comments, both criticizing her and supporting her.
The Post reported that Trump allies tried to get Riemer fired from the RNC after learning of the email.
In a media statement, also shared with Newsweek, Riemer, who remains with the party, said that "any suggestion that I did not support President Trump" or do everything he could "to reelect President Trump is false,"
He added that "I take issue with individuals who brought lawsuits that did not serve President Trump well and did not give him the best chance in court."
In a statement to Newsweek, the RNC said that it and its legal team had "fought vigorously for election integrity before, during, and after the 2020 election, spending over $30 million and engaging in over 50 lawsuits.
"Election integrity is a critical issue we face not only as a Party but also as a country, and our effort continues today as we are engaged in nearly 20 lawsuits backed by a multimillion-dollar investment," the statement added.
Update 7/14/2021, 11:09 a.m. ET: This article has been updated to include a statement to Newsweek from the RNC.