Republican Advocates for Border Wall, Tries to Eject Parkland Parent from House Gun Legislation Hearing
Republican Representative Matt Gaetz attempted to have a Parkland, Florida, shooting victim's father removed from a Wednesday House hearing on gun legislation.
The Florida legislator used a House Judiciary Committee hearing, which Politico reported was the first House hearing on gun legislation since 2007, to advocate for President Donald Trump's border wall.
Gaetz, a member of the committee, pushed back against H.R. 8, a bill that would require background checks for gun purchases. He instead changed the topic to crimes committed by undocumented immigrants, according to The Hill.
"I hope we do not forget the pain of people who have been the victims of violence at the hands of illegal aliens," Gaetz said. "H.R. 8 would not have stopped many of the circumstances I raised, but a wall, a barrier on the southern border, may have, and that's what we're fighting for."
Manuel Oliver, whose son Joaquin Oliver was killed during the Parkland shooting that left 17 people dead last February, stood up during the remarks and shouted.
When Gaetz, who has an A+ rating from the NRA, criticized "an immigration system that allows people to come here violently," Oliver again stood up and said something.
Gaetz subsequently asked whether Oliver could be removed from the hearing. "Is there a process in the committee whereby, if the very same people are repeatedly interrupting the time of the members, that those people will be asked to depart the committee," he asked while pointing at Oliver. "I'd observe three interruptions of my time by the same individual, and that the chair is not utilizing its discretion to remove that individual."
When asked about the decision to bring up the border wall during the hearing, Gaetz told Newsweek that "when speaking about gun violence or any violence, it is not off topic to reference the violence from illegal immigrants."
He also noted that a long-term bill to fund the government has not yet been passed. The 35-day government shutdown was caused by President Trump's demand for $5.7 billion for a border wall.
Gaetz told Newsweek that "Parkland victims were using their trauma to advocate for the change they cared about," and that "the trauma that families have felt from the consequence of illegal immigration" was important to address.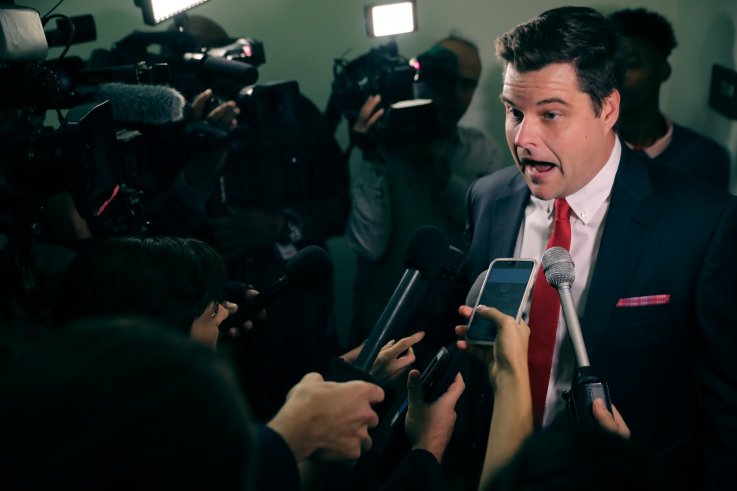 Oliver told The Daily Beast that he was not interrupting Gaetz but saying that the legislator should remember lost family members.
"The only relevant interruption here is the one that interrupted Joaquin Oliver and another 40k/year victims lives because of gun violence. I didn't say anything," Oliver told the outlet. The Centers for Disease Control and Prevention said last year that guns killed nearly 40,000 people last year. "FYI, while I was demanding that, I was thinking 'F**k You!"
The parents of three students who died during the Parkland shooting attended Tuesday night's State of the Union address, according to The Hill. Oliver was among those present.
"If you want your murdered son or daughter to be mentioned at SOTU, make sure the killer of your kid is an ilegal immigrant. In this 'perfect nation' crimes with the blessing of the NRA are fine…We call BS! Remember this face Donald! Viva Guac! and the other 40k victims/year," Oliver tweeted after the speech.
House Speaker Nancy Pelosi said last year that Democrats would push for gun control after they had regained control of the House.
"The new Democratic majority will act boldly and decisively to pass common sense, life-saving background checks that are overwhelmingly supported by the American people," Pelosi told Politico in December.
Any House efforts to implement gun control legislation will likely face opposition in the Republican-controlled Senate.
Republican Advocates for Border Wall, Tries to Eject Parkland Parent from House Gun Legislation Hearing | U.S.