Republican Rep. Justin Amash Defends Calling For Trump's Impeachment: I Swore an Oath to 'Defend the Constitution'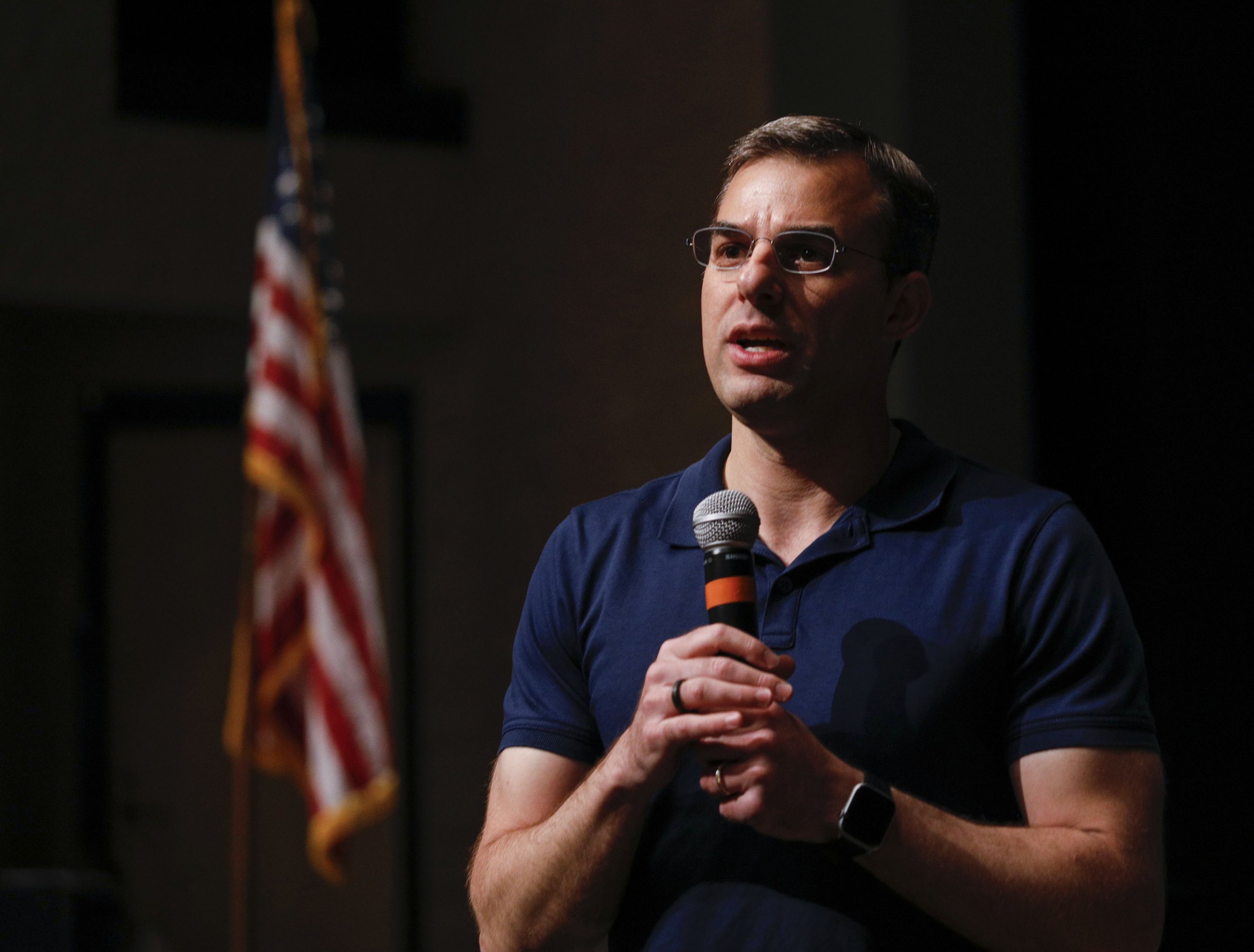 Republican Rep. Justin Amash (Mich.) defended his calls for President Donald Trump's impeachment in a Twitter post this weekend, where he said he swore an oath to "support and defend the Constitution, not an oath to do the bidding of one man or one political party."
After he became the first GOP lawmaker last month to publicly declare that Trump had engaged in an impeachable offense, the Michigan congressman on Saturday defended his calls for the president to be held accountable for the findings in special counsel Robert Mueller's Russia report.
"I swear an oath to support and defend the Constitution, not an oath to do the bidding of one man or one political party," Amash tweeted. "We have a constitutional republic to uphold liberty and the Rule of Law, not a direct democracy to serve some at the expense of others."
Amash's tweet comes after he received a standing ovation at a town hall in Grand Rapids, Michigan, on Tuesday evening for reiterating his calls for Congress to impeach the president. In a lengthy Twitter thread posted on May 18, the Republican said that — after having read Mueller's 448-page redacted report — he believed that "Trump had engaged in impeachable conduct" and "Attorney General [William Barr] has deliberately misrepresented Mueller's report."
"I read the Mueller report. I'm sure he didn't read it," Amash said of House Minority Leader Kevin McCarthy (R-Cali.), who he labeled the "so-called leader," during his Michigan appearance on Tuesday. "He resorted to ad hominem attacks; that's the kind of 'leadership' we now have in Congress."
Amash's comments were apparently in response to McCarthy's condemnation of him as someone "just looking for attention" in a recent interview with Fox News. Trump also lashed out at Amash on Twitter last month, calling the Republican a "total lightweight" and a "loser."
"I'm confident that if you read volume two [of the Mueller report], you will be appalled at much of the conduct. And I was appalled by it. And that's why I stated what I stated. That's why I came to that conclusion," the Michigan lawmaker added. "We can't let conduct like that go unchecked."
Amash previously told CNN last month that some of his GOP colleagues have privately sympathized with his views on Trump. "There are people who are still reviewing [the Mueller report]," he said. "I've had people who, after I made my tweets said, 'Boy, they'd better review it more carefully now and they hadn't really gone through it before.'"
Despite the attacks from Republican leadership, Mitt Romney praised Amash as "courageous" but noted that he came to a different conclusion after reading Mueller's report. "I respect him. I think it's a courageous statement," Romney told CNN. "But I believe to make a case for obstruction of justice, you just don't have the elements that are evidenced in this document."