Republican Reps Resist House Rule Requiring Masks in Meetings
Multiple GOP House members have refused to follow a rule requiring they wear face masks during meetings to help prevent the spread of COVID-19.
Attending Physician Brian Monahan issued guidance on Tuesday night requiring that masks be worn. The new requirement was requested by House Speaker Nancy Pelosi after numerous Republicans refused to follow the doctor's earlier recommendations, according to The Hill.
During a Wednesday meeting of the House Judiciary Committee, Chairman Jerrold Nadler (D-N.Y.) told members that he expected the rule to be followed, noting that "wearing a mask not only helps protect you from getting sick from this deadly virus, it helps protect the other people in this room from getting sick."
The rule was disregarded by GOP Congressmen Jim Jordan (Ohio) and Tom McClintock (Calif.), both of whom had been previously seen ignoring Monahan's recommendation. They were later briefly verbally reprimanded, although Nadler could have refused to recognize them both under the new rule.
"I would remind the gentleman, and other gentlemen, that for the safety of their colleagues and the decorum of the House, they should be wearing masks. Mr. Jordan," Nadler said while looking at Jordan.
At least two additional Republicans, Vice President Mike Pence's brother Rep. Greg Pence (Ind.) and Rep. Sam Graves (Mo.), were also seen to ignore the requirement during a meeting of the House Transportation and Infrastructure Committee.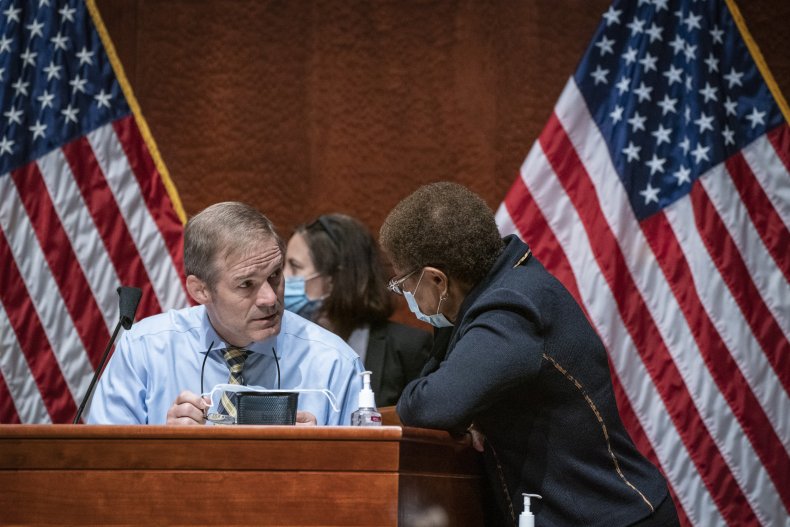 Members who do not want to wear a mask have the option of attending meetings virtually. Although Monahan's guidance recommends masks be generally worn, the requirement only applies to meetings longer than 15 minutes in enclosed spaces, with masks being provided upon entry for those who do not bring their own.
"For U.S. House of Representatives meetings in a limited enclosed space, such as a committee hearing room, for greater than 15 minutes, face coverings are REQUIRED," the guidance states.
The rule was adopted one day after Rep. Tom Rice (R-S.C.) announced that he and his family had been diagnosed with COVID-19 last week. Rice had been seen attending meetings without a mask, explaining to CNN's Manu Raju that he felt his practice of "socially distancing" by "staying six feet away from folks" was adequate after a May 28 session.
Although the previously recommended wearing of masks has now become a requirement in the House, the situation was reversed at the White House on Wednesday. A requirement that West Wing employees wear face masks, put in place on May 11 after two staff members contracted the virus, was downgraded to a recommendation.
The Centers for Disease Control and Prevention (CDC) and other public health experts have recommended that masks be worn when venturing into public amid the pandemic, noting that the virus can be easily spread between people in gatherings.
President Donald Trump announced the CDC's recommendation in early April but has refused to wear a mask himself.
Newsweek reached out to Pelosi's office for comment. This article will be updated with any response.