Republican Rick Santorum to Enter 2016 Presidential Race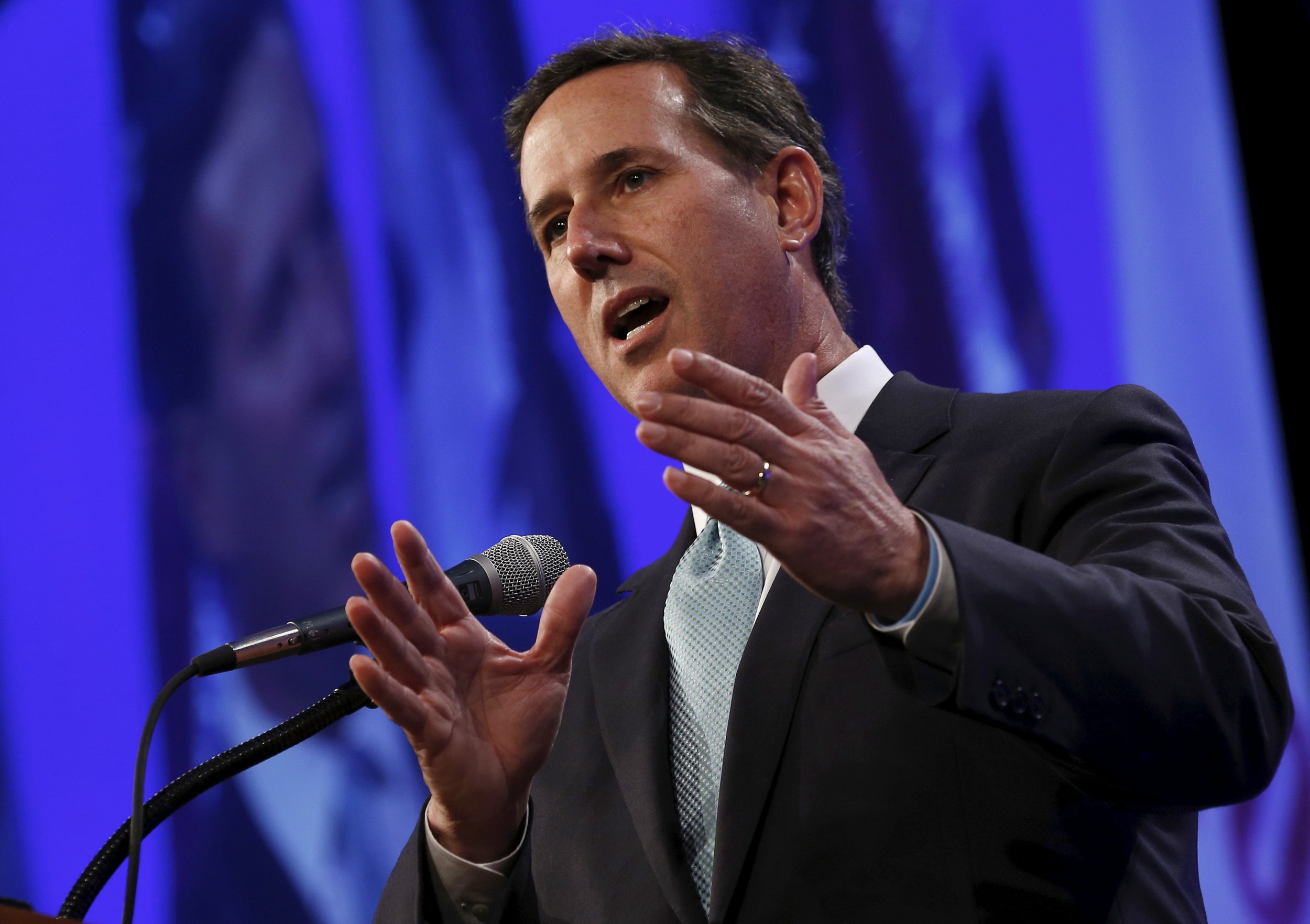 WASHINGTON (Reuters) - Former U.S. Senator Rick Santorum of Pennsylvania, a Christian conservative, will announce on Wednesday that he will make another run for the Republican presidential nomination in 2016 after a failed attempt in 2012, according to ABC News.
Santorum, a senator from 1995 to 2007, will make the announcement near his childhood home in Cabot,Pennsylvania, later in the day. ABC News said it had scheduled an interview with the candidate.
A representative for Santorum was not immediately available to comment on the report.
In the 2012 Republican race, Santorum won Iowa's kickoff contest and a string of later primaries with strong support from voters drawn to his social and religious conservatism and wary of the more business-oriented Mitt Romney.
Santorum outlasted other White House hopefuls to become the last remaining challenger to Romney, who ultimately captured the 2012 Republican nomination.
Santorum, whose support has languished in the low single digits in most polls ahead of the 2016 race, faces a stronger and potentially larger field of Republican hopefuls this time.
He is the seventh Republican to formally declare a bid for the nomination, joining a group that includes U.S. senators Marco Rubio, Rand Paul and Ted Cruz. Other candidates expected to jump in the race in the coming months include former Florida Governor Jeb Bush and Wisconsin Governor Scott Walker.
Santorum will face competition for Christian conservative voters, who helped propel his 2012 bid, from former Arkansas Governor Mike Huckabee and others, while his low poll ratings raise the possibility that he could be excluded from the early Republican debates, which begin in August.
A Catholic, Santorum won a reputation as a strong social conservative in Congress, where he opposed same-sex marriage and the teaching of evolution in schools. He infuriated the gay community by comparing homosexuality to bestiality.
He dropped out of the 2012 race after his daughter, who was born with a rare medical condition, was hospitalized. But he continued to make television appearances and speak to conservative audiences, fuelling speculation about another presidential run.
Santorum has sought to distance himself from Jeb Bush, the brother and son of former presidents who is viewed as a Republican establishment favorite, by criticizing the former governor's education policies.
Bush supports the Common Core, a system of teaching standards that conservatives deride. Santorum said in January that Americans need "more common sense," not the nationwide requirements.