Republican Satisfaction With State of Country Plummeted by 60 Percent Since Pandemic Began: Poll
Only one in five Republicans is satisfied with the state of the U.S. right now, a number that has dropped by 60 percent since the coronavirus pandemic began, according to a new poll.
In a February survey conducted prior to the widespread outbreak of the virus, 80 percent of Republicans said they were satisfied with how things were going in the U.S., but that number has decreased drastically, with the most recent poll finding only 20 percent of this group saying they are satisfied.
The poll, which was conducted by Gallup, includes a graph illustrating the level of satisfaction across different political party groups, from September 2019 to July 2020. The graph shows that satisfaction among Republicans began to slowly decrease in March (77 percent) and continued to move in a downward direction, with 48 percent in May, 39 percent in June and 20 percent in the most recent poll.
"The current figure is easily the lowest for Republicans during the Trump administration, with their prior low being 38% in October 2017," Gallup wrote on its website.
The poll surveyed 1,007 U.S. adults from July 1 to 23 and has a margin of error of plus or minus 4 percentage points.
Among independents and Democrats, the poll also found their level of satisfaction on the way things are going in the U.S. decreasing. In polling conducted in May, 34 percent of independents and 15 percent of Democrats said they were satisfied with the state of the country, but both these numbers have plummeted in the most recent poll, to 12 percent of independents and 7 percent of Democrats.
Additionally, the poll found that only 13 percent of all Americans say they are satisfied with how things are going in the U.S. Eighty-six percent of all respondents said they were dissatisfied, while 1 percent had no opinion. The poll notes that the level of satisfaction among all U.S. adults has not been this low since November 2011.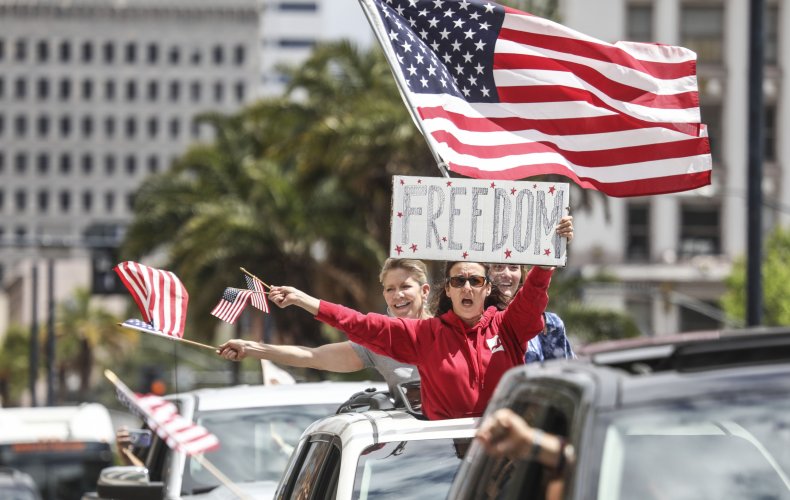 The poll's findings come as cases of the coronavirus continue to surge, particularly in certain sections of the country. According to a Johns Hopkins University tracker, the U.S. has over 4.8 million confirmed cases and at least 158,268 deaths.
The U.S. is also facing continuing tensions over race relations following the death of George Floyd, a Black man who died in Minneapolis police custody on May 25. Floyd died after being held down by a group of officers, including Derek Chauvin, who knelt on his neck. Protests against police misconduct erupted across the country following Floyd's death.