Republican Says Black Democrat 'Will Go Missing' Over Georgia Civil War Statue Row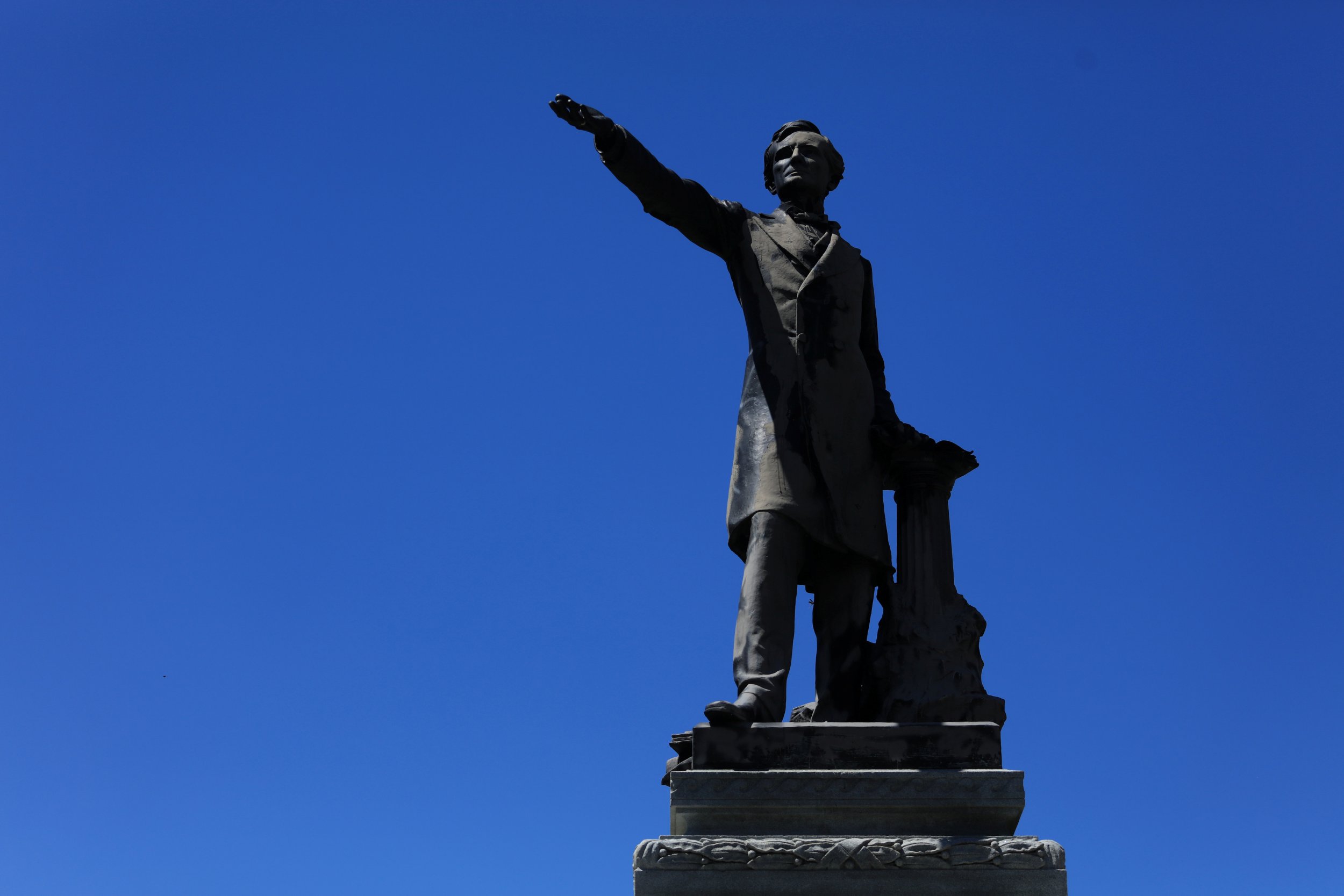 A black former state lawmaker from Atlanta shouldn't be surprised if she is met with "something a lot more definitive" than torches if she keeps lobbying to remove Confederate Civil War monuments, a Georgia state lawmaker warned this week.
In a series of since-deleted Facebook messages, Republican state Representative Jason Spencer told former Georgia state Representative LaDawn Jones that "people in South Georgia are people of action, not drama," and if she doesn't understand that she "will go missing in the Okefenokee"—a wild, 438,000-acre swamp.
"Too many necks they are red around here," Spencer wrote. "Don't say I didn't warn you about 'em." The two served together in Georgia's state legislature.
The original post has been deleted from Spencer's Facebook page. In the early hours Wednesday Spencer sought to clarify his statements in a separate post that has also been deleted.
In his clarification Spencer wrote that he intended to warn Jones "that her safety could be at risk just as if a toddler was about to put a fork in a light socket" if she came to South Georgia to remove Confederate memorials.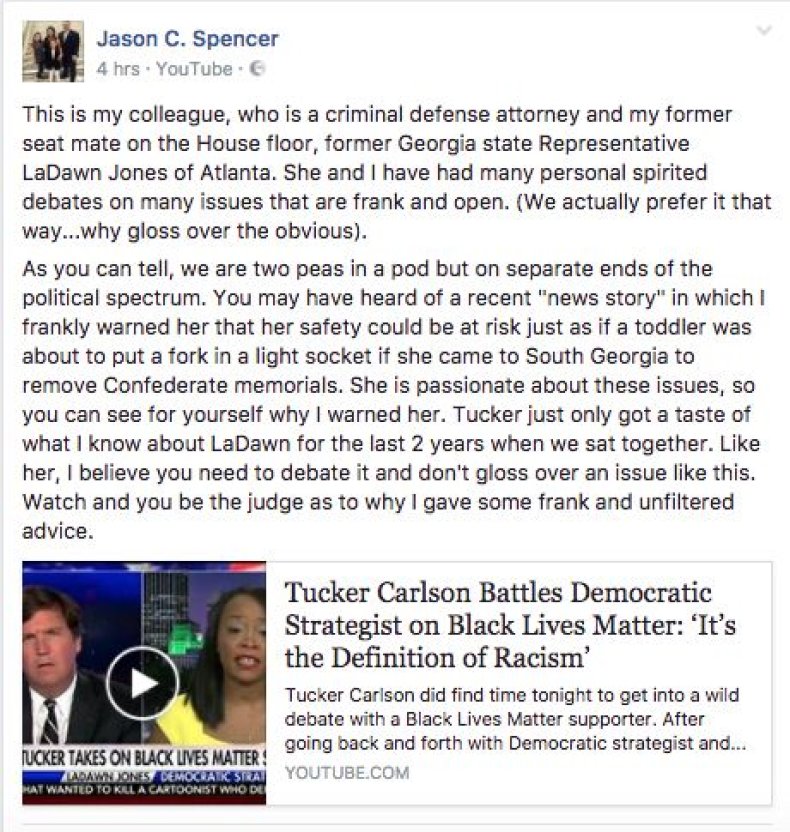 The feud was sparked when Jones criticized a selfie Spencer took Monday at the Jefferson Davis monument in South Georgia near Irwinville.
From 1861 to 1865 Davis was president of the Confederate States as they sought to keep the right to own slaves. Davis was captured in Irwinville by the Union Army. There is a monument nearby to commemorate the site and Spencer grew up a 30-minute drive north from there.
"This is Georgia's history. #DealWithIt" he wrote on Facebook this week alongside his selfie.
Related: Confederate Monuments removed overnight in Baltimore, with more to go across U.S. after Charlottesville
"Yes get it in…before it is torn down. Are state and tax dollars going to this? If so I need to take a closer look at the state budget. I'll deal with it but don't want to pay for it," Jones responded.
"Continue your quixotic journey into South Georgia and it will not be pleasant. The truth. Not a warning. Those folk won't put up with it like they do in Atlanta. It best you move on," Spencer fired back.
There is a heated debate about what should happen to monuments to the Confederacy in Georgia. In August Democrat State Representative Vernon Jones said he will push a proposed review of more than 100 Confederate monuments throughout the state that could see some removed and new ones added.
The proposal to reevaluate the monuments follows a violent white supremacist march in Charlottesville, Virginia, on August 12.
The KKK and neo-Nazis marched in Charlottesville alongside members of the alt-right to protest a proposal to remove a statue of Confederate Army commander General Robert E. Lee. Counterprotester Heather Heyer was killed and 19 other protesters were injured when a man police believe to be a hard-right sympathizer rammed them with a car.
Other states are also reconsidering whether Confederate monuments should remain in place.
In mid-August, Baltimore removed a Confederate monument overnight. In Durham, North Carolina, protesters toppled a monument to Confederate soldiers. Plans have been announced to relocate two Confederate statues in Lexington, Kentucky. And a proposal to relocate statues is also underway in Texas.
Opponents of the movement, including President Donald Trump, say taking them down is "changing history."
"I wonder, is it George Washington next week?" Trump asked during a press conference at Trump Tower where he took questions about Charlottesville and said "both sides" were to blame for the violence.
The debate is lively when it comes to Georgia's monuments. Democratic State Representative Stacey Abrams, who is running for governor, told CNN August 19 that the state's Stone Mountain carving of Jefferson Davis and Confederate Generals Robert E. Lee and Thomas "Stonewall" Jackson is designed to "terrorize black families."
Jones, who now practices as an attorney, has campaigned for years on the issue. After nine black churchgoers were killed in 2015 in South Carolina by a white supremacist, she said the monument is a rally point for far-right extremists and should be boycotted.
"Sounds like a threat of physical violence…is that what we are doing now?" Jones replied when Spencer said she might "go missing."
On Monday Spencer posted another image of him standing beside Atlanta's new monument to Martin Luther King Jr. that was unveiled that day. "This is Georgia's history," he wrote. "Just to let you know I stand up for all Georgia history, good or bad."
In his deleted Facebook message Wednesday Spencer urged readers to watch a video of Jones's recent appearance on Fox News to debate politics pundit Tucker Carlson.
"Watch and you be the judge as to why I gave some frank and unfiltered advice," he insisted. "She is passionate about these issues, so you can see for yourself why I warned her."