Republican Says Children in Migrant Facilities Can 'Leave At Anytime' But Don't Because They're 'Well Taken Care Of'
Amid reports of inhumane conditions for migrants being held in U.S. custody, Republican Representative Michael Burgess said "any child is free to leave at anytime."
"You know what? There's not a lock on the door," the Texas congressman told MSNBC's Chris Hayes on Monday evening. "Any child is free to leave at anytime. But they don't and you know why? Because they are well taken care of."
Voluntarily leaving a border patrol facility would be nearly impossible for children being detained. Some of the children in U.S. custody are as young as 5 months old.
But minutes later, Burgess appeared to contradict himself when he claimed that migrant children can't leave Customs and Border Protection facilities until a bed opens up at the Office of Refugee Resettlement.
He went on to blame Democrats in Congress for voting against a government funding package that included additional bed space in February. Though Democrats argue that their vote against the beds will force the administration to prioritize deportation for those who pose a real threat, not law-abiding immigrants contributing to the country.
When asked about reports of appalling detention center conditions—including inadequate food, water and sanitation—Burgess said that "certainly hasn't been my experience" when visiting facilities along the southern border. He added that those who work for Customs and Border Protection are "heroes" who "represent us well" and are dealing with an "impossible humanitarian crisis."
The Associated Press reported last week how a Texas facility was neglecting migrant children, describing how a 2-year-old boy was handed off to be looked after by a group of young girls. Lawyers also warned the outlet that there was also inadequate food and water for the children.
ABC News also noted that migrant children in at least two Customs and Border Protection facilities were forced to sleep on concrete floors with the lights on and had no access to hygiene products. One doctor wrote that the conditions were comparable to "torture facilities."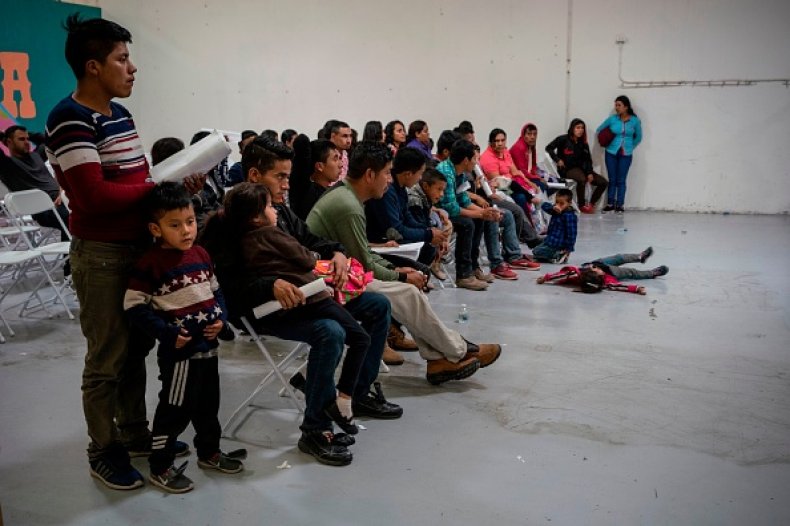 Burgess also told MSNBC that the reports of inhumane migrant detention conditions may be untrue because of the hatred people feel toward President Donald Trump.
"I don't know if it's hyperbole," Burgess said. "I know that the hatred for this president is so intense, people are liable to say anything. I got to go look for myself and see for myself."
The reports emerged as the Trump administration argued in court that migrant children being detained at the southern border do not require basic hygiene products like toothbrushes and soap in order to be held in "safe and sanitary" conditions. Lawyers with the Department of Justice also claimed that forcing migrant children to sleep on concrete floors in crowded cells also met the "safe and sanitary" requirements.
"Are you arguing seriously that you do not read the agreement as requiring you to do anything other than what I just described: cold all night long, lights on all night long, sleeping on concrete and you've got an aluminum foil blanket?" U.S. Circuit Judge William Fletcher asked the justice department team. "I find that inconceivable that the government would say that that is safe and sanitary."
Vice President Mike Pence appeared to throw the Trump administration's lawyer under the bus on Sunday during his appearance on CNN's State of the Union when he said that "of course" migrant children deserve toothbrushes and soap.
"I can't speak to what that lawyer was saying," Pence said.