Republican Senate Candidate Apologizes for Swastika in Campaign Ad
Republican Senate candidate John James apologized on Monday for the "terrible error" of inadvertently displaying a swastika in his first campaign ad.
James, a military veteran, apologized for the ad hours after debating Democratic Senator Debbie Stabenow, of Michigan.
"I need to fess up and admit this was a terrible error on our part," James said during a news conference at his Detroit campaign headquarters. "We should have caught this error, and we didn't, and there's no excuse. I'm responsible for everything that our team does and fails to do, and I will do everything in my power to make sure this never, ever happens again."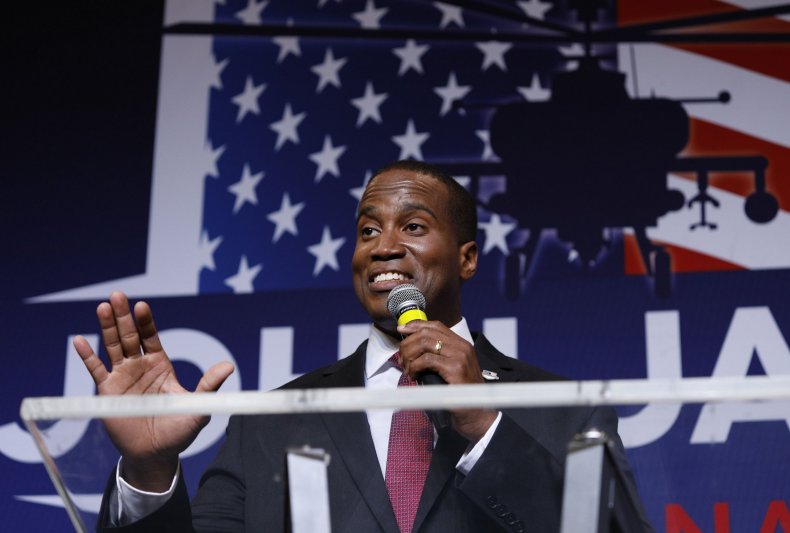 The TV ad, which first aired two weeks earlier and was no longer on YouTube, was being phased out for a new ad, the candidate said. The swastika appeared briefly on a school bulletin board while James spoke off-screen about failing schools, the Associated Press reported.
A left-leaning blog first caught the swastika, and then the liberal advocacy group Progress Michigan brought attention to the image on Monday. Lonnie Scott, Progress Michigan's executive director, told AP that James's team was "either too lazy to spot-check their ads or they're willfully pushing out this type of imagery."
Scott added, "Either way, it's a problem and shows James' lack of preparedness for the United States Senate."
James, who is black, pushed back at any notion that he supported racism. "I absolutely do not approve of hatred or bigotry in any form," he said.
In a statement to Newsweek, James's campaign manager Tori Sachs said his campaign "doesn't need to be lectured by a 43-year career politician on the history of evil."
"John James is the son of slaves, and his family has overcome racism. After John James raised twice as much as Stabenow in the last quarter, cut her lead in half to single digits and defeated her in two debates, Stabenow finally realizes she is in for the political fight of her life," Sachs added.
Stabenow did not immediately respond to a request for comment.
Two polls released earlier in October show Stabenow clearly in the lead for the Senate seat. A Mitchell Research poll released on October 10 showed Stabenow leading James by 9 percentage points, 51 percent to 42 percent.
Meanwhile a Detroit News/WDIV-TV poll released a week earlier had Stabenow ahead by a larger margin. The October 3 poll placed Stabenow at 52.7 percent, with James trailing at 34.7 percent.