Republican Senate Candidate Posted Video of Her Supporting DACA—She Now Appears to Have Deleted It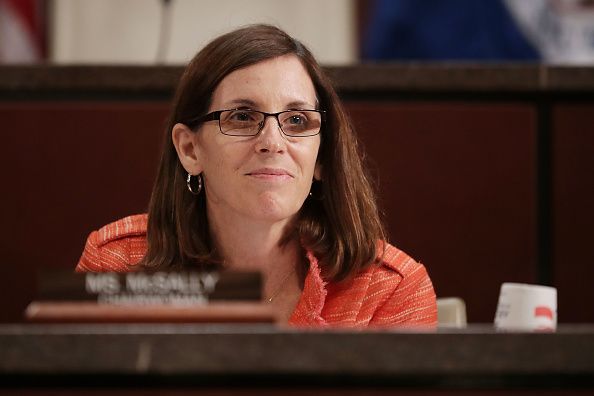 A year ago, Representative Martha McSally posted a video on YouTube that showed her defending former President Barack Obama's Deferred Action for Childhood Arrivals program. But recently her office took the video down from public view, as first reported by CNN Thursday.
The Republican from Arizona is currently running for the United States Senate seat being vacated by the retiring Jeff Flake. The current senator has been one of the few outspoken Republican critics of President Donald Trump, and has even floated the possibility of running against the president in 2020, drawing ire from the commander-in-chief and his supporters.
In one tweet last August, Trump attacked Flake, calling the senator "weak" when it comes to borders and crime. He also voiced his backing for Kelli Ward, a supporter of tough immigration law and the border wall who is also running for the open seat against McSally in the GOP primary in August.
As a representative, McSally has displayed skepticism toward the Trump administration's immigration policies. In 2017, before she announced her Senate bid, McSally sent out a press release that highlighted questions she had raised to Homeland Security Secretary John Kelly during a House committee hearing.
"These children were brought here at no fault of their own. In Arizona, there are 57,000 of them," McSally said. "Uncertainty brings fear to my constituents in this position. Can you assure me that they will be protected?" Kelly responded that the Department of Homeland Security was not going to be targeting DACA recipients.
The press release also included video links that readers could click on to view the exchange themselves. But now the link states that the video is unavailable.
According to CNN, McSally's office must have made the decision to remove the video because if Youtube had taken it down for any reason the company would have to indicate that it had done so.
McSally's office did not respond to a request for comment.
The move comes after McSally has been attacked by Ward for her previous statements about the Trump administration's decision to scrap the DACA program and its push to build a wall along the border with Mexico. The other Republican in the race is former Sheriff Joe Arpaio, who was convicted for failing to obey a court order to stop racially profiling Latinos.
In the past, McSally has co-sponsored legislation that would give some children of undocumented immigrants legal status. But last month she asked to be removed as a co-sponsor from that bill. After her removal, she switched her focus to a much tougher immigration bill that will allow undocumented immigrants who entered the U.S. as children to apply for "contingent non-immigrant status," as opposed to providing them with a path to citizenship.
The Phoenix New Times reported in January that it used to call McSally a "moderate Republican" but writes that since seeking election to the Senate McSally has "appeared determined" to align herself with more traditional Republican policies.
With Democrats desperate to regain some control of Congress in the 2018 midterm elections, Republicans running for office are touting conservative credentials and pledging support for Trump's administration.