Republican Senate Majority Under Threat As GOP Incumbents Trail in Three Battlegrounds
The Republican Party is at risk of losing its majority in the Senate as three incumbent GOP senators trail their Democratic rivals with just 45 days to go until the November elections, new polling data has revealed.
The latest battleground state polls released by The New York Times and Siena College on Friday found that GOP senators in Arizona, Maine and North Carolina were all on track to lose their seats come November 3.
Arizona Sen. Martha McSally recorded the worst poll result of the three Republican incumbents. The Times' survey put her eight percentage points behind the former astronaut Mark Kelly in the same week he had to apologize for making a racist joke.
Exactly half of likely voters in the state said they would be voting for the Democratic challenger, while 42 percent backed McSally for another term. A further seven percent said they were undecided—presenting McSally with an opportunity to pull back over the next few weeks.
In North Carolina, McSally's Republican colleague Sen. Thom Tillis trailed the Democratic candidate Cal Cunningham by five percentage points, with a sizeable number of undecideds still able to swing the election in his favor or decisively back his challenger.
Forty-two percent of likely voters in North Carolina said they would back Cunningham on November 3 as 37 percent opted for Tillis. A further 16 percent said they were undecided, while another four percent favored for third party candidates.
An important minority of Republican voters in the state (12 percent) said they were unsure whether or not to back the GOP incumbent with less than two months left until polling day.
Sen. Susan Collins of Maine polled behind the Democrat Sara Gideon at an identical five percentage point margin—putting her deficit within the battleground poll's margin of error. But unlike in North Carolina, few Maine voters were undecided.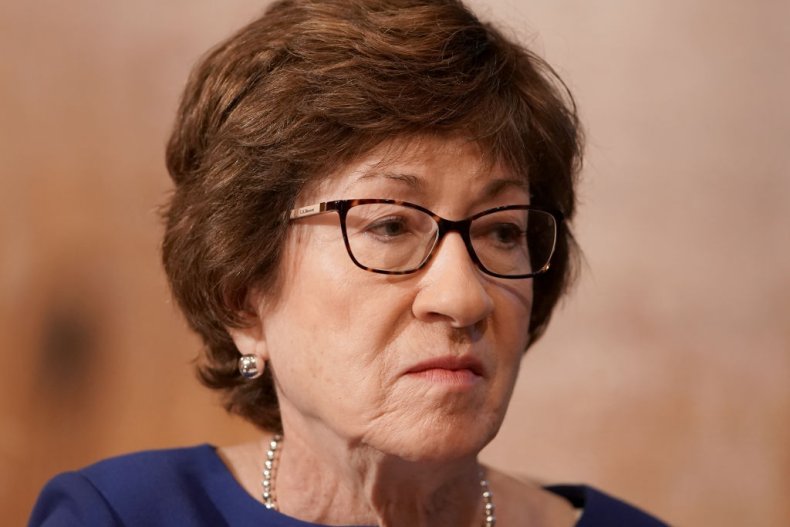 Six percent of likely voters told Siena College pollsters that they were unsure which Senate candidate to vote for in November, while 49 percent backed Gideon and 44 percent said they would vote for Collins to have another term in the upper chamber.
A little more than 10 percent of GOP voters in Maine said they either intended to vote for the Democratic challenger for Collins' Senate seat, or were still undecided (four percent) about who to vote for in the fall.
New York Times and Siena College pollsters surveyed 653 likely voters in Arizona and North Carolina, and a further 663 likely voters in Maine between September 10 and September 16. The margins of error for the battleground surveys range from 4.1 to 5.1 percentage points.