Republican Senator Says GOP-Led Senate Has Done 'Nothing' Except Confirm Trump Judges
Republican Senator John Kennedy expressed frustration Wednesday that aside from confirming judges, the GOP-led Senate has done "nothing."
Kennedy's biting rebuke of Congressional productivity during a speech on the Senate floor came on the same day that President Donald Trump walked out of a meeting on infrastructure with Democratic leaders Nancy Pelosi and Chuck Schumer.
"We need to do more, by we I mean the United States Congress," he said. "Other than the nominations, which are important, we have done nothing. Zero. Zilch. Nada."
Kennedy then went onto specifically criticize the Senate, which has a Republican majority.
"We need to do more," he said. "I'm not saying we haven't done anything. We have confirmed some very important nominees to the trump administration. We have confirmed some very fine men and women to the federal judiciary. And I'm very proud of that effort. I'm not saying we've done nothing, I'm saying we need to do more. There are issues where our Democratic friends and my Republican friends have more in common than we don't. We need to bring the bills to the floor of the United States Senate."
The senator from Louisiana also reserved criticism for House Democrats, who he said were guilty of passing bills they knew had no chance of passing in the Senate. He also accused them of "harassing" the president.
"The House leadership needs to urinate or get off the pot," he said. "The House leadership needs to indict the president of the United States. Impeach him and let us hold a trial. He won't be convicted. Or they need to go ahead and hold in contempt every single member of the Trump administration so we can move those issues into our court system and get back to doing the people's business."
The 115th Congress, which ended its term in January and was controlled by the GOP, enacted 442 public laws, according to Pew Research. Sixty-nine percent of the laws were deemed substantive by Pew, meaning that they altered national laws or permitted spending of taxpayer funds. The 442 laws were the most passed since the Congress that sat between 2007-2009.
GovTrack, a website that monitors the legislature, said that the current Congress has enacted just 17 laws since taking office in January. The 116th Congress started slowly amid the longest government shutdown in U.S. history. With Democrats controlling the House and Republicans controlling the Senate, the 116th legislature has displayed biting partisanship.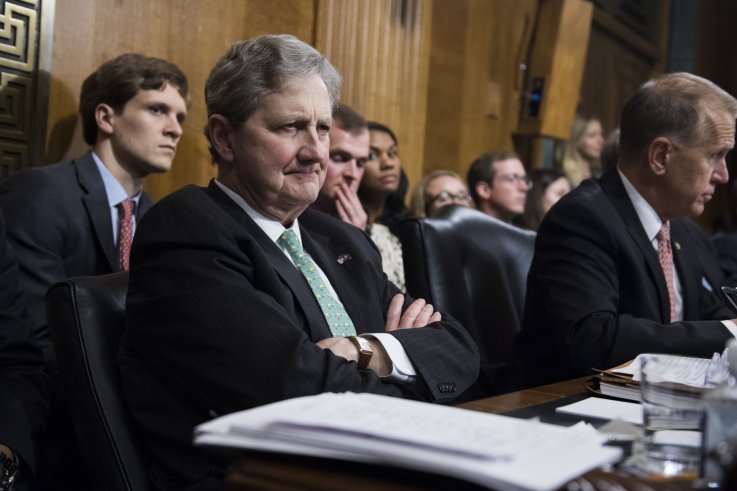 Despite Kennedy's dissatisfaction, his comments highlight a major success for the Trump administration, which has pushed through a remarkable number of judges and reshaped the judiciary for decades to come. A December 2018 analysis from civil rights organization Lambda Legal found that more judges were affirmed to district courts in 2018 than in 2017, and five of the country's 12 circuit courts were comprised by more than 25 percent fo Trump-nominated judges. Earlier this month, the Senate approved the 100th judge appointed by the president.
Allies of the president have touted his impact on the judiciary, with conservatives noting that Trump has presided over the appointment of two conservative judges—Neil Gorsuch and Brett Kavanaugh—to the Supreme Court.
Democrats have expressed concern at the long-standing effects of Trump's wave of judicial nominees. Critics have noted that a large majority of judges nominated by Trump are white men and voiced worries about how the judges will affect rights for LGBTQ individuals, women and racial minorities and how the judges will rule on contentious national topics like immigration and abortion.
Republican Senator Says GOP-Led Senate Has Done 'Nothing' Except Confirm Trump Judges | U.S.