Atlanta Dream co-owner Kelly Loeffler (R-GA) has hit out at the WNBA's "cancel culture" after the league had allowed players to wear T-shirts supporting her opponent in the U.S. Senate race.
WNBA players were spotted wearing T-shirts reading "Vote Warnock" to games this season, a reference to Rev. Raphael Warnock, who is challenging Loeffler for her seat on Capitol Hill.
"This is just more proof that the out of control cancel culture wants to shut out anyone who disagrees with them," the Dream co-owner said in a statement published on Twitter on Tuesday night.
"It's clear that the league is more concerned with playing politics than basketball and I stand by what I wrote in June."
In June, Loeffler publicly denounced the Black Lives Matter (BLM) as an organization build on Marxist foundations, which was intent on defunding the police and threatened American values. She also warned of professional leagues using sports to promote a political agenda.
"We come together around sports, but promoting a political agenda divides us rather than unites us," she said.
"The lives of every African American matter, and there's no place for racism in our country. But I oppose the BLM political organization due to its radical ideas and Marxist foundations, which include defunding the police and eroding the nuclear family."
The Georgia senator was also critical of movements disrespecting the American flag, suggesting they devalued some non-negotiable principles.
"On the other hand, our flag represents our values of freedom and equality for all. If we can't unite behind our flag, much less the national anthem during this struggle, then what keeps us together?" she added.
"It's sad to see that there's more interest in tearing our country apart than in solutions that bring us together. I'll continue to defend American values and our flag, because it's not a game—it's the future of our country."
The BLM movement returned to prominence after George Floyd was killed while in police custody in Minneapolis on 25 May and has been publicly backed by several players across the major U.S. leagues, including the NBA, the WNBA and the NFL.
Following Floyd's killing, several NBA and WNBA players have been vocal in demanding social changes and calling for an end to racial discrimination
Last month, however, Loeffler wrote to WNBA commissioner Cathy Engelbert calling for teams to wear an American flag on their jerseys.
She also objected to the league's decision to paint the BLM logo on the court at the IMG Academy in Bradenton, Florida, where the WNBA has restarted the season after the lockdown implemented because of the novel coronavirus pandemic.
Dream forward Elizabeth Williams defended the players' decision to wear the T-shirts, indicating the team and other players had made a concerted effort not to discuss Loeffler and her statements.
"I think when all this stuff started happening with her, we didn't want to feel like we were pawns," Williams was quoted as saying by ESPN. "We can only control so much about what the league does [in regard to Loeffler], and so for us, we wanted it to be bigger than that.
"That's kind of been the theme of this season. So we wanted to make sure we could still keep the focus on our social justice movement, and funny enough, Rev. Warnock is somebody who supports everything that we support and just happens to be running in that seat. So it just worked out really well."
Seattle Storm guard Sue Bird, who first came up with the idea, explained participation was completely voluntary and that all WNBA players discussed the proposal last month.
"I'm not some political strategist, but what I do know is that voting is important," she told ESPN. "And I think our league has always encouraged people to use their voices and to get out and vote.
"So, what a great way for us to get the word out about this man, and hopefully put him in the Senate. And, if he's in the Senate, you know who's not. And I'll just leave it at that."
Like the WNBA, the NBA has also added the BLM logo to the courts at Walt Disney World resort in Orlando, Florida, where it is holding its restart.
The NBA and the NBA Players Association have also agreed on a list of 29 slogans—which include Black Lives Matter, I Can't Breathe, Power to the People and Anti-Racist—which players will be allowed to wear as a social justice message for the first four days of the resumption.
After that, the social justice message can still feature on the back of the players' jerseys, but the players' names have to be displayed beneath them.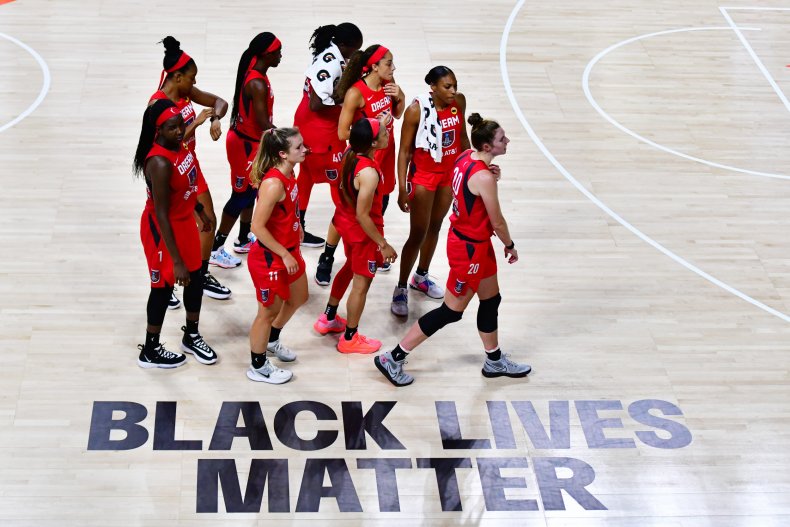 Uncommon Knowledge
Newsweek is committed to challenging conventional wisdom and finding connections in the search for common ground.
Newsweek is committed to challenging conventional wisdom and finding connections in the search for common ground.
About the writer
Dan Cancian is currently a reporter for Newsweek based in London, England. Prior to joining Newsweek in January 2018, he was a news and business reporter at International Business Times UK. Dan has also written for The Guardian and The Observer.