Republican Senator Claimed Kellyanne Conway Was Being Fired Before Her Spokesman Said She 'Misspoke'
Two days after President Donald Trump stated he would not fire Counselor to the President Kellyanne Conway despite the Office of Special Counsel's recommendation that he do so, a Republican senator falsely claimed on air that Conway was removed from federal service.
Republican Senator Joni Ernst of Iowa was asked Sunday on NBC's local Des Moines affiliate WHO-TV to opine on a special counsel's determination that Conway repeatedly violated the Hatch Act, which prohibits federal employees from using their official positon to influence the outcome of an election.
"Kellyanne Conway, she's been, the independent office found that she using her position too much to make political statements which violates the Hatch Act," WHO-TV host Dave Price said as part of Insiders Quick 6. "Is that right what she's doing?"
"Well obviously there has been a commission that has decided that's not appropriate, so she is being removed from that position," Ernst replied. "But we certainly want to be working towards the good of all Americans and supporting, obviously she wants to support the president's initiative."
Ernst continued by suggesting again that Conway had been removed: "She is an adviser, or was an adviser, but you know she used her position definitely."
Price did not prod Ernst further on the matter and continued to another question on what she thinks is an issue that deserves more attention.
Trump on Fox News' Fox & Friends show Friday insisted he would not relieve Conway of her duties and defended her.
"I'm not going to fire her," Trump said. "It looks to me like they're trying to take away her right to free speech and that's just not fair."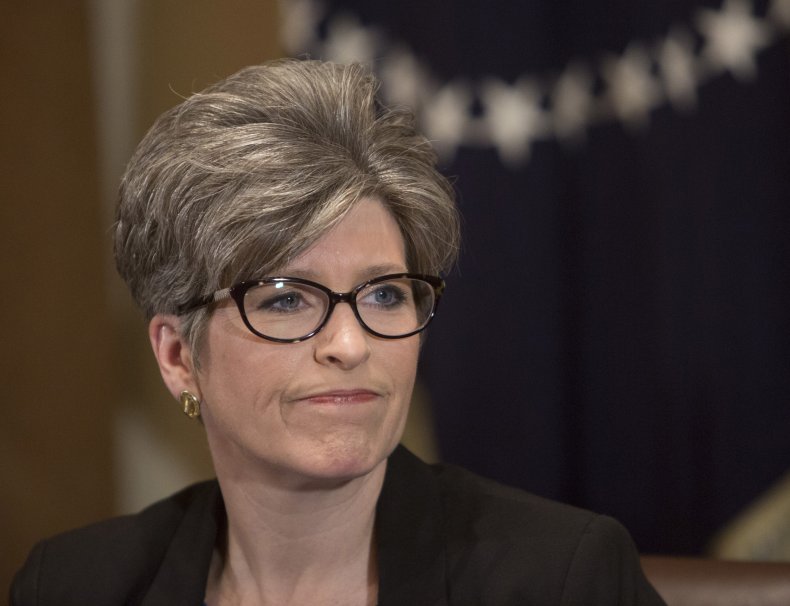 But Ernst appeared to not have gotten the memo, and her spokesman after her interview "said that she misspoke when she said Kellyanne Conway was leaving her position as counselor to President Donald Trump," according to WHO-TV.
Ernst announced her Senate re-election campaign on Saturday. The Republican faces at least three Democratic challengers and said she is happy to campaign with Trump when he visits Iowa but disagrees with his stance on tariffs.
"I've talked to the president," Ernst told the Des Moines Register on Saturday. "He knows that I'm not necessarily a tariff gal, but he will tell me that 'I'm a tariff guy.' So I push back on it when I think it's necessary, but at the same time what I'm hearing from farmers across the state [is] that they are OK with the stance on China."