Republican Senator Murkowski Tells Trump to Concede Now, Says 'Race Is Over'
Sen. Lisa Murkowski (R-Alaska) called on President Donald Trump to admit that he lost the election to President-elect Joe Biden and concede on Monday.
Murkowski made the remarks while speaking to CNN's Manu Raju. The senator was one of a small number of Republicans in Congress to congratulate Biden shortly after the race was called by most major outlets on November 7. On Monday, she refused to say whether she had voted for Trump herself, insisting that her own vote was not "the pertinent question of the day."
"I think he should concede," Murkowski told Raju. "I think the race is over."
Although a growing number of GOP lawmakers have acknowledged Biden's victory in the weeks since his win became apparent, few have directly called on Trump to concede. The president has refused to concede while continuing to push unsubstantiated conspiracy theories and claiming that election was "stolen" from him.
Murkowski had previously called for the president to allow the transition process between the outgoing Trump administration and the incoming Biden administration, while blasting the president's attempts to overturn the election results in court or by urging key Republican state legislators to impose their own slate of Electoral College electors in his favor while ignoring the will of voters.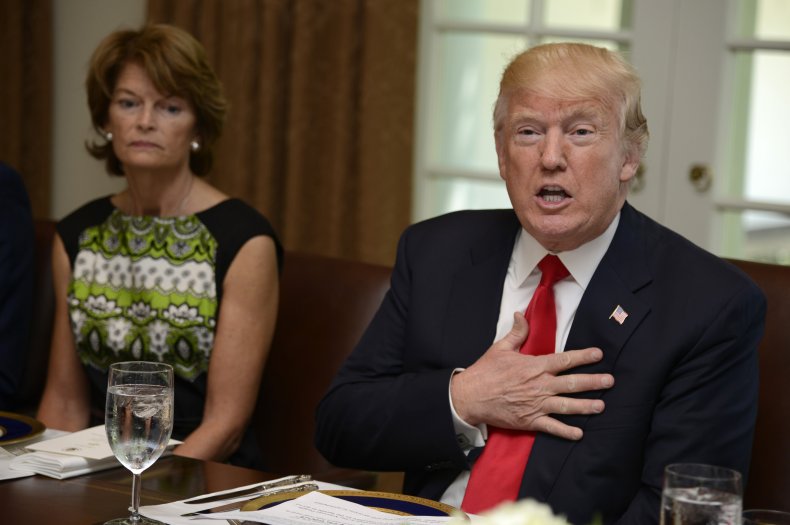 "President Trump has had the opportunity to litigate his claims, and the courts have thus far found them without merit," Murkowski said in a statement on November 22. "A pressure campaign on state legislators to influence the electoral outcome is not only unprecedented but inconsistent with our democratic process. It is time to begin the full and formal transition process."
The transition process did officially begin last week, after Biden was issued a "letter of ascertainment" by the General Services Administration, declaring that he was the "apparent president-elect," a crucial formality that had been held up for weeks. Both Biden and Vice President-elect Kamala Harris are now receiving classified security briefings before they take office on January 20.
Dozens of legal challenges by the Trump campaign and allies attempting to overturn the election outcome have quickly failed, while legally questionable efforts to convince GOP state legislators to appoint their own electors in defiance of voters have also failed to gain steam.
In addition, recounts and audits have not altered the outcome or revealed any substantial irregularities that would flip even one state. Biden's wins in several key states have recently been cemented through certification, with Republican Arizona Governor Doug Ducey and Democratic Wisconsin Governor Tony Evers both certifying Biden victories on Monday.
Regardless, Trump has continued to claim without evidence that rampant voter fraud changed the outcome of the election, despite the Democrat holding a 306 to 232 Electoral College vote advantage and winning over 6 million more votes than the president nationally.
Newsweek reached out to the Trump campaign for comment.