Republican Senator Says A Nationwide Coronavirus Shelter-in-Place Order 'Seems Like An Overreaction'
Sen. John Cornyn (R-Texas) deemed a potential national shelter-in-place order amid the COVID-19 pandemic an "overreaction" on Thursday.
An increasing number of public health experts have recommended residents be ordered to stay home in an effort to help contain the rapid U.S. spread of the virus. Cornyn argued that such measures would be unnecessary in more rural areas of the country and warned against doing "more than necessary" to combat the virus.
"Not every place is the same," Cornyn said, according to The Hill. "We've had the same conversation in Texas, but some places we have more cows than people, and the virus loves the crowd, loves congestion, and that's why you see places like New York and Dallas, for example, which is having its own struggles."
"I mean, we know what to do. We need the social separation and the hygiene, while we continue to test for cures and while we continue to work toward a vaccine," he continued. "Locking down the country more than necessary to defeat the virus to me seems like an overreaction."
Cornyn's comments seemed to echo recent remarks by President Donald Trump, who insisted that preventative stay-at-home orders may not been needed for states that have not yet experienced a surge in cases.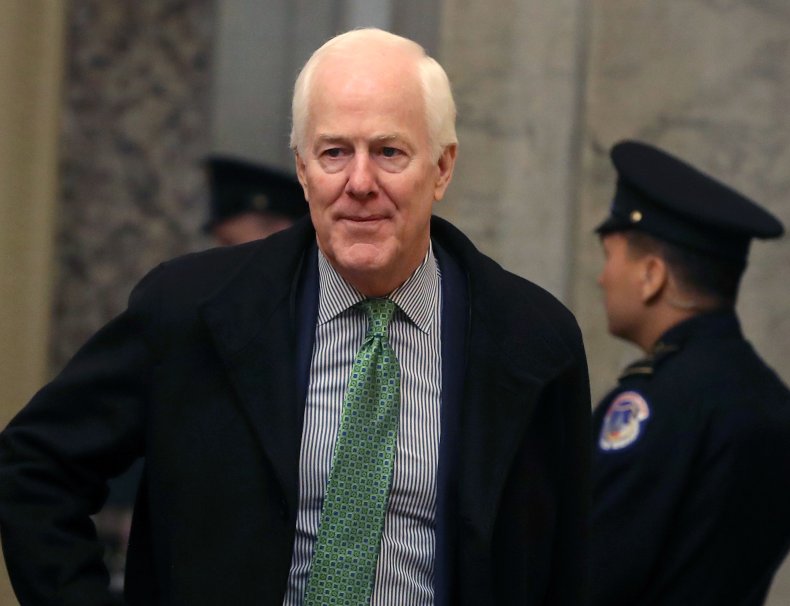 "There are some states that are different," Trump told reporters on Wednesday. "There are some states that don't have much of a problem, well, they don't have the problem, they don't have thousands of people that are positive or thousands of people that think they might have it, or hundreds of people in some cases."
The senator has consistently followed the president's lead on the pandemic, defending Trump's adoption of the moniker "the Chinese virus" instead of COVID-19 on March 18 by insisting that China is to blame for the rapid spread of the disease because he believes the country has a "culture where people eat bats and snakes and dogs and things like that."
Although Trump could change course on issuing a national lockdown as the situation continues to worsen, experts have questioned whether the president would have the legal authority to order and enforce a national lockdown. However, he could certainly recommend governments in every state adopt the measures.
About half the world's population were under orders to stay home as of Thursday, with a large number of countries fully locked down. In the U.S., 38 states have ordered residents to stay home. A number of counties and cities in the remaining states have also adopted local directives in lieu of statewide orders.
Cornyn's home state of Texas has so far failed to issue an order, with Governor Greg Abbott resisting calls from experts and advocacy groups including the Texas Hospital Association.
Newsweek reached out to Cornyn for comment but did not receive a response in time for publication.