Senator Ben Sasse strongly criticized Donald Trump's Monday evening actions, in which the president cleared out peaceful demonstrators with tear gas in front of the White House and then walked to a nearby church to hold up a copy of the Bible.
Sasse, a Republican from Nebraska, released a statement saying there is "no right to riot, no right to destroy others' property, and no right to throw rocks at police. But there is a fundamental—a Constitutional—right to protest, and I'm against clearing out a peaceful protest for a photo op that treats the Word of God as a political prop."
Sasse added that public officials "should be lowering the temperature and that means saying two basic truths over and over: (1) police injustice—like the evil murder of George Floyd—is repugnant and merits peaceful protest aimed at change; (2) riots are abhorrent acts of violence that hurt the innocent."
Newsweek has reached out to the White House for comment, but it had not responded by the time of publication.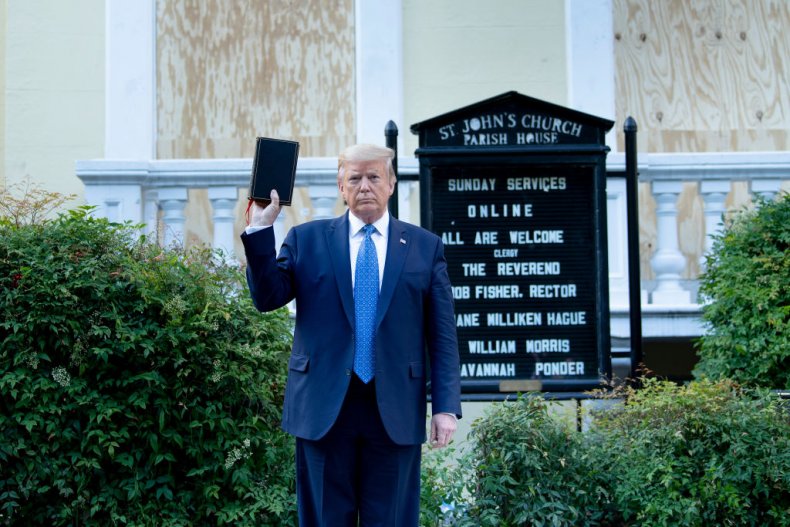 Trump addressed the nation on Monday evening, threatening to send in the military to respond to unrest across the country. But just before he spoke, federal police cracked down on a demonstration outside the White House, firing rubber bullets and teargassing about 1,000 peaceful protesters. The police action appeared intended to clear the area for Trump to walk to the nearby historic St. John's Church, which had been burned by rioters, for a photo-op holding a Bible.
Judd Deere, the White House's deputy press secretary, issued a statement about the president's actions to NPR.
"The perimeter was expanded to help enforce the 7 p.m. curfew in the same area where rioters attempted to burn down one of our nation's most historic churches the night before. Protesters were given three warnings by the U.S. Park Police," Deere said.
Although many Democratic lawmakers and activists have been highly critical of Trump's Monday night actions, Sasse's criticism stands in contrast to that of other prominent Republican senators.
"So obviously, it was a necessary security measure," GOP Senator John Cornyn of Texas told CNN. He said that "obviously the president is free to go where he wants and to hold up a Bible if he wants."
Senator Chuck Grassley, a Republican from Iowa, shared similar sentiments to those of Cornyn.
"And I think that when there was destruction to a church or any other historical thing that America would put great confidence in that should not be destroyed, I think a president ought to bring attention to that terrorist activity, and go there and do…what he did last night," Grassley told CNN.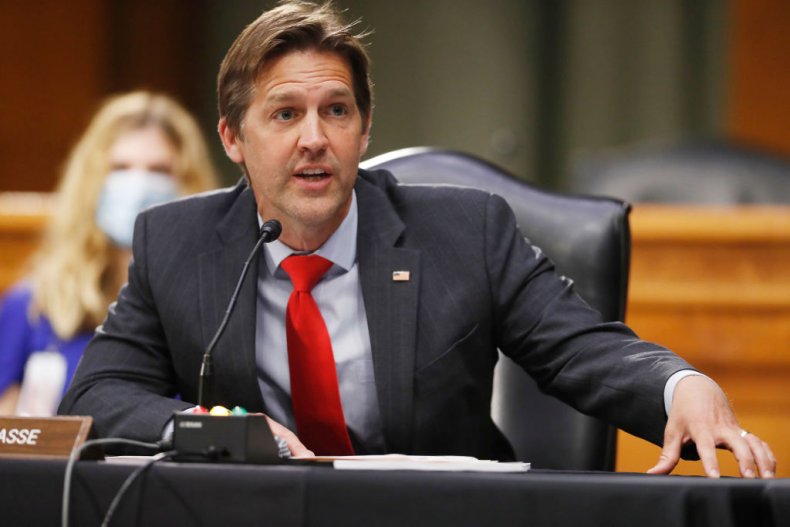 Sasse's statement sounded much more like one that was issued by Speaker of the House Nancy Pelosi.
"Tear-gassing peaceful protestors without provocation just so that the President could pose for photos outside a church dishonors every value that faith teaches us," the California lawmaker tweeted on Monday evening. "At this challenging time, our nation needs real leadership. The President's continued fanning of the flames of discord, bigotry and violence is cowardly, weak and dangerous," Pelosi added.
Presumptive Democratic presidential nominee Joe Biden criticized the president's actions as well.
"The President held up a bible at St. John's church yesterday. If he opened it instead of brandishing it, he could have learned something: That we are all called to love one another as we love ourselves," Biden tweeted on Tuesday. "That's hard work. But it's the work of America."
"A country is crying out for leadership. Leadership that can unite us, leadership that brings us together, leadership that can recognize the pain and deep grief of communities that have had a knee on their neck for a long time," the Democratic challenger said in a separate Twitter post.