Republican Senator Says U.S. 'May Have to Take Matters Into Our Own Hands' Regarding Mexico Drug Cartel Violence
Republican Senator Tom Cotton this week suggested that the U.S. might invade Mexico or take some form of unilateral action if their government continues to fail in curbing drug cartel violence after several Americans were killed in northern Mexico.
At least nine American citizens, including three women and six children, were massacred on Monday on a highway in Sonora, a Mexican border state. During the apparent ambush on a motorcade, three cars were shot at numerous times and another set on fire, according to local reports. One day later, the Mexican government confirmed that three SUVs were targeted in the assault.
Speaking on Fox News with host Neil Cavuto on Tuesday, Cotton, an Arkansas senator who's on the Senate Armed Services Committee, condemned Mexican President Andres Manuel Lopez Obrador for failing to adequately address the murders.
"Unfortunately, it's plain that the Mexican government can't handle this," Cotton said. "President Lopez Obrador came into office almost a year ago saying that his strategy for dealing with the cartels was going to be more hugs, not bullets."
"That may work in a children's fairy tale," he continued, "but in the real world when three American women and six American children were gunned down and burned alive the only thing that can counteract bullets is more and bigger bullets."
Cotton added: "If the Mexican government cannot protect American citizens in Mexico, then the United States may have to take matters into our own hands."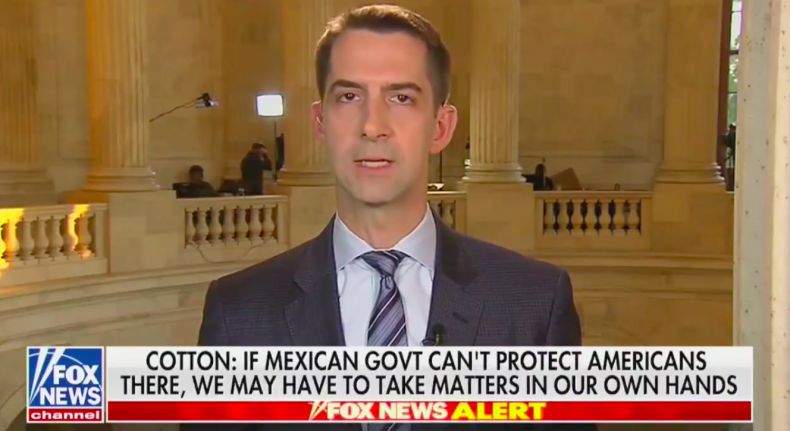 The survivors of the Monday attack still remained hospitalized with gunshot and other wounds on Wednesday morning. Those killed were all part of a group who all formerly belonged to the Mormon Church.
It is unclear why the family were targeted. While Mexican officials claim that they could have been caught in the middle of a stand-off between two rival gangs, sources told CBS News that they family were targeted deliberately.
"Three vehicles with women and children in broad daylight. There was no mistaken identity,"Taylor Langford, nephew to one of the slain victims, told the network on Tuesday. "I felt this was in broad daylight and ... no one could have done that not knowing what they were doing."
Following the attack, President Donald Trump offered to help Mexico to aggressively retaliate against the cartels. "This is the time for Mexico, with the help of the United States, to wage WAR on the drug cartels and wipe them off the face of the earth," he tweeted. "We merely await a call from your great new president!"
However, Obrador declined Trump's offer and said he would rather deal with the cartels internally.