Republican Senator Susan Collins Hasn't Held A Single Town Hall For Years
The 2019 Congressional Accessibility Report, compiled and created by the Town Hall Project, was released on Monday. The figures show that while freshmen congresspeople have been active in providing open forums to the voting public—100 percent of freshman Democratic senators voted into office in 2019 held at least one town hall—and that 11 congresspeople who held no town halls at all in 2018 went on to do so in 2019—over 50 have held none since January 3, 2019.
Among them is Sen. Susan Collins (R-Maine), who, though she has publicly praised the value of town halls by saying that such meetings are an "unvarnished, direct democracy" which "rejects the notion that wealth dictates political discourse," has not appeared at a town hall in her state since her first years as senator.
Collins, who was elected in 1997, has stated a preference for smaller, private one-on-one meetings with her constituents.
"What happens is usually a few people dominate the discussion, and those who are more reserved or less comfortable with speaking in public don't get to talk to the officeholder directly," said Collins in a statement given to The Portland Press Herald in 2017. "I think that's why Maine senators have had a tradition of meeting with groups of constituents or having staff meet with them rather than holding these huge town halls where very few people get to speak and the level of civility is not that high."
Voters in Maine have protested Collins' choice over the years, creating petitions requesting or demanding her appearance at town halls since.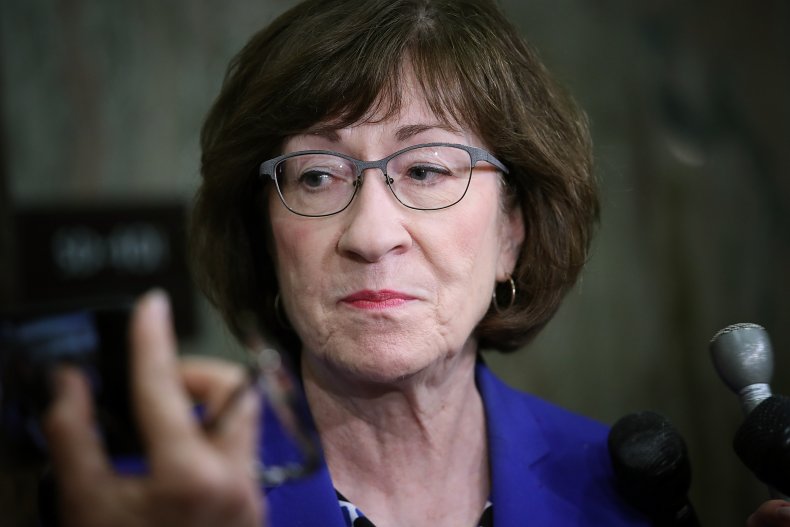 Collins encountered controversy after voting for the confirmation of Supreme Court Justice Brett Kavanaugh in 2018, a move that critics suggested was out of step with her moderate political beliefs.
Collins isn't the only well-known senator who hasn't held a town hall for a full year.
Among those noted for non-participation include recent presidential candidate Cory Booker (D-N.J.), Senator Lindsey Graham (R-S.C.), Senate Majority Leader Mitch McConnell (R-Ky.), Senate Minority Leader Chuck Schumer (D-N.Y.), Ted Cruz (R-Texas), Devin Nunes (R-Calif.) and presidential candidate Tulsi Gabbard (D-Hawaii).
The Town Hall Project also notes that the number of town halls held over the year has increased—2,670 took place in 2019, up from 1,096 in 2018.
They also note that the number of town halls held by both parties has gone up—1,739 by Democrats, versus 691 in 2018, and 931 by Republicans, versus 405.
The senator who held the most town halls according to the compilation of data is Jerry Moran (R-Kan.) who participated in 60 of them in 2019.