Republican Senator: Wife Received Beheading Video Hours After Brett Kavanaugh Confirmation
A senator said his wife had received a graphic text message with a beheading video a few hours after he had voted to confirm Supreme Court Justice Brett Kavanaugh.
Colorado Senator Cory Gardner told Fox News on Sunday that his wife received the video message shortly after the Senate confirmed Kavanaugh on Saturday in a 50-48 vote. He also told the news station that someone had publicly posted the names and addresses of some of his family members.
Newsweek reached out to Gardner for comment on the video but did not hear back in time for publication.
Gardner is just one of several GOP lawmakers who have reportedly been "doxxed" in the past few weeks. Jackson Cosko, 27, was arrested last week and accused of posting online the personal information of Senators Lindsey Graham, Mike Lee and Orrin Hatch, reportedly including their addresses. The former aide to Representative Sheila Jackson Lee was charged with "making public restricted personal information" and "unauthorized access to a government computer," according to USA Today.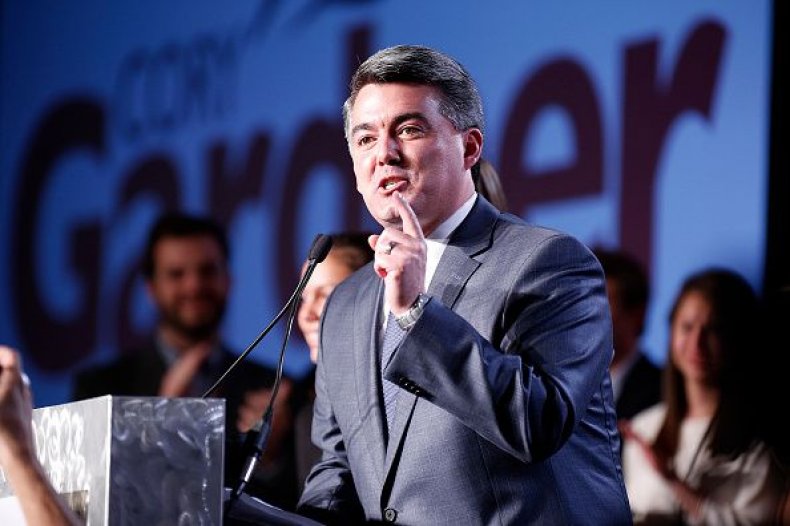 Gardner said in a statement Friday that he was going to vote yes to confirm Kavanaugh into the Supreme Court, despite the allegations of sexual misconduct against the judge. In his statement, Gardner said he had announced his support for Kavanaugh back in July, had reviewed the FBI's report on the allegations and would be voting yes.
"Every victim of abuse, assault, and violence has been through an unspeakable tragedy and we need to do a better job listening to them, ensuring support is available, and fighting to end abuse of any kind," Gardner said in the statement. "I hope that the partisan divide we all feel today does not hinder the people that have bravely come forward."
Gardner's office received another allegation against Kavanaugh in late September. An anonymous letter alleged that while Kavanaugh was drunk in 1998, he shoved a woman against a wall in Washington, D.C.
Kavanaugh was confirmed into the Supreme Court on Saturday. During a Senate Judiciary Committee hearing on September 27, Christine Blasey Ford accused Kavanaugh of assaulting her at a house party when she was in high school. President Donald Trump told Fox News during a phone interview that anyone who "promoted falsehoods" about the judge in the past few weeks "should be held liable."
"There were many, many false things that were said about a very fine man and would have destroyed his family if this didn't happen. It all came together in the end and people realized it was false accusations, false statements," Trump told Fox News. "[The confirmation] was really something very nice. He suffered with false statements made against him. Things that never happened."