The Republican Senators Up for Re-Election Who Are Underperforming Trump in the Polls
With just 39 days remaining until the November presidential and congressional elections, a handful of Republican senators fending off key Democratic challengers face being unseated as they poll behind President Donald Trump on their home turf.
GOP stalwarts in Iowa, Montana, North Carolina and South Carolina are either polling behind their Democratic rivals or enjoying only the slimmest of leads over them as Trump fares better against former Vice President Joe Biden.
The senators will have to move quickly to boost their poll ratings, or at least catch up with Trump, if they are to have better odds of maintaining the Republican Party's majority of 53-47 in the upper chamber.
At the time of writing, three of the incumbents performing worse than Trump are fighting races rated "toss-up" contests by analysts at the Cook Political Report.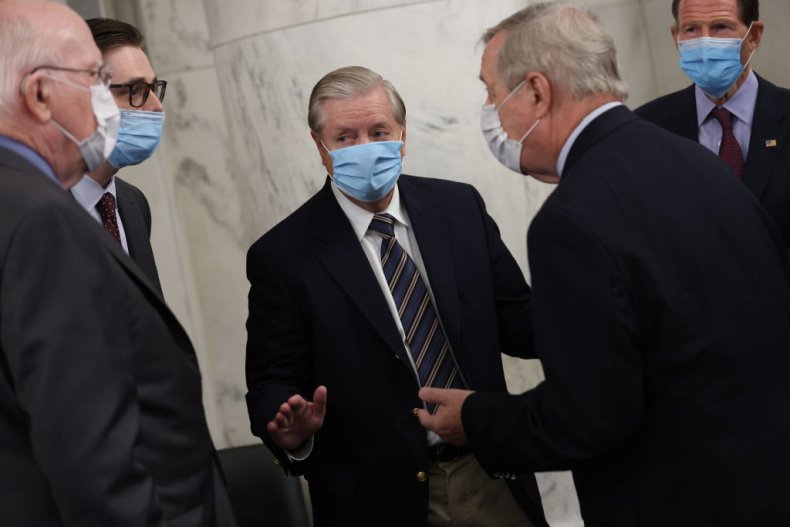 Here are the four incumbent GOP senators underperforming the president's poll numbers in their key battleground contests.
Joni Ernst (Iowa)
With a little more than a month to go until polling day, Iowa Senator Joni Ernst is consistently polling behind Democratic challenger Theresa Greenfield in the Hawkeye State.
According to a Monmouth University poll released on Thursday, the Republican trailed her rival by 3 percentage points among likely voters. Meanwhile, President Trump polled 3 points ahead of Biden with the same group.
Another survey conducted by Selzer & Co between September 14 and September 17 found Greenfield 3 points ahead of Ernst while Trump and Biden were neck-and-neck with 47 percent of the popular vote.
In a recent attempt to boost her hopes at the polls, Ernst's campaign sent a fundraising email tied to the Supreme Court vacancy left by the late Justice Ruth Bader Ginsburg less than an hour after the death was announced.
Lindsey Graham (South Carolina)
Lindsey Graham is fighting a close race against Democrat Jaime Harrison in South Carolina, and has appeared on the airwaves to say as much himself over the past few days.
Speaking to Fox News' Hannity show on Thursday night, the GOP incumbent said his campaign was "getting overwhelmed" by Harrison's impressive fundraising haul as he asked network viewers for help.
"I'm being killed financially," Graham said earlier in the week. "This money is because they hate my guts."
According to the latest battleground state polls from Morning Consult and Quinnipiac University, Harrison and Graham are evenly matched in the polls as Trump enjoys a 6 point lead over Biden in South Carolina.
Steve Daines (Montana)
A new poll published by The New York Times and Siena College last Saturday revealed that Trump held a strong 7-point lead over Biden in Montana, with 49 percent of voters backing the president as 42 percent opted for his challenger.
But the Republican Senator Steve Daines held a tiny 1-point lead over his Democratic rival and Montana Governor Steve Bullock.
Another survey conducted by Fabrizio Ward and Hart Research Associates pollsters reflected similar figures, with Trump beating Biden by 7 points as Daines led Bullock by just 3 percentage points.
Earlier this month, the Trump campaign and Montana Republican Party made a big election cycle intervention by filing a lawsuit against Gov. Bullock over his move to expand options for mail-in voting amid the ongoing coronavirus pandemic.
The suit filed in the U.S. District Court for the District of Montana in Helena argued that the Governor's directive was "invalid" and a "usurpation" of the state legislature's authority.
Thom Tillis (North Carolina)
Several polls released over the past month have shown Sen. Thom Tillis behind Democrat Cal Cunningham by as many as 9 points as Trump and Biden have regularly been statistically tied.
One recent poll from Change Research found that Tillis' vote share was 3 points behind Trump's in the state, and 5 points behind Cunningham's 48 percent support among likely voters.
Another survey from Ipsos showed the Democratic challenger was 4 points ahead of Tillis with 48 percent of the vote, while Biden and Trump were tied on 47 percent support among local voters.
Speaking to Vox earlier this week, Cunningham attacked Tillis over his record and perceived "capitulation" on issues that matter to North Carolinians.
"He has either capitulated to the partisan pressures and interests or walked in line with corporate special interests, and in each of those incidents that's at the expense of North Carolina's interests and the interests of the people of our state," the Democratic candidate told the website. "So there's first and foremost a very strong sense that he has failed in his most basic duties and office."