Republican senators offered some scathing criticisms of the first debate between President Donald Trump and Democratic nominee Joe Biden on Wednesday.
The much-anticipated debate between Biden and Trump in Cleveland, Ohio quickly descended into a chaos on Tuesday evening. Both candidates repeatedly talked over each other during the hostile event, causing moderator Chris Wallace to urge them to "please stop interrupting." After Biden questioned Trump's intelligence, the president launched a series of off-hand insults, including comments about the former vice president's son.
Senator Mitt Romney of Utah told reporters the hour and a half long affair was an "embarrassment," while Senator Ben Sasse of Nebraska called the debate a "shitshow."
"It was awful," Senator Lisa Murkowski of Alaska said, after Senator John Cornyn of Texas described the debate showdown as a "brawl" and Senator Deb Fischer of Nebraska called it "exhausting."
Senator Susan Collins of Maine echoed her Republican colleagues, saying that it "was the least educational debate of any presidential debate I've ever seen."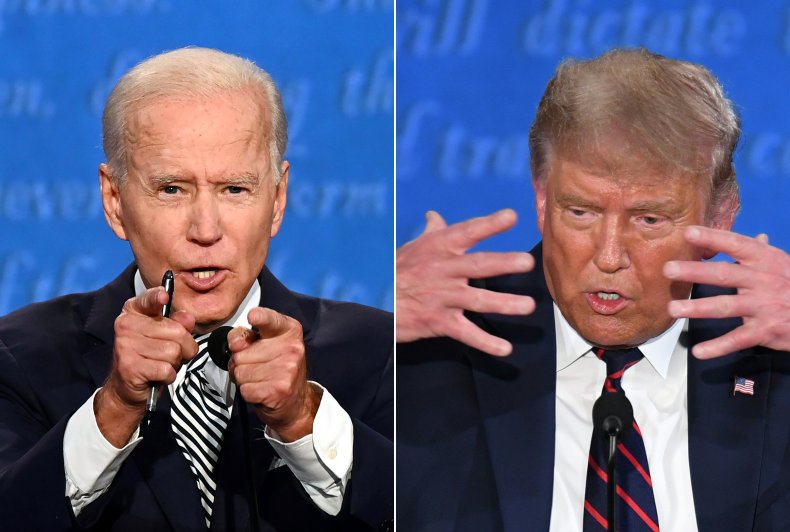 Newsweek reached out to the White House for comment.
According to the Washington Post's Aaron Blake, Trump interrupted Biden 71 times during the 98-minute debate and Biden interrupted 22 times. At one point, Wallace, who struggled to keep the candidates under control, ended up engaging in a heated dispute with Trump to enforce the rules.
Republican Senator James Inhofe of Oklahoma said the president should "restrain himself a little" in the next two debates scheduled to take place October 15 and October 22.
Trump has faced intense criticism from Democrats and even some Republicans for allegedly failing to outright condemn white supremacy. When asked by Wallace to condemn the groups, Trump said, "Proud Boys, stand back and stand by." The remark quickly prompted the group to celebrate on their social media accounts with images and memes of the phrase surrounded by its logo.
Senate Majority Leader Mitch McConnell, a staunch Trump ally, distanced himself from Trump's comment on Wednesday. "It was unacceptable not to condemn white supremacists," he said. "I do so in the strongest possible way."
Despite the criticism, Trump insisted on Wednesday that he won the debate against Biden "by every measure." "I thought it was a great evening," the president said at the White House. "The ratings were very high and it was good to be there. I felt very comfortable. I appreciate all the good words."
"By every measure, we won the debate easily last night," he added. "I think he was very weak, he looked weak, he was whining."