Republican Senators Pen Letter Demanding Biden End 'Discriminatory' Vaccine Mandate Rules
A group of 10 Republican senators sent a letter on Thursday to President Joe Biden calling on him to "to change course" on his executive order requiring the employees of federal contractors to receive COVID-19 vaccination and to scrap "onerous and discriminatory" rules preventing these workers from opting to undergo regular testing.
The letter also demanded the president roll back an upcoming mandate instructing the Occupational Safety and Health Administration (OSHA) to require employers of over 100 people to mandate vaccination or submit their employees to regular testing.
"The Executive Branch does not have the constitutional authority to take these invasive actions and your mandates will threaten the livelihoods, earned benefits, and financial health of untold numbers of hardworking Americans and their families," the letter said. "We strongly urge you to change course."
These rules which the senators oppose serve as key measures in the president's six-pronged "path out of the pandemic" strategy that aims to vaccinate the unvaccinated, unroll boosters, keep schools open, increase masking and regular testing, support economic growth, and improve COVID care.
On September 9, the president issued the mandate requiring federal contractors to implement vaccination requirement plans. Since then, more than 11.3 million Americans have taken at least one dose of the shot, according to the numbers gathered as of October 21 by Our World in Data.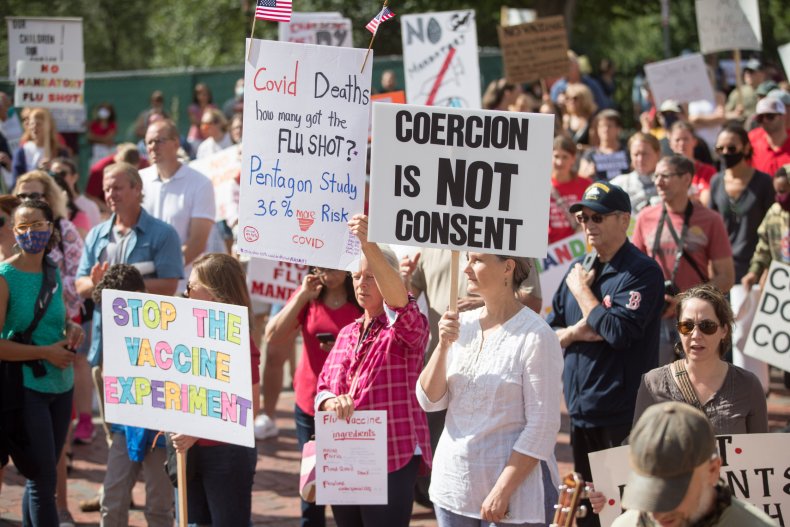 However, with this measure has come controversy and opposition, with many people invoking legal challenges across the country. So far though, The Wall Street Journal reported that these mandates are surviving the legal test. In at least 17 lawsuits, both Republican- and Democrat-appointed judges have declined to block mandates.
Republican lawmakers have continued to fight these rules, nonetheless. Florida's Republican Governor Ron DeSantis announced yesterday he planned to implement a series of legal actions in his state to thwart the expected OSHA regulation and to help federal contractors skirt around the federal contractor order.
The 10 Republican senators cited in the letter Dan Sullivan, Arkansas; Tommy Tuberville, Alabama; Mike Braun, Indiana; Cynthia Lummis, Wyoming; Deb Fischer, Nebraska; Steve Daines, Montana; Roger Wicker, Mississippi; John Barrasso, Wyoming; Michael Lee, Utah; and Marsha Blackburn, Tennessee, all come from states with full vaccination rates of less than 56 percent.
"We all want to put this pandemic behind us for the benefit of our health, our families, and our economy, but we cannot lose sight of the massive, negative impacts that your mandates will have on hardworking Americans and their families," the senators wrote. "We urge you to change course for the sake of hardworking Americans and their families."