Republicans Are Literally Praying That Donald Trump Has the 'Wisdom' to Sign Bipartisan Border Spending Bill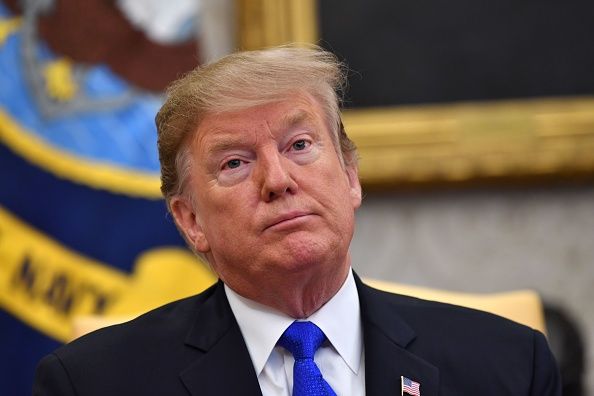 Republican lawmakers are praying that President Donald Trump will sign a bipartisan spending bill on Thursday afternoon to avoid a second government shutdown.
"Let's all pray that the president will have wisdom to sign the bill so the government doesn't shut down," Senator Chuck Grassley said as he appeared on the Senate floor. Grassley currently serves as the president pro tempore of the chamber, making him the second-highest Senate official behind Mitch McConnell.
When asked by reporters on Thursday if Trump would sign the bill, Grassley said, "I believe so."
Republican Richard Shelby told CNN that he is also praying that Trump will sign the bill, which will come to a vote on Thursday afternoon. Shelby told the news outlet that he talked to the president on Wednesday and that he seemed to be in "good spirits."
Even McConnell, who has remained supportive of Trump's demands for the border wall throughout negotiations, said on Thursday that he would like to see the president sign off on the bill.
"I hope each of my colleagues will join me in moving forward with the agreement produced by this hard work and the president will sign it into law," he said.
McConnell appeared on the Senate floor Thursday to make a sudden announcement that he had spoken to Trump, who said he would sign the funding bill but also simultaneously declare a national emergency.
Trump announced on Twitter that he was "reviewing the funding bill" with his team at the White House on Thursday afternoon. He has not told lawmakers whether he will sign the legislation, which leaves out a majority of the border security funding that the president has requested from Congress.
Vice President Mike Pence has made it clear that Trump is not too enthused by Congress's proposal. Pence, who is currently in Europe, told reporters that he's been in contact with the president and that he's "not happy with it."
"Seeing less than 1.4 billion dollars in border wall funding, I know, was a disappointment to the president, but he's considering the bill," Pence told members of the media after a wreath-laying ceremony in Warsaw, Poland, on Thursday morning.
The 1,159-page bill includes $1.375 billion for 55 miles of physical barriers along the U.S.-Mexico border. Trump has repeatedly demanded at least $5 billion for his long-promised border wall, but Democrats have so far refused to accommodate his request. Senate Minority Leader Chuck Schumer called the latest bill a "reasonable compromise."
The proposal also includes $900 million for new technology and better inspections at ports of entry along the border and nearly $654 million to hire new immigration judges to help decrease the amount of backlogged cases.
Lawmakers have until Friday night to come to a deal with the president before the government enters its second shutdown of 2019. The previous shutdown over border security was the longest in U.S. history, stretching five weeks.
In his first campaign rally of 2019 in El Paso, Texas, on Monday, Trump reiterated his call for the border wall.
"Walls work," Trump said, pointing to lower crime rates in cities where walls have been erected. "Thanks to a border wall with Mexico," he said, El Paso is "one of America's safest cities."
But the mayor of El Paso has pushed back against Trump's claim, stating that the city was never one of the most dangerous in the U.S. and that the border wall is "not the sole deterrent" of criminal activity.