GOP Senators Trail Challengers By Double Digits in Two Key Battlegrounds: Poll
Republican senators fighting to keep their seats in two key swing states are trailing their Democratic rivals by double digits with less than two months to go until polling day, new data has revealed.
According to the latest swing state surveys from Redfield and Wilton Strategies, Sen. Martha McSally (R-AZ) was lagging 15 points behind the former astronaut Mark Kelly as of last week.
Thirty-eight percent of state voters said they would back the Republican incumbent on November 3, while 53 percent opted for her main challenger. A further 7 percent told pollsters they didn't know how they would vote, and 2 percent backed a third party candidate.
Over in North Carolina, Redfield and Wilton Strategies found a similar margin separating Sen. Thom Tillis (R) and the Democratic candidate Cal Cunningham.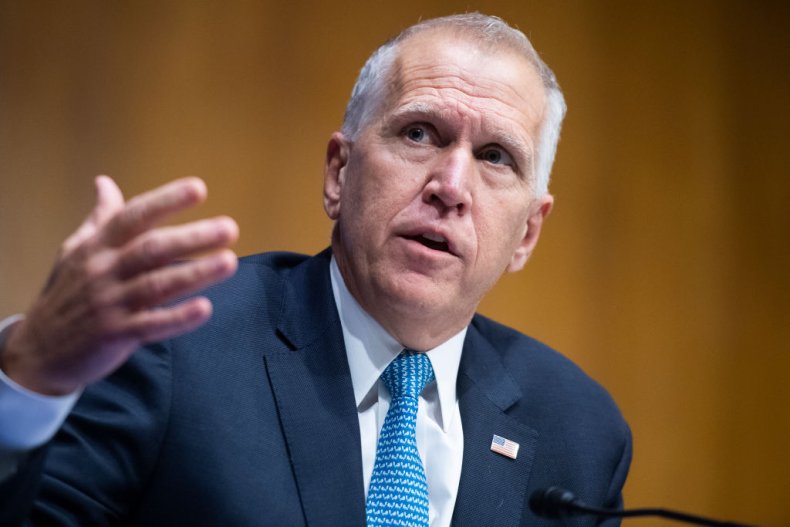 A little less than half (47 percent) of North Carolina voters said they would be voting for Cunningham in the fall, while 37 percent favored Tillis for another term in the upper chamber.
The last Redfield and Wilson Strategies poll conducted in the state found Cunningham's lead over Tillis' was one point smaller than it is in the latest survey.
However, a large number of undecideds could still present the incumbent with a chance to keep a hold on his seat.
Thirteen percent of North Carolina voters said they didn't know who they wanted to vote for as of last week, covering the 10-point gap between Cunningham and Tillis. Another 3 percent said they would be voting for a third party contender.
The same poll found President Donald Trump leading Democratic nominee Joe Biden in North Carolina—a trend that could worry Tillis' team as he heads into polling day with a 10-point deficit.
FiveThirtyEight's 2020 election forecast rates the North Carolina race as a toss-up between Trump and Biden, with the president winning 46 percent of simulated races and Biden securing 54 percent.
Redfield and Wilton Strategies surveyed 830 registered voters in Arizona and 951 voters in North Carolina between August 30 and September 4 for its latest battleground state polls. Their margins of error stand at 3.4 percent and 3.1 percent respectively.
Cook Political Report analysts believe the Arizona Senate race is leaning toward a Democratic victory, and has rated Tillis' battle to keep his seat in North Carolina a "toss up" contest.